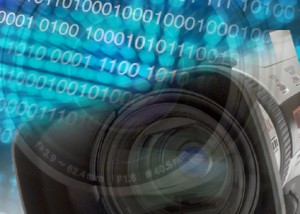 Digital media is any media that is electronic. All digital media is stored in binary numbers and today, we access this media using our desktop computers, laptops, handheld devices such as PDAs, IPhones and even MP3 Players.
Since all digital media is stored electronically, there's a vast amount of data and content on the Internet including textual content, images, audio and video. If we have a look at a very brief history of the internet, we will see the following developments:
Textual Content: When personal computers were first used in the mainstream business environment, textual content exploded due word processing applications and simple text editors. Many large companies started storing data electronically instead of their huge basements and file cabinets. Similarly, but even more explosively, the internet created huge added means of sharing, transferring and storing all manner of textual content.


Images: As the internet got more popular and bandwidth started to increase (DSL, Cable, T1, etc), we saw that people started to send each other images instead of just emails. Many photo sharing sites emerged in the 90's and this type of digital media became very popular.


Audio: mp3 files started to be widely used in 1995. We met a new type of digital media that could compress the same audio files 12 times more than a wav file used on Audio CDs. The sharing mania began that lead to the development of audio sharing sites such as Napster.


Video: Along came YouTube and videos. While many experts might argue that this is the last set of digital media development, we have yet to see the latest innovation. With the invention of IPhone and other devices that place the power of digital media in our hands, there's no question that we have not seen the end of what can be achieved through digital media.


So, where does Marketing come into play in digital media and how can it benefit you and your business?

We see that more and more businesses get into digital media and marketing. Businesses create websites and publish their textual content, services and products. They do not only stop there; they also do more by creating different types of digital media content to be even more visible and engaging. Here is a list of how you can benefit from digital media and get more visibility on search engines with your digital media content;
Textual Content: Keep it fresh. Keep writing about your business, services and/or products. Information is important and content is king. Help the prospective clients and customers find you. Give value to your users even if they do not choose to buy your product. Rest assured, they will come back for more information and sooner or later, they will buy from you. Share your expertise and post it on websites such as Squidoo.com and answers.yahoo.com.


Images: Take photos, create diagrams and charts, and draw models or cartoons. Post them on your website and then post them on image sharing sites to get more visibility. Make sure to name and tag your images properly. Some of the image sharing sites are:
Photobucket.com
Flickr.com


Audio: Almost every computer has audio recording software.

Record your expertise and speak about what you know. There are certainly some people who are looking for that information. Think outside of the box. Creating podcasts and submitting them to ITunes is pretty easy. We have an article that explains Podcasts that might help you.


Video: Create videos. Start basic and get more creative as you move forward. You can start by creating videos using www.animoto.com and then hire someone professional to do a feature video production. It will not cost more than $600 and its well worth the money. After you have the video(s), submit them using www.tubemogul.com

Most important of all; keep creating digital media. It's the future and the more you get into it, the more visible you will be. Of course, we are here to help if you need us.