In July 2021, BigCommerce acquired the data aggregation SaaS company Feedonomics in an asset purchase transaction. (BigCommerce acquired Feedonomics for approximately $145 million. Approximately $80 million cash paid, while the remainder will be made with anniversary payments partially.)
Like GoDataFeed, Feedonomics consolidates information about your products, allows you to manage sellers' ad data, and optimizes the product data to be shared with all of your selling platforms.
BigCommerce likely completed this acquisition out of a desire to strengthen their multi-channel strategy. Typically, eCommerce platforms don't provide much to help their clients list products across multiple channels. This appears to be the service that BigCommerce is looking to provide.
BigCommerce Acquires Feedonomics: Good or Bad for Retailers?
Many eCommerce platforms have attempted to create special integrations like Feedonomics, data feed management platform, in the past. However, their specialty is their own platform and technology, so they often struggle to recreate software that is the specialty of other companies.
Rather than trying to create this service in-house, BigCommerce acquired a business that already had a working final product and the expertise to manage it for their customers. If they had invested time, energy, and resources into building their own, they could have faced the very serious risk of producing a substandard, secondary product.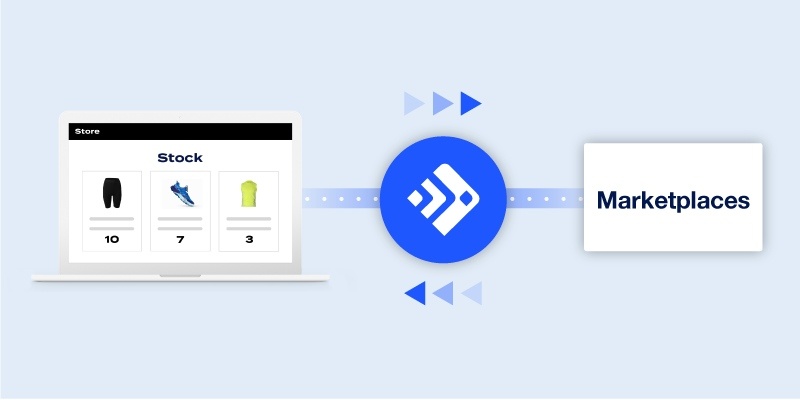 In fact, many BigCommerce customers have expressed before that the platform's feeds and catalogs often have issues synchronizing data across Google Shopping, Amazon, Walmart, Facebook, and other social media sites. Now, BigCommerce, a leading open SaaS eCommerce platform, is poised to take the upper hand in the eCommerce industry by providing retailers the option to manage their products across all of these channels, right from the comfort of their BigCommerce profile.
Retailers can have full integrations with their advertising channels and ad networks such as Facebook catalog, Google Shopping catalog, or maybe another catalog that's going to pop up from TikTok a few months in the future. 
Now, BigCommerce, a powerful eCommerce software platform, has a much stronger pitch to BigCommerce merchants, who are always looking for the best ROI. Consider the power of turning on a specific marketplace and increasing your Return On Investment by 20 or 25%. Better still, there are a lot of these online marketplaces for eCommerce merchants to access.
BigCommerce and Mercado Libre
Mercado Libre is essentially one of the world's primary eCommerce storefronts. They're the largest and most powerful eCommerce platform in Latin America, present in 18 countries, and quite successful in preventing market penetration from larger competitors (Amazon).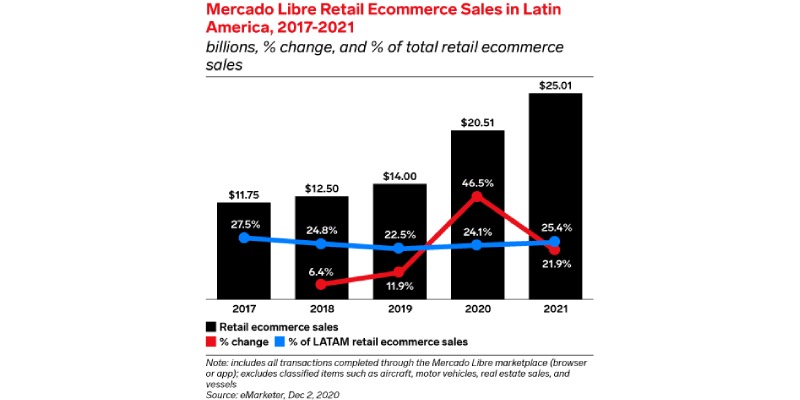 They also boast many brick-and-mortar locations all throughout Latin America. However, with their new partnership with BigCommerce, they're seeing huge increases in online orders. Also, BigCommerce merchants maximize their sales.
Obviously, this could be caused by the pandemic. More people were forced to shop online and they decided to offer an online solution, while other Latin American establishments didn't have the technology or the resources.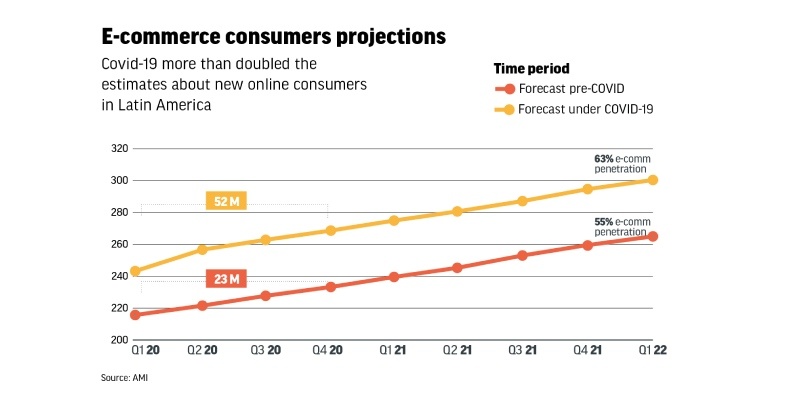 So it was definitely a great move on the part of both eCommerce giants. BigCommerce is establishing themselves in the Latin American market, and Mercado Libre is increasing their eCommerce sales.
BigCommerce Merchants & Mercado Libre: Latin America is an Unsung Market
As an eCommerce business owner in the North American market, you can really only sell to the US and Canada. You can ship to Europe, but it's a nightmare. 
You'll need to consider UK rules and EU regulations, and issues at customs will not be uncommon. However, the logistics of shipping to LatAm are not as complicated.
So, BigCommerce partners with Mercado Libre to open the LatAm market to their clients. Meanwhile, they acquire a SaaS company to provide their retailers with the means for easily integrating with their new partners. 
The result? BigCommerce can offer a boost to ROI by providing an alternative to North America-based eCommerce retailers.
Will the LatAm Market Utilize North American eCommerce?
The North American eCommerce market may have businesses online who are ready to ship their products, but there's another important question to ask. Namely, how likely is it that Latin American consumers shop aggressively from eCommerce retailers in the United States? 
Mercado Libre's marketplace does represent a very diverse customer base but, in general, there does appear to be a demand for North American products. Retailers may need to conduct a little research to identify which countries have the customs and infrastructure to handle the shipping and handling and start off with those.
Do Feedonomics & Mercado Libre Help BigCommerce Compete with Shopify?
Shopify's feed was probably the best out of any other hosted solution. At Optimum7, our clients never saw too many issues with the platform's catalog integration. 
The Feedonomics acquisition was something BigCommerce had to do…
Fortunately, they went about it in the right way and obtained an established software, rather than trying to build it themselves. They will definitely see an increase in new online stores opening on their platform, specifically because of this. 
The Mercado Libre partnership serves BigCommerce & their clients.
BigCommerce enterprise pricing depends on your order volume and your average order value. Now they're giving online retailers the ability to open a new marketplace, but all of the orders from that marketplace will flow through BigCommerce. 
Order numbers increase, the retailer makes more money, and BigCommerce does as well. And eCommerce business owners won't likely complain about sharing profits when BigCommerce is providing the necessary partnership and integrations. 
We don't want to say that Shopify is too big to fail. There's plenty of room in this market, and plenty of growth that will happen in the eCommerce space over the next 5 to 10 years. So we'll see what happens.
Find BigCommerce (eCommerce Platform) Experts to Manage Growth and Integrations
The team of developers, marketers and eCommerce experts at Optimum7 has years of experience optimizing BigCommerce marketplaces for growth and expansion. If you want to know more about moving into the Latin American market, or developing and managing necessary integrations, reach out to our team today.