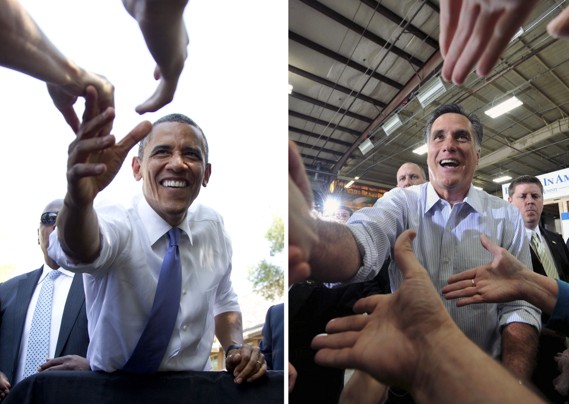 The elections are fast approaching and both the Republican and Democratic candidates, Mitt Romney and Barack Obama, have shown exceptional influence in their Social Media campaigns. Small businesses can successfully utilize social media in a manner similar to political candidates to engage followers, promote their brand and increase sales. See for yourself how you can leverage Romney and Obama's social media efforts by applying their approach to your own social media strategy. While you may not win the election, you may indeed win over your target audience and even score a few hot leads.
Key points to take away from these lessons include:
Emphasis on content quality, not quantity. According to a recent case study by icontact, "While Mitt Romney had the highest number of Facebook fans; he experienced the lowest percentage of Facebook fan engagement at 8.97%". Although it's important to achieve a high number of followers, it's equally, if not more important, to be able to interact and connect with them.
Example. To achieve user interaction, Governor Romney integrates a series of real-time updates from around the world on Facebook.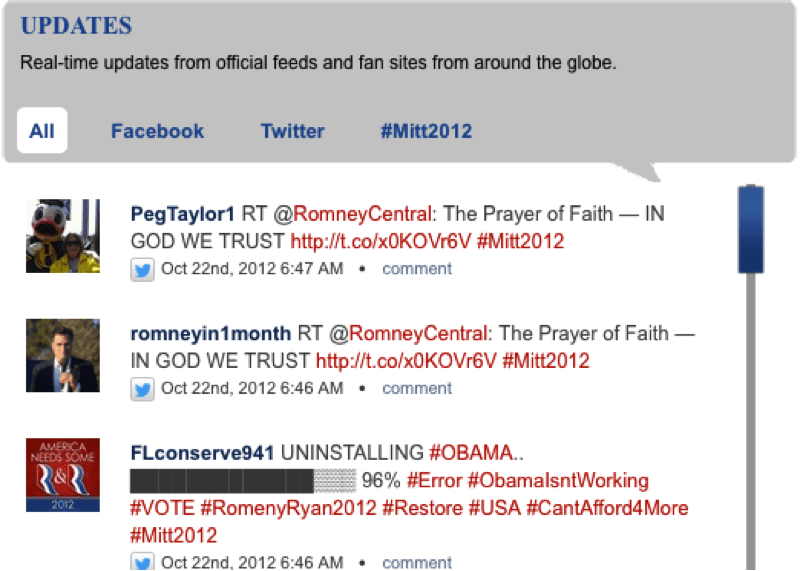 Apply it to your business. For instance, if you notice that you have a high number of followers in your social media profiles but low interaction, this should indicate to you that it's time to re evaluate your content strategy to ensure that your brand message gets across to your audience. My suggestion is to try a new message in your content strategy or to create profiles in another social media network that might work better for that specific content.
Integrate e-mail into your Social Media strategy. The purpose for integrating e-mail in your Social Media sites is simply to facilitate and encourage your audience to sign up with the least effort possible. This, in return, allows candidates to spread their views without having to redirect their readers to the website.
Example. Romney integrates e-mail marketing in his Facebook page in order to inform his audience of campaign updates and other general information. This ultimately shortens the sign-up process.

Apply it to your business. Although Social Media works marvels when it comes to spreading content and engaging with your community, it would be an error to leave traditional e-mail marketing behind. Many companies still use e-mail marketing as one of their central business strategies for a reason. Think of it this way… while social media enables productive discussion, e-mail Marketing is the transition between initial engagements and actual conversions that could possibly turn into long-term customers.
Proper use of photos and videos and PDFs. As you probably already know, Romney uses a variety of multimedia to convey his message. From interactive videos, to photos, to creative PDFs, his message successfully travels across Facebook, Twitter, and other Social Media platforms in hopes of increasing his popularity. In addition, fans are given the option to participate in virtually every single Facebook post, which facilitates user interaction.
Example: Obama successfully integrates Twitter and YouTube in order to create a real-time effect.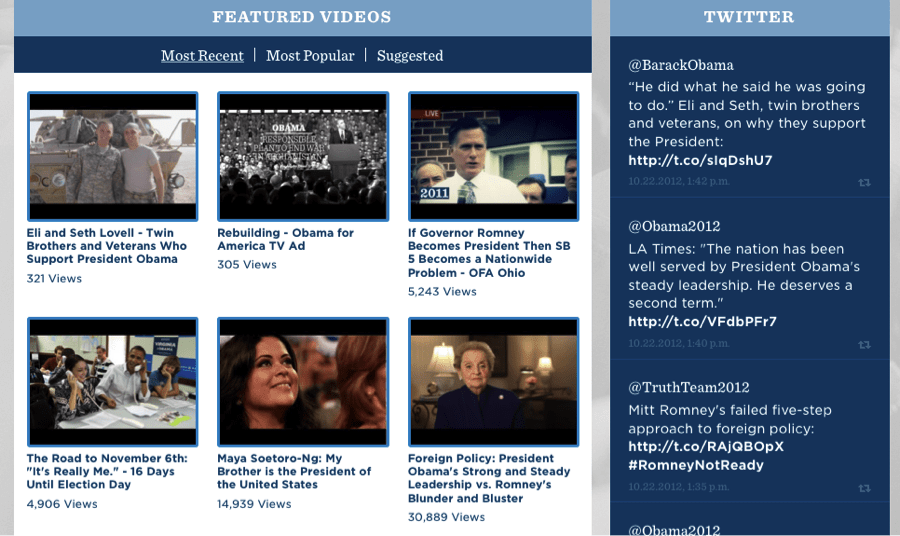 Example: With the use of video, Romney encourages his audience to participate by recording and posting their thoughts on why he should be elected president. This strategy not only reinforces user interaction but it also allows his audience to feel like they are part of an influential decision.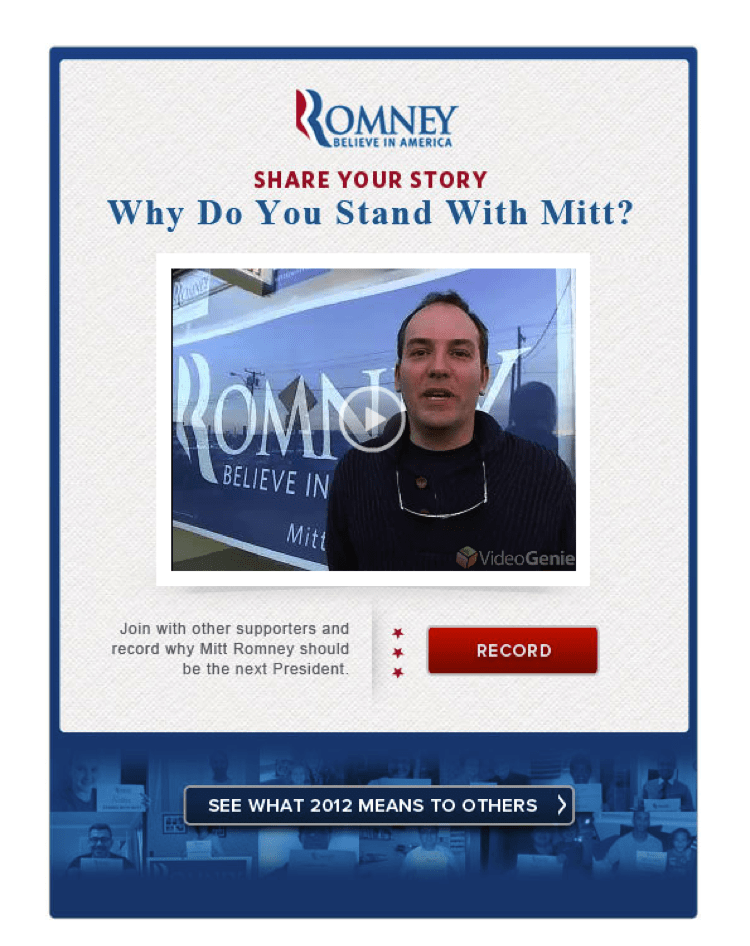 Example: Romney uses creative downloadable PDFs on Facebook to increase his loyalty among users. Who says a political campaign can't integrate arts and crafts?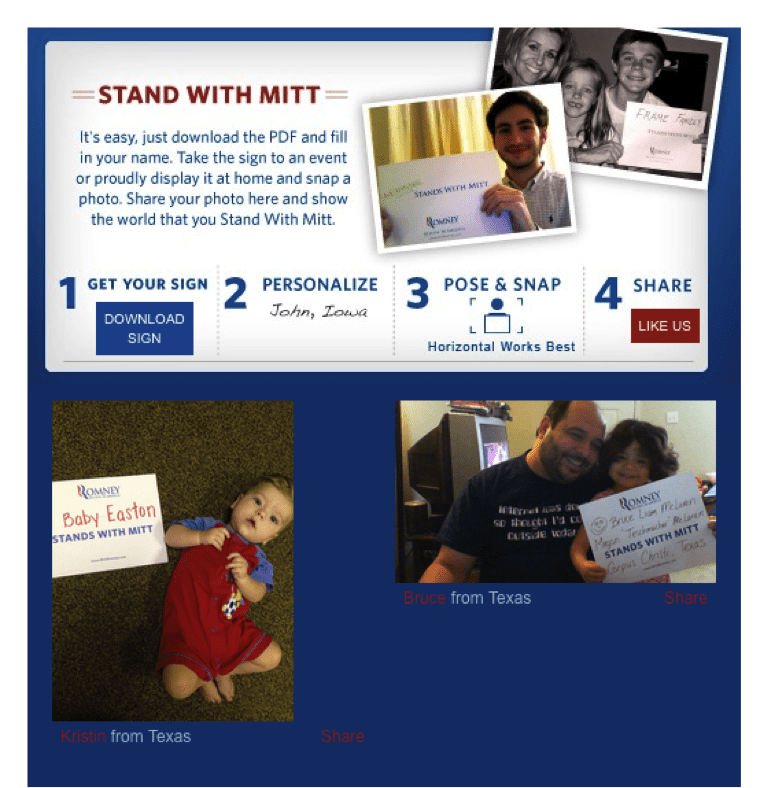 Apply it to your business. As the power of video marketing becomes a necessity to increase your brand's awareness on Social Media, the use of platforms like YouTube, DailyMotion and Vimeo are starting to become top picks for many businesses. It's important to understand that video is capable of telling the story of your brand effectively and quickly to those who are not used to spending valuable time reading text. In return, if your audience finds the content compelling and useful, they'll be more inclined to share it across multiple Social Media platforms.
Content is king. Before you start delving into the use of content, notice both Romney and Obama seek to study their audience by administering polls, asking for their opinions and encouraging engagement between them. It's not just about establishing what you'll post, but rather it's about studying your demographics before you do. You must be able to provide content that is compelling to your community, which in many cases won't be compelling to everyone.
Example. Romney aims at studying his audience by administering poll questions and encouraging his audience to post their opinions.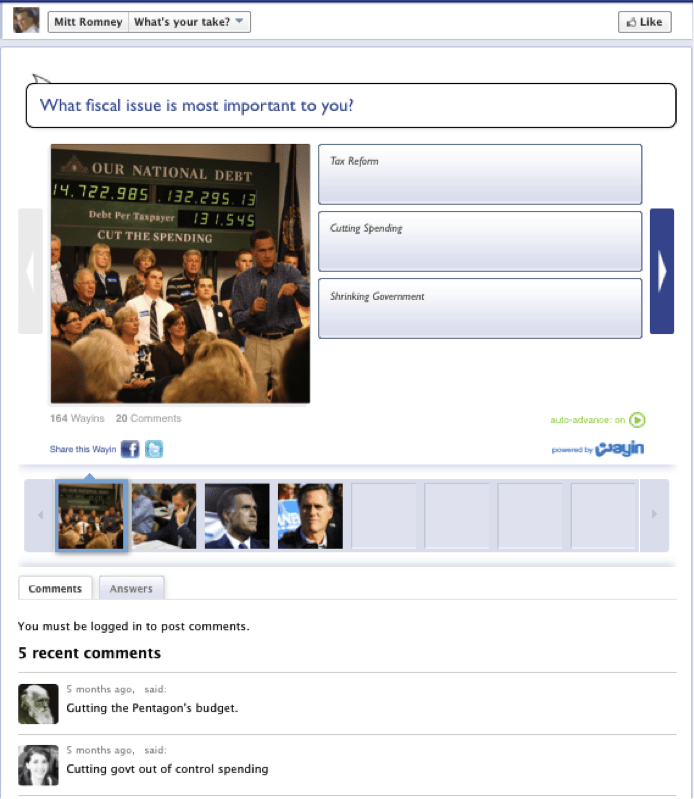 Apply it to your business. You may already have a Social Media strategy, but it might also be all over the place. If this is the case, follow these tips to increase your user engagement:
Identify trends in your community or product line
Try to improve your efforts by studying your competition's Social Media profiles
Organize your thoughts by coming up with a content strategy that is easy to follow.
Test your strategy before you commit to it.
If in doubt, always remember that it's less about the channel and more about the content.
Use Google+. Obama and Romney both use Google+ to its core in the hopes of expanding and reinforcing their political views to businesses.
Example. Obama integrates Google+ Hangouts in his feature videos section on YouTube in order to encourage discussion.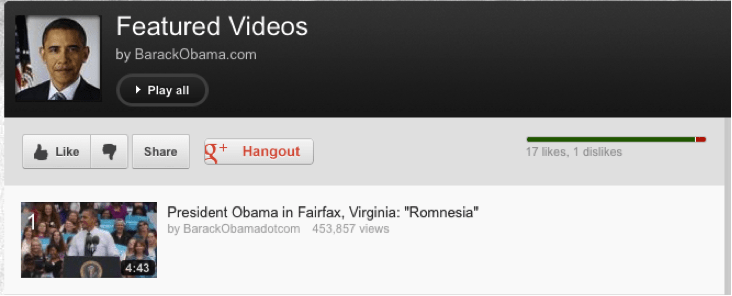 Apply it to your business. Although Google+ is not fully developed, avoid overlooking this Social Media platform. When it comes to promoting your business, Google + has more functionality than any other platform. It's designed just for that.  It provides unparalleled content availability, a review system, a company directory, professional circles, and interaction through forums, among other features. Although Google+ might look a bit intimidating, it's important for businesses to start grasping its pace.
Manage your campaign budget. Regardless of the size of the campaign, political candidates realize just how important a Social Media budget is. But they also realize that it's a key investment if they want to reach as many Americans as possible. The good thing about this is that crafting and executing a Social Media strategy does not necessarily require a massive budget, but rather, a well-structured strategy and time.
Apply it to your business. The good news is that there is a Social Media strategy that fits every budget and is able to produce an appealing ROI. To maximize the chances of a positive ROI, follow these tips:
Set-up a Social Media goal for each platform
Work towards establishing a realistic approach
Measure your results. For this you may want to use a variety of metrics, but if your business is new to Social Media create an Excel sheet and measure your "likes", "Retweets", and "+1" every day/week/month.
So there you have it! Social Media lessons from presidential candidates Mitt Romney and Barack Obama.  Apply these lessons to your business's own social media strategy and watch your followers and user engagement significantly increase. We understand that as business owners, you may or may not have the time or patience for social media. It's a brave new world and that's why we're here to help you get started. Contact us, we can help!