The cost is one of the most significant factors to consider when deciding whether or not to upgrade your eCommerce platform. This is a frequently asked question, and there is a lot of speculation about Shopify Plus pricing.
In this article, we'll break down the expenses of Shopify's business solution, Shopify Plus, so you know what to expect. And in the and we'll have the answer to "Is Shopify Plus worth it?"
What is Shopify Plus?
Shopify Plus was created in 2014 to compete with big eCommerce merchants such as Magento, Volusion, and Demandware by Shopify.
Shopify Plus is a fully hosted business eCommerce platform for high-growth businesses and brands. Shopify has added a comprehensive set of features to its Plus offering, taking market share from the enterprise incumbents.
The Different Shopify Subscription Options
For all of their stores, Shopify offers four subscription options: Basic, Shopify Plus, and Advanced.
Shopify has a plan for you no matter how big or small your company becomes. The various pricing plans empower your firm to access more features and reduce transaction fees by providing you with additional tools to advance your business as it grows.
4 Types of Shopify Plus Fees to Consider
There are four fee types to consider with Shopify Plus. We'll take a look at:
Shopify Plus platform fee
Credit Card processing fees
App fees
Maintenance fees
Shopify Plus Platform Fee
The pricing strategy for Shopify Plus is based on usage. In Shopify terms, usage equates to monthly sales volume.
This is predicated on the idea that the more sales you produce, the more support and server resources you will require. When using Shopify Plus as your platform, the most that you can anticipate paying is $2,000 per month.
In fact, the majority of businesses fall within range of this figure. However, when you reach $800,000 or more in sales each month, the price transforms into a revenue-based model, with a fixed fee of 0.25 percent of your monthly revenue.

Credit Card Processing Fees
Shopify also provides payment processing, which they call "Shopify Payments." If you use Shopify Payments, you don't need a merchant account or a payment gateway because Shopify takes care of everything.
Let's look at what Shopify Plus costs in terms of card processing fees:
You may be able to process credit cards for significantly less if you use Shopify, but your ability to do so is influenced by a number of factors, including your merchant history and sales quantity. You'll be charged an additional 0.15% above and beyond whatever your existing credit card transaction fees are if you don't have Shopify Payments enabled.
Some businesses prefer using a third-party payment gateway because they have a better-priced rate than Shopify Payments (even with the 0.15% fee). Shopify integrates with over 70 payment gateways across the world, and each one has its own credit card fees, which means that it's worth comparing.
So, if you're looking for a reliable Shopify development partner that can help you launch your eCommerce store, as well as scale it up in the future, we're the firm to call. We've been building Shopify stores since 2007 and have seen first-hand how exciting and successful brands are born every day.
Shopify Maintenance Fees
Another thing to consider is routine maintenance. It's worth noting that, in comparison to other platforms (such as Magento), maintenance expenses will be minimal.
This is due to the fact that Shopify is a hosted platform. Using a hosted platform means that you'll never have to worry about server maintenance, kernel upgrades, or security patches.
Shopify App Fees
Even though Shopify Plus offers a solid foundation of features, it will require third-party apps for more comprehensive capabilities such as robust search solutions, subscription services, loyalty programs, etc.
These applications are difficult to value because they may cost anything from a few dollars to thousands of dollars each month. Stores, on the other hand, tend to spend less on apps since complex solutions to issues can be built right into their templates by third parties.
In any event, when you're factoring in your overall monthly cost, it's helpful to consider what you may be spending on apps.
Can you negotiate these fees with Shopify?
No. Shopify Pay credit card rates may be negotiated, but as we mentioned, it's dependent on your industry history.
The minimum platform fee for Shopify is $2000, that price is the same for all merchants on the platform and will not change any time soon. Before 2017, you could bargain a little on this pricing, but that's no longer an option because this fixed pricing was implemented at the beginning of that year.
Existing businesses were gradually switched to the new pricing, while newcomers began at the new rate. So, regardless of who you speak with or how much haggling takes place, you will be offered the same price and pay the identical amount.
Some Advanced Shopify Plus Features
Shopify Plus leverages behavior-based AI and sophisticated user experience technology to provide a completely customer-centric online experience.
Craft Conversion-Driving Checkout Pages
Shopify Plus lets you modify your checkout pages and flows, which you can't do on Shopify's basic plans. Progressive coupons and discounts based on the goods in the cart, cart totals, and client preferences have been proven to boost conversions significantly.
Create an Impulse-Buy Experience
One-click digital wallet checkout is integrated right into the product page with Shopify Plus. This quick-buy function has been shown to increase conversions by creating an impulse-buying environment that reduces "cart remorse" and abandoned carts.
Create Personalized Homepage Displays
You may customize what your Shopify Plus website's home page displays based on past consumer purchases and behavior. You can use Shopify Scripts and Shopify Flows (which are only accessible to Shopify Plus subscribers) to populate your homepage with goods that are likely to interest your consumers.
Advanced Pricing, Shipping, and Operational Flows
Users can personalize their pricing, automation, and delivery choices with Shopify Plus. Shopify Scripts and Shopify Flows are also used to define and enable these.
Here are a few features to modify your price and shipping in Shopify Plus, as well as to automate operational flows.
Customer-Based Pricing
You can create all sorts of customer-specific pricing tables and volume discount displays, as well as assign them to your client presets, using Scripts and Flows.
You can also create a Platinium-membership price discount, as well as establish wholesale pricing structures that only show to customers who identify themselves as such.
Customer-Centric Shipping
Shopify Plus expands your Shopify Scripts capabilities further by enabling you to use Shopify Scripts to develop customized shipping and delivery solutions.
Freight shipment, for example, is available depending on client preferences, such as restricting freight shipping only to wholesale clients. You may also define purchase minimums and shipping costs based on the items themselves.
Automate Your Operations
With Shopify Plus, you can further automate your processes and save time by using flows and scripts. For example, you may use a flow to automatically send alerts about low inventory to particular staff or productivity applications like Trello or Slack.
You can use Shopify Flow to route orders to separate fulfillment centers, dropshippers, or in-house warehouse segments. It can also cause a customer service follow-up call if there's an inventory issue or shipping concern. You may build all types of time-saving Flows based on set criteria.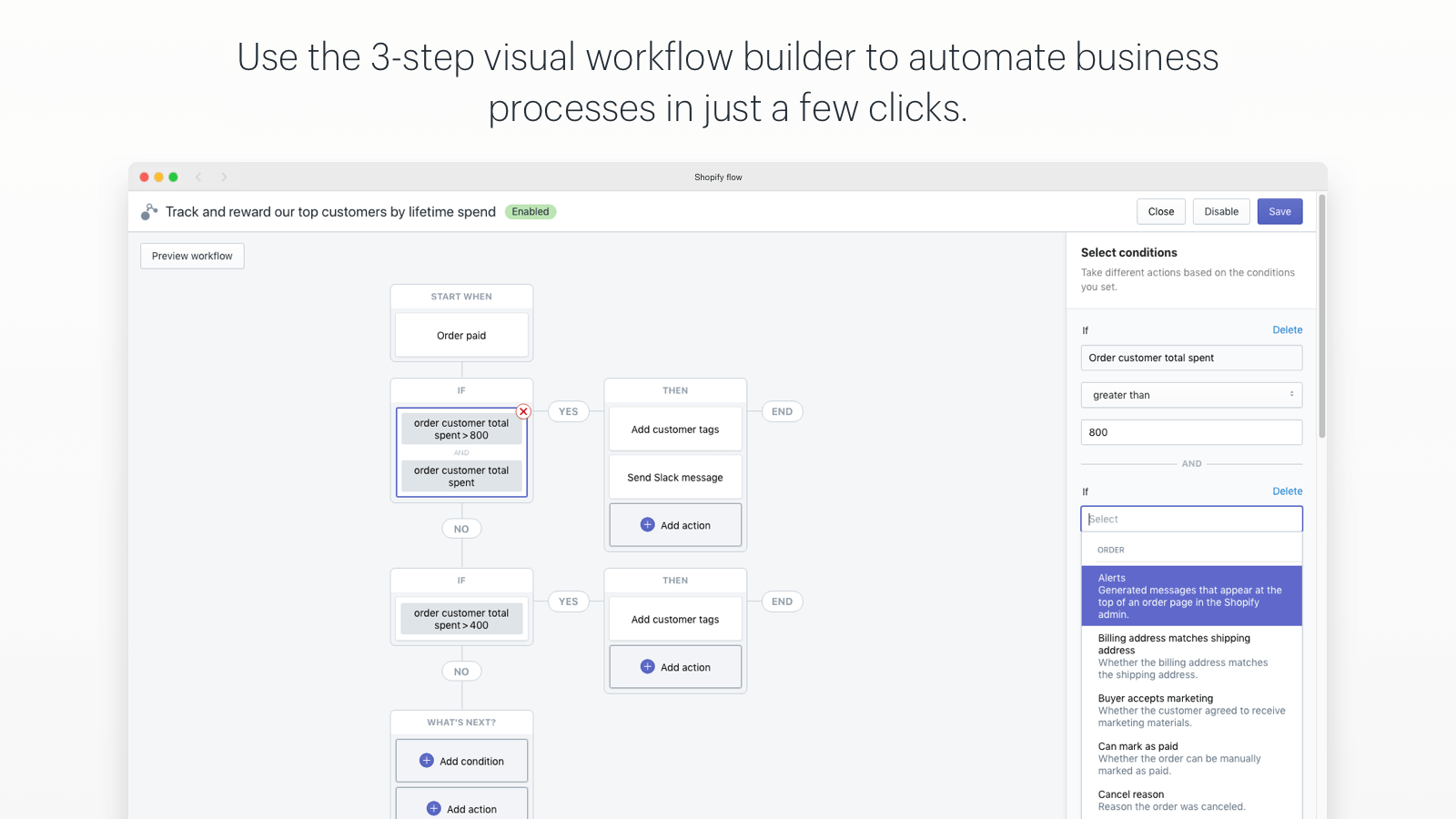 You can also use Flows to link customers to presets based on their current purchase or overall history. This is the key to giving personalized user experiences, such as the customer-targeted homepage, coupon, and pricing displays, and other similar features covered in the previous section.
The Flow shown below, for example, automatically enrolls a consumer in a rewards program based on their order total and marketing opt-in. Once a consumer is added to a loyalty program, they receive any pricing, home page, checkout, and shipping personalization that is available to loyalty program members.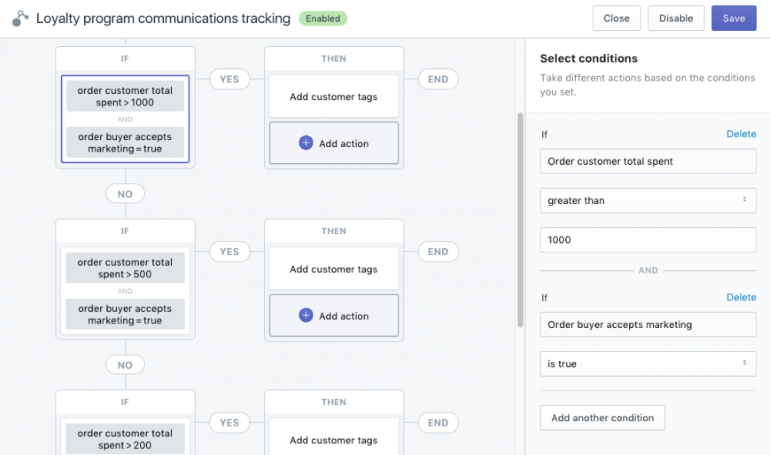 Unlimited Staff Accounts
Shopify Plus offers unlimited staff accounts, which is a significant increase compared to Shopify's restricted staff accounts. These start with two on the $29 monthly plan and go up to fifteen on the $299 plan.
Unlimited user accounts may significantly increase productivity if your operations, marketing, warehousing, customer care, and web development teams all utilize Shopify.
Multiple Website Support
Shopify Plus is a business-ready eCommerce platform that includes over 70 additional features, allowing you to connect with payment systems, like AliPay, and more than 150 countries. You may also create different versions of your website for each country, language, and currency using Shopify Plus, with wholesale pricing lists, discount structures, and shipping options that are tailored for each region.
While flat-rate plans for Shopify provide basic language and currency translators and pricing tools, higher-level options can handle a plethora of websites.
Bandwidth
Every minute of website delay may cost hundreds of dollars in lost sales for volume merchants. Shopify Plus's genuinely limitless bandwidth capacity is a significant benefit over Shopify in this regard.
Your Shopify Plus websites are hosted on lightning-fast servers with no limitations on bandwidth, storage, or capacity. These systems can handle more than 10,000 transactions per minute. From the initial search to checkout, your consumers will always have the fastest, most error-free virtual experience conceivable.
The Shopify flat-rate plans all support unlimited products, and storage, so you won't be charged for additional storage.
But, Flat-rate plans have bandwidth restrictions. While it's unusual, sellers may face speed issues or minor errors during high traffic from flash sales, etc.
Dedicated Account Managers
Shopify has an excellent reputation for customer service. Any seller on one of the company's flat-rate small-business plans may get help 24 hours a day, seven days a week through phone, chat, email, and a vast knowledge library with lessons.
Shopify Plus also includes a number of features that make it easy to manage and scale your online store. Shopify Plus comes with a dedicated Launch Manager for everyone who starts or upgrades to Shopify Plus, as well as a dedicated Merchant Success Manager (MSM) to handle day-to-day difficulties.
MSMs and Launch Managers on Shopify Plus have hands-on expertise with customer accounts, unlike Shopify's basic assistance, which assigns new service representatives to sellers every time. They aren't simply followers, though. Instead, they're platform partners that want to ensure you make the most of all the tools available to grow your Shopify Plus store.
So, Is the Cost of Shopify Plus Worth It?
The value of Shopify Plus, to you, is determined by a number of factors, including the size of your company, the size of your team, your budget, and your objectives. While the price difference between Advanced and Plus is significant, you gain access to tools that substantially improve earnings if utilized correctly.
If you don't have the finances to hire a developer, many of Shopify Plus's features may be useless. However, if you have the financial means to invest in your business's technological infrastructure (which is always advised if you wish to expand and develop), Shopify Plus combines the best of both worlds with a wealth of helpful applications and the capacity to support scaling.
If you run a large business that sells a lot of items on a daily basis, Shopify Plus may save you money in terms of hosting, downtime, and security upgrades and patches. In the long term, it's more cost-effective to buy into a platform that is built specifically for your needs.
Optimum7's Shopify developers can help with either upgrading or starting a completely new Shopify Plus business. For more information about our Shopify development and eCommerce consulting services, please contact us.