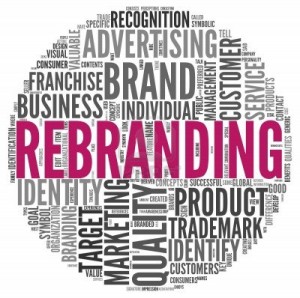 Last month, I wrote an article detailing the rebranding process. Well, for everyone who was waiting for the big reveal, the moment is here! This week, Optimum7 officially completed the launch of the Access Real Estate rebrand campaign.
In this article, I will discuss how designers, marketers, and clients can and should work together to achieve rebrand success.
Research
If you've read my articles in the past, you know that it's no secret that I have a very strong love and respect for research. As far as I'm concerned, it's the most vital part of any design/marketing project.
In the case of a rebrand, research is absolutely crucial. In order for the rebrand to work, we must fully understand where the previous brand fell short. In addition, you need to grasp the target audience's perspective of the current brand, and plan how to introduce them to the new branding.
During a rebrand, the research stage not only includes competitive analyses and a firm grasp of the target audience and location, but also thorough interviews with company owners, employees, and even clients. One of the most efficient ways to gather research is through the use of surveys or questionnaires. By having clients and users write down their answers, a designer can very easily retrieve and review the information at a moment's notice.
Once Doug Seabury, a partner at Access Real Estate completed explaining the brand personality he'd like to portray, it was very evident where we needed to go with this brand. Truth be told, this brand personality, as detailed and explained by Doug, is one of my favorite I've ever seen reduced to writing. It was clear that he really took his time, got out of his comfort zone and really communicated it brilliantly. He defined the brand as a laid-back, outdoorsy dog-lover with respect and tenderness for the great Colorado landscape.
A New Name
One of the main issues our client identified was the location-based name. Because they served much more than the Eagle Valley area, the name tended to confuse potential clients, and had the potential to limit the reach of the company.
For this reason, Optimum7 decided to move forward with a name that has much more personality than the old one. Access Real Estate fit the bill perfectly. In the branding survey, Doug mentioned that his passion was to live and experience the area surrounding his home, and to share that experience with as many people as possible. The new name, Access Real Estate, holds much symbolism. It can represent access to family, holidays, lazy weekends, the adventurous outdoors, or a cozy sanctuary. This is precisely everything people look for in a new home!
Tone and Personality
In addition to the new name, we found it very important to find a tagline that conveyed the same friendly, yet professional feel as the new name. After much research and brainstorming, we pitched "We'll Bring You Home." We loved it, Doug loved it, and the rest is history.
It is important that you don't stop with a tagline. All content on the site should be as consistent as possible with your new branding. A rebrand is so much more than a logo or a website redesign. A rebrand is used to create a consistent, updated image.
Logo
Once we decided how the brand should sound, it was time to decide how it needed to look. The first step here was the logo. I was determined to stay away from the typical, overused house icon that so many real estate agencies use – like the ones below, for example.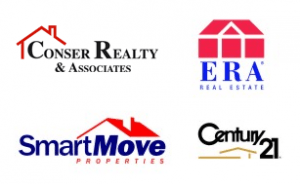 I decided instead to experiment with pieces of a house, and concentrate on what a house represents. I tried logos with keys, locks, roofs, etc. However, the one that worked best was a single open door. It seemed perfect, since a door is an entrance that grants access to visitors and potential homebuyers. What's more is that the door shown here is open, encouraging the viewer to practically walk right through it. The open door is welcoming, friendly, and inviting- everything a home should be without showing an image of a house. After playing around with the color scheme a bit, we had a winner.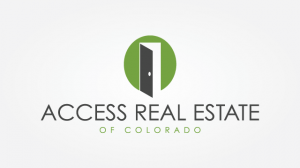 Website
The old website functioned very well. Our Senior Developer, Julian Beaujardin actually finished a complete RETS integration with the site late last year, and the results have been very good so far. So the challenge here was to take the functionality that users love, and combine it with a new, beautiful design.

Personally, I think we nailed it. I'm so pleased with the look and feel of this site. It is consistent with the new branding and utilizes the functionality Julian worked so hard to create. In addition, we updated the structure of the site to make it even more search engine and user friendly. For example, users can now search by desired community.
My goal here was to create a clean, modern site that users enjoy visiting. While it is too early to tell for sure how users are reacting to the site, my outlook is positive.
Oh, and did I mention it's completely responsive?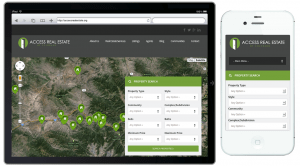 I suppose that's just another way Access Real Estate is creating consistency in it's branding- by being easily accessible on any device. ☺
Social Media
There is no doubting the power of social media on the web right now. Understanding how important consistency across platforms would be for this rebrand, I designed new collateral for Facebook, Twitter, LinkedIn, Google+, and YouTube.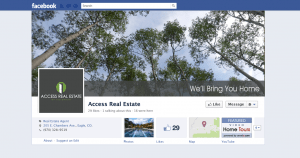 Facebook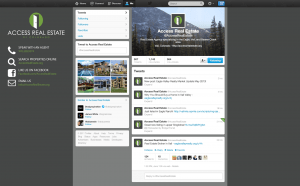 Twitter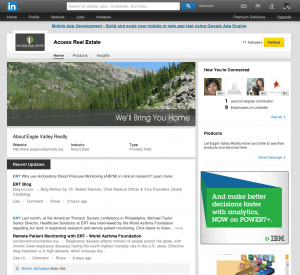 LinkedIn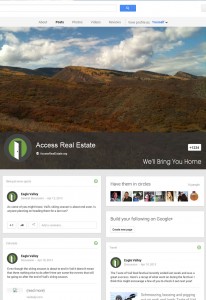 Google+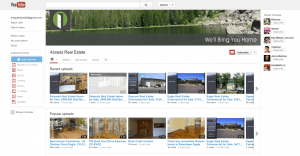 YouTube
After the site was officially launched, we updated all images and names on these networks and posted information about the new site. By doing this we encourage visitors to return to the site and check out what's new.
Advice for Designers Working on A Rebrand
My first piece of advice for designers working on a rebrand will come as no surprise: do your research, you know why.
I will also advise that you listen closely to what your client and users are telling you. This involves sitting down quietly and simply letting them talk. If you are lucky enough to speak with them in person or through video chats, take note of their body language. Where do they become frustrated when discussing their brand? Where do they seem excited? By understanding their passion, you will be able to produce a better product.
Also, I need you to remember this: rebrands aren't easy. They take a lot of work, and a lot of patience. You are essentially taking something your client used for years, yanking it out from under them, and giving them something new. They will need your patience and guidance throughout the process. If you are relaxed and determined, you should have no problem giving them everything they've hoped for.
Finally, you will need to understand the value of usability testing. As I wrote about last week, usability testing is one of the best ways to get into the shoes of your target audience. Do you remember how I said earlier that it was too early to tell how potential users are reacting to the site? Usability testing is one of the first steps towards better understanding how well our rebrand worked.
Advice for Marketers Working on A Rebrand
Marketers, work closely with your designers. It is the responsibility of both departments to create a brand that is consistent and trustworthy. You can only do this if you communicate well and work together.
You will also need to review the site after the launch. While everyone else is "popping bottles" in separation, it is you who needs to make sure all 301 redirects are in place, all conversion codes are installed, and all contact forms are working properly.
Advice for Clients Undergoing A Rebrand
Of course, I am not a client. I am the one who provides the service. However, after being fortunate enough to work with the patient, passionate folks at Access Real Estate, I have stretched beyond the boundaries of my comfort zone and come up with a few tips for clients.
Firstly, your patience is just as important as the patience of your team. You need to keep your chin up and your eye on the prize. All this hard work will pay off, I promise.
You will also need to give great feedback. Designers and marketers are many things, but unfortunately we aren't mind readers. If something bothers you about the design, the name, the strategy, etc. tell us. Again, communication is key here.
In addition, you will need to understand that your involvement is absolutely essential to the rebrand's success. By being an active member of the project from the beginning, you will establish an open line of communication between yourself and the team.
The Takeaway
A rebrand is no small task. It requires patience, dedication, and hard work from designers, marketers and clients. However, by creating a detailed plan and working together as a team, I'm confident that your next rebrand will be a big success!
Is your current branding campaign falling flat? Contact Optimum7 for a free consultation today.