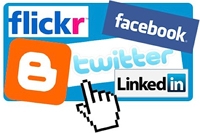 Social Networking is one of the biggest crazes on the internet. People are using social network web sites such as Facebook or Myspace to reconnect with old friends from elementary school, colleagues from work, and even their favorite celebrities and musicians. But the internet has been widespread for a long time and web sites built for the purpose of profile sharing is nothing new. So why have social networks taken off so much in the last few years? When MySpace was a new website and social networking was in its' infancy, it was normal for youngsters to add all the people in their social circles as friends on the site. Currently Facebook is so huge, it is very common to find people with networks spanning from their friends at school, to their teachers, parents, friends of the family and even their college professors. There is a clear distinction between the way we look at and use social networking now and how we did in its' early stages. So what are the factors that have made social networks so huge and why do people use online social networks?
Social Networking is Easy. Modern technology and web 2.0 standards have come a long way recently, making most social networks easier to use than email. This is why you see so many adults and elderly citizens on social networks these days. You used to at least have a basic background and solid understanding of computers to be able to build a profile page on a networking site. The latest browsers are equipped with JavaScript making it easy for most social networks to allow people to build profiles with almost drag and drop functionality.

You can find Anybody on Social Networks. New search features combined with the ease of use have made it so incredibly easy to find someone that you may not have talked to in years. So many people are reconnecting on the web, possibly for the first time since elementary school. This has always been something that was easy to do, but with modern social networks we are able to do it easier than ever.
Online Social Networks have made the web exciting again. Many of the tools and toys that we are using in conjunction with our favorite social networking web sites are not new at all, but the ability to share photos, tag friends and comment in a manner that everyone can see and take part in has renewed the excitement that many of us felt for the first time when the internet was new to us. There was a particularly exciting feeling when many of us first connected to the web; A feeling of infinite possibilities. We were able to connect to people on all sides of the world and access information anywhere. However, it soon wore off for a lot of people and it began to be time consuming and even cumbersome in many cases to use the conventional tools of the web. Social networking has changed all of that, giving us one universal place to do all of our online interaction.
Social Networks Make Life Easier. Whether you are looking for a restaurant, a theatre, a movie or looking to buy a product or service, social networks provide a common interface to search for and interact with fellow networkers and get feedback, opinion, and real human experience to help decide and act.  Social Networks provide the human element that is often missing from regular websites.  Even with shopping comparison sites and customer references, you don't necessarily trust those folks who you have no experience with.  Social Networks and the interaction introduce the elements of trust and integrity that provide the peace of mind that many need when making everyday decisions.
Rapid Change & Development. We see MySpace, YouTube, LinkedIn, Facebook, and now Twitter providing new and improved ways for all of us to interact, collaborate, ask and answer questions.  We will see more and more improvements and other changes within and outside of these social networking spheres of technology.
All of this can only mean one thing for businesses … JOIN THE CONVERSATION!  Whether you know it or not, people are talking about you.  Getting involved by responding to questions, opportunities, customer problems and issues is just a great way of demonstrating your business by displaying your responsiveness and attention to customer service.
There are many opportunities in social networking and we are available to help.  Just contact us.