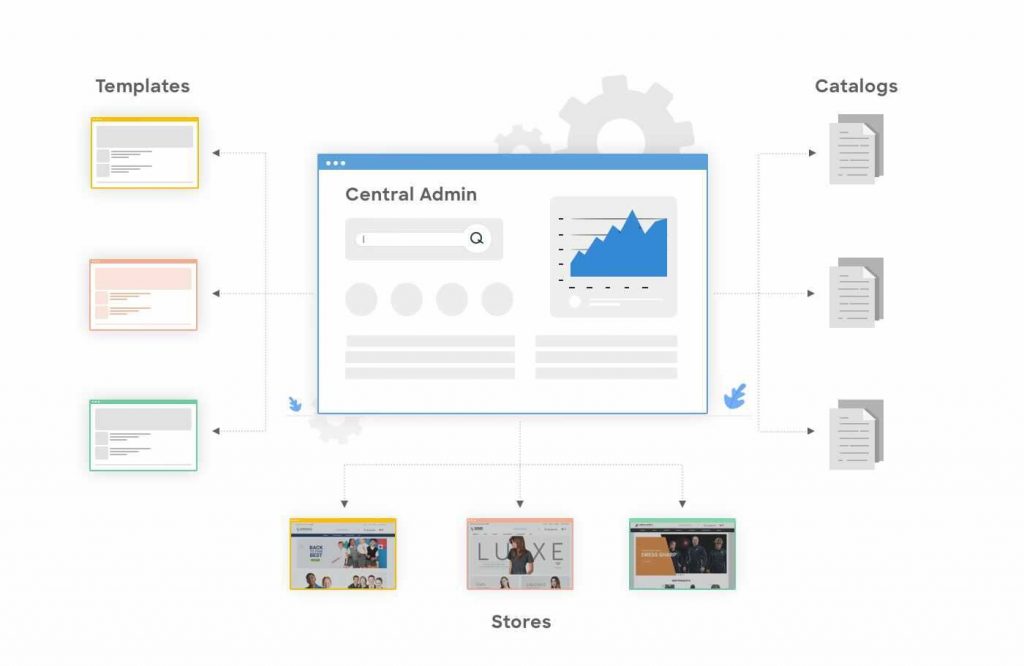 A multi-store front functionality allows you to set up and manage two or more online stores from the same backend. Multi-Store functionality might seem a bit strange to anyone unfamiliar with the concept. After all, if the products and the sales revenue are going to and from the same place, why not just have everything on the same site?
But there are more benefits to this approach than you might realize. You should consider the many ways in which both your customers and your business can benefit from a multi-store arrangement, such as:
Optimum Customer Experience: A multi-store setup takes a step or two out of the process for your customers. Instead of having to navigate to a specific section of a broad catalog, the products they're interested in will be right in front of them.
Targeted Marketing: Having multiple online storefronts is especially valuable if you sell to different countries. It allows you to change your store's language and currency depending on the visitor's geolocation.
Lower Bounce Rates: multiple storefronts give you a chance to have multiple listings on the first page of results for the same search query. While this is unlikely to happen for pages on the same site, you have better odds of achieving this when the pages are in different areas.
Understanding why this functionality is essential for your business, let's see how it works:
Multi-store Front Functionalities Considerations for eCommerce Platforms
Auto store creation / Nice-to-Have
What is it? Auto store creation allows you to efficiently create new stores and adopt them independently from each other. In fact, on BigCommerce, Optimum7 might give a UI Admin Panel as a clone feature to add a new store separately. You can have your own multi-store Dashboard where you manage products, orders, suppliers, customers, and more on a per-store basis. (Works on Bigcommerce, Shopify, Magento, 3DCart, Miva, WordPress.)
This feature allows you to keep the main domain mysite.com and add / "customname" in the URL (the person who creates the storefront).
You can also keep the layout of the pages and footers the same but change the color scheme, name/title, products via the UI Admin Panel. At this point, Optimum7 can provide a funnel with just 6-7 steps, and in 15 minutes, a new store can be created manually.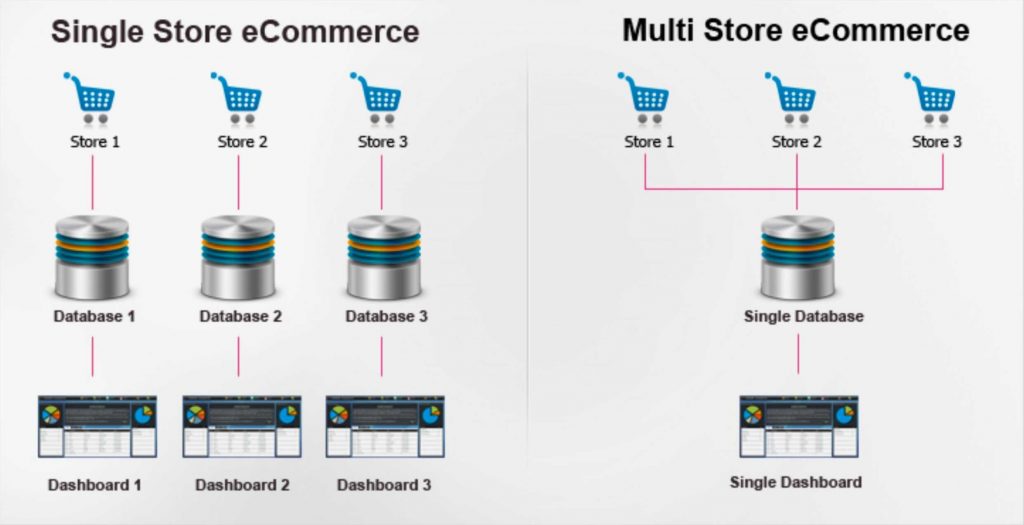 Centralization / Must-have
With the centralization functionality, you can manage multiple stores (~500-600 storefronts or even up to 1000 storefronts) through a super admin account. You can even add or remove products with one account because, with so many storefronts, all products and orders should be accessible from one location via a super admin.
As the name implies, this central management of products gives excellent options like
Product Overview
Product Filter (currently, products are filtered by tags; team tag,product-specific tags, etc.). With WordPress or WooCommerce, Optimum7 can use the tag functionality. With BigCommerce, parent/child hierarchy is necessary.
Category / Product Opt-Out Level customization. Optimum7 might set up one BigCommerce store and sync everything with it. Once the master file is changed, it is pushed to all other stores – cron job.
Central management of orders. WooCommerce has a Multi-Store plugin. Optimum7 might give a UI to manage all these on BigCommerce. That would be a more efficient way to manage at least 500 storefronts.
Bulk edit sites, changes, or security updates / Nice-to-have
It's easy to create this feature on BigCommerce through a custom code that you can manage via the UI. This can be set up by Optimum7 and then done whenever you need to on WordPress or BigCommerce.
Announcements / Must-have
Contrary to what you might think, announcements work better as pop-ups. Because they are informative of a sale or event, they are seen as less intrusive and more likely to be read than an extensive newsletter to your email list.
With multi-store functionality, you can also send to all/selected storefronts at the same time.
It's convenient to be able to automatically send out white label transactional emails to all stores—no need to monitor them. At the same time, it's useful to be able to personalize emails for different sub-stores with logos, about us, etc.
Multi-store Funds distribution for a Custom Marketplace on Bigcommerce, Shopify, or Magento
If you need to run a multi-store marketplace, this feature can easily be added via Stripe.
Promotion of website, traffic load
With WordPress and WooCommerce, we would worry about traffic and promotion of websites. For example, Digital Ocean would be the best option while AWS would be more expensive.
We're constantly working on developing more options. At this time, only German is our second language option.
No need for inventory management, so no inventory sync is needed. Assume every product is always available in an infinite amount until it is not. When it is not you will see with the bulk changes feature via the master account, "This product is out of stock."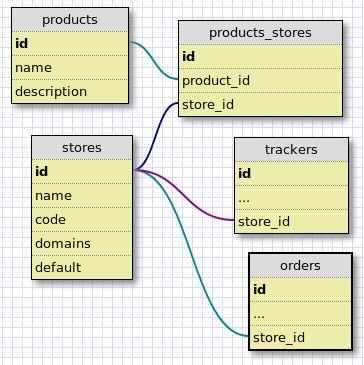 Fulfillment is how your orders are filled and sent out to customers. This is what the current fulfillment process looks like.
A daily download of orders grouped based on producers
Orders are forwarded to the producers, and they receive daily CSV files
Production of the orders. (If the orders are custom products and need to be manufactured.)
After production, all orders are forward to the fulfillment partner of the sub-store.
Fulfillment partnerships products.
It sends out an order confirmation
It should be noted that all this happens outside of the software. The software stops tracking once the orders are forwarded to the suppliers.
Let Optimum7 Add Multi-store Front Functionality for your BigCommerce, Shopify, and other eCommerce platforms.
Any online store with a broad catalog should strongly consider splitting its site up into multiple online storefronts. This arrangement improves customer experience and provides you with many more opportunities for making sales.
Contact us today to make your multi-store management easier, more efficient, and tailored for the right audience.