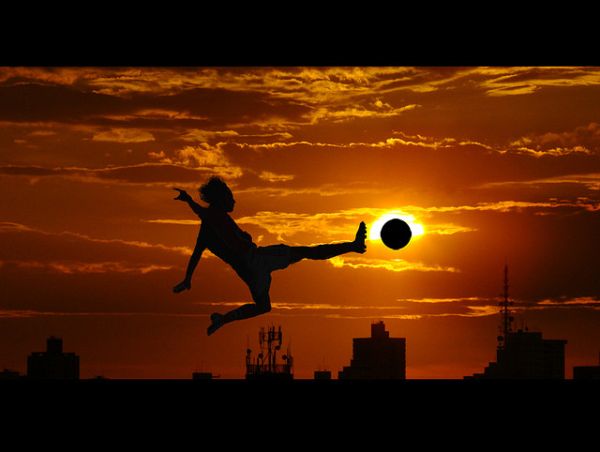 Is your business's Facebook page suffering from lack of engagement? Thanks to Facebook EdgeRank, businesses are reporting that at most, only 10% of their audience is seeing their updates (Forbes). And with the new Facebook newsfeed coming out, that percentage may be less since users can opt to see a stream of their friends' updates only, leaving updates from pages they follow in the dust.
The secret to getting your posts seen by more of your audience is to win with EdgeRank. Essentially, the more engagement you receive, the more likely your posts will be shown to your fans. Here are some tips that can help you boost engagement and beat the EdgeRank algorithm.
Build your fan base.
First off, the larger your fan base is, the larger your potential reach will be. The key is to build a relevant fan base, aka people who will be interested in your status updates. So how do you build this relevant fan base? Here are a few tips.
Add a like button or box to your website. This will quickly turn the people who already know and like your business into fans of your page.
Add a link to your Facebook page to your email signature and newsletter.
Add a link to your Facebook page to your Google+ profile, and any other social profiles you can connect it to.
Add a link to your Facebook page on your business card and other printed marketing materials (brochures, flyers, handouts, class schedules, menus, etc.).
Encourage your followers on other networks to also become a fan of your page with occasional tweets, Google+ posts, and other updates.
Use Facebook Advertising to grow your fan base by placing ads to a targeted audience.
Have your employees edit their personal profiles to include their current employer and make sure it links to your business's Facebook page. Assuming they use their personal profiles in a professional, dignified way.
One thing you may be tempted by is buying Facebook fans from services like Fiverr. While this can boost your fan count, it is probably going to do little to boost your engagement. What's worse is some of those services include "engagement" from your purchased fans, and that engagement will look fake and out of place. It usually equates to people commenting one-word responses to posts like "Cool," "OK," and other generic phrases.
Post engaging updates.
As you are establishing your fan base, be sure to mix in some engaging updates – updates that elicit a response from your audience. Some examples of engaging updates include those with questions, calls to action (like this if you ____), a challenge to caption an image, and similar types of updates. Tapping into current events can also attract some great discussions if done tastefully.
Post often.
One of the factors in EdgeRank is recency. You have to test your audience, but most pages will find that they get better results when they post updates daily. Some will find that posting multiple times a day is great for their audiences, while others will find that more than once is too much. If you're unsure about the timing of your updates, you can refer to the study Dan Zarella did with HubSpot on the Science of Social Timing: Facebook and Twitter.
Encourage people to get notifications.
If you really want to make sure that your fans don't miss your updates, then encourage them to get notifications from your page. The best way to do this is to get a screenshot of your Facebook page while hovering over the like button like this.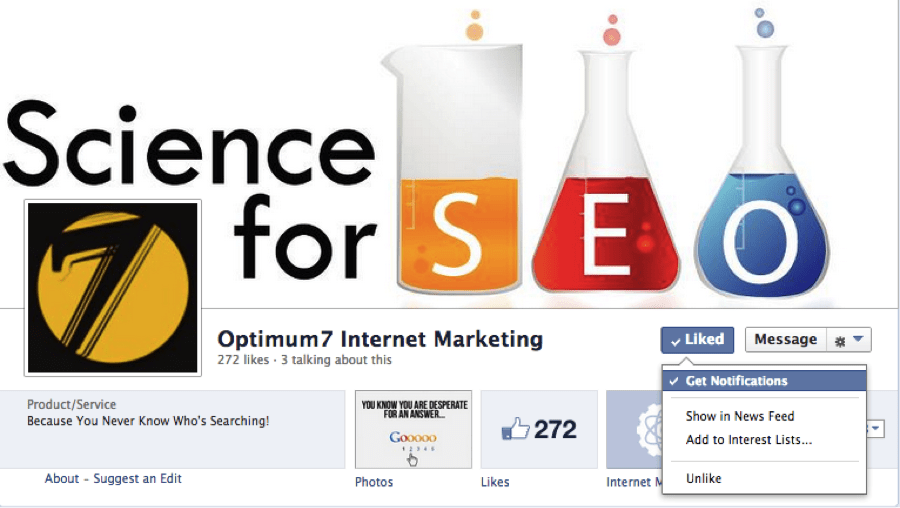 With this visual reference, you make it easy for people to like your page, get notifications, and learn how to encourage more engagement on their own page.
Cross-post between other networks.
Do you have a huge audience on another social network such as Twitter? Get them involved by grabbing the link to your latest Facebook status update and sharing it as a tweet. This works especially well on engaging status updates as you can tweet a message like "What do you think of the latest Facebook updates? Let's discuss!"
Use Facebook advertising to promote your posts.
If you want to reach your fans and beyond, you have two options. For pages with 400+ likes, you can use the Promoted Posts option (also referred to as Boost Post) beneath your status update to advertise it to reach a certain number of people based on your fan count.  This is an example budget for a fan page with over 2,000 fans.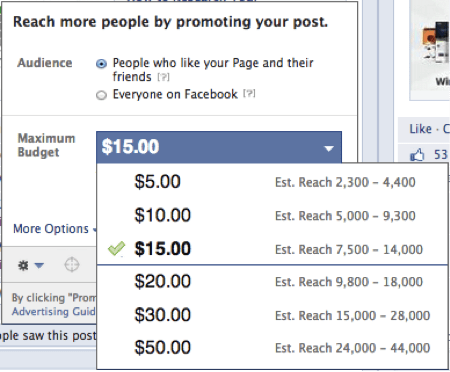 If you don't have 400 likes just yet, you can use Facebook Sponsored Stories advertising in the main Facebook Ads area. This option allows you to target your updates to a specific audience including your own fan base and friends of your fans.
Run a contest.
Last, but not least, you can always boost your engagement as well as your fan count by running a contest. You must follow Facebook's guidelines about contests – see the section on Promotions in their page guidelines for more details. You will also need to research the best application provider for your contest. There are a lot of them out there. Woobox, Wildfire, Shortstack, and North Social are just a few to choose from.
You can also research other pages on Facebook that are running contests to see what app they are using to make sure you like the feel of the contest as well as the features. Ideally, you would want entrants to have to like your page and give them the opportunity to earn more entries by sharing the contest with their friends, increasing its exposure and engagement.
What are your strategies for getting more engagement on your Facebook business page? Please share in the comments!