A 2011 study by Flurry, a mobile analytics company, compared U.S. ad spending on different media outlets to the time consumers spent using those outlets. While the spend for television, radio and web are fairly proportional, print only gets 6% of people's time while marketing companies spend 29% on it. Hardly seems worth it. However, it also reinforces what many marketers have been saying. Advertisers are not taking advantage of ad space on mobile media. Receiving only 1% of ad spend, users spend 23% of their time on mobile devices versus other media.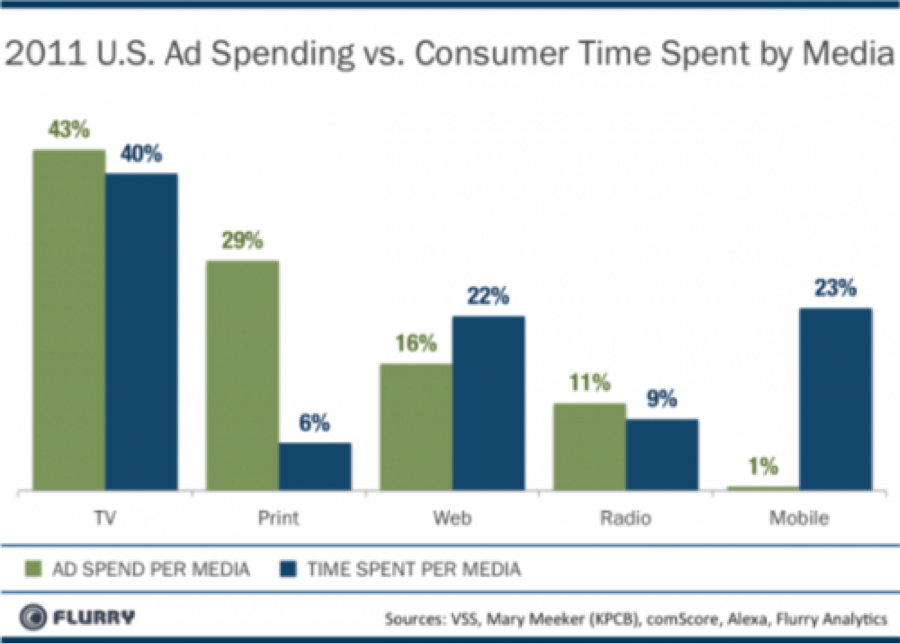 The chart above shows disproportion business spending for all of the traditional media, indicating too many dollars chasing too few consumers. The web still shows plenty of room to grow; however the disproportionate, even sever under spend in mobile, indicates that it is still early in the game and most importantly, it is a great opportunity for those business and industries that are uniquely well suited to be seen by the burgeoning mobile user population.
Small and medium sized businesses, large businesses, even corporations…everyone needs to be advertising on mobile and building mobile-friendly websites. There is no more perfect time to get into the market. It is still a fresh, virtually untapped source for generating leads, selling products and increasing your audience's overall experience with your brand.
Build a Mobile Friendly Website
Building a mobile-friendly website doesn't cost nearly as much as you might think. A basic mobile site should cost anywhere from $500 – $2,000, making it an important and affordable avenue for your marketing efforts. If you would prefer to do it yourself, you could create a mobile template and work on that from scratch. Either way, it is important to know what your main focus is going to be. Remember that mobile devices tend to be small and, in consequence, not a whole lot of information will fit on the screen.
If you have an eCommerce site, you want to make it easy for people to browse through your products, add them to their cart and purchase them. For small, local businesses, you should focus on having a click to call option and easy access to a map with directions to your location. If your purpose is lead generation, have a mobile-compatible form that is quick and simple to fill out.
Marketing
Even though mobile may be a new platform, it is still imperative that you have a definite marketing strategy for advertising. We suggest using AdWords and taking advantage of their extensions like the click-to-call feature previously mentioned, as well as phone call extension. This is especially important if you are a retail or mom-and-pop operation.
If you are a locally-based business you must be on Google Local. This is because Google Local listings are the first to appear in the results when someone searches for a business.
For example, if I needed a plumber and looked one up on my mobile device, this is what I would see: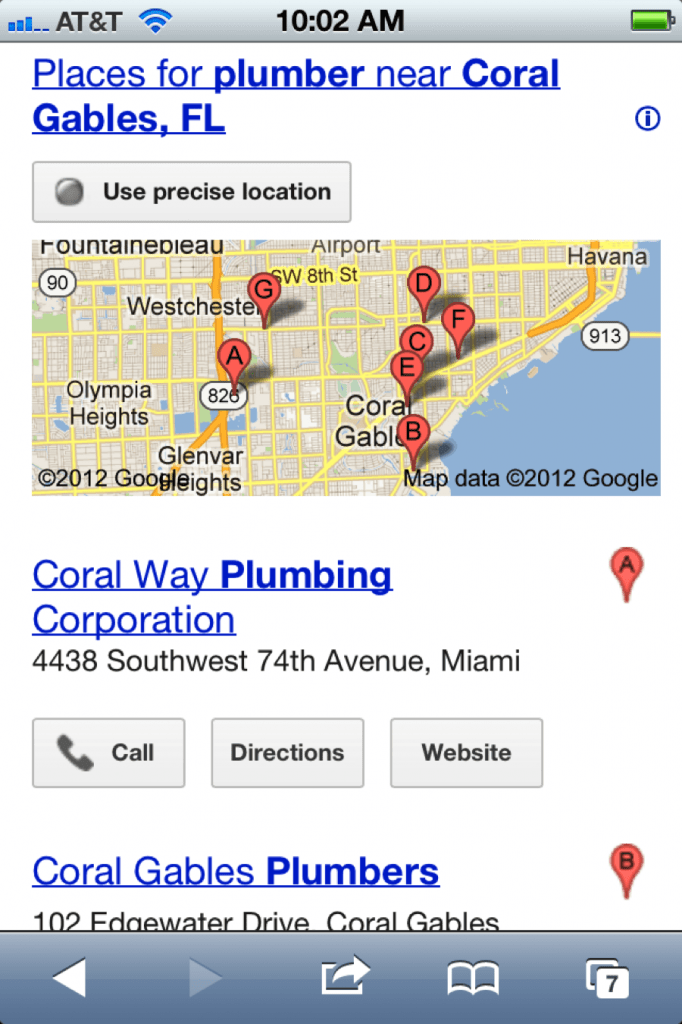 Rather than offering me Roto-Rooter or some nationally known company, I am offered the locally owned and operated plumbers in my area. Also, remember that click to call button we mentioned, as well as the directions? Well, there's the example of why they are so important. The Coral Way Plumbing Corporation may very well get my business, just because it is easy to access them on my mobile device. That is not business you want to lose out on.
Display and Banner Advertising
If you have a mobile device, then you already know how much time people spend playing games and utilizing different productivity tools. If you're not yet a mobile device owner, the answer is, in my humble opinion, too much. But either way, people do spend a whole lot of time on their mobile devices. What does matter for marketers especially is that all of these apps have ads that you can use to target specific people.
Taking the biggest advantage of mobile app ads depends on your business and what your business goals are. However, generating leads and targeting a specific, niche audience through the mobile platform is convenient and simple.
For example, if you are a local retailer of soccer equipment, you can target a specific city and advertise to people playing a soccer-related game on their mobile device.
Mobile advertising gives you access to an audience that couldn't previously be reached. Mobile ads are inexpensive, and tracking conversions is easy. If planned and executed accurately, mobile advertising is a veritable goldmine. This is especially true since it is an avenue that, at the moment, is unlikely to be fully utilized by your competitors. You can be on the cutting edge!
Take Some Pointers from Beneful
For those of you who may not have pets, Beneful is a pet food company that has recently entered the mobile realm. Their mobile site is a perfect example of what a successfully integrated mobile marketing strategy entails.
Take a look at this screen shot: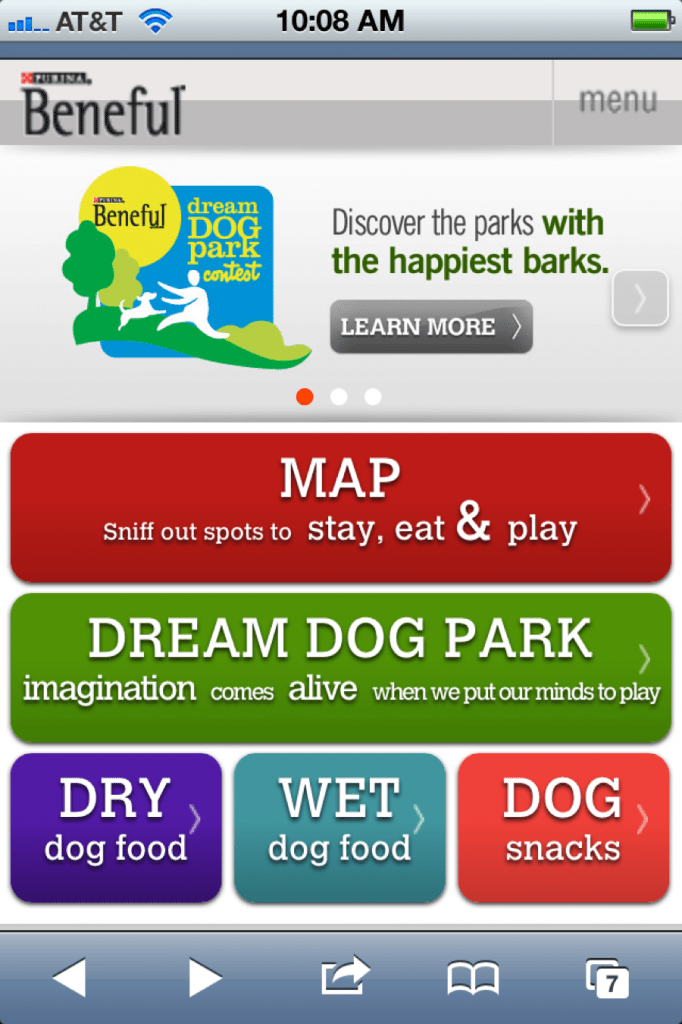 Geared toward pet owners, Beneful isn't just selling dog food or offering locations where their product is sold. Instead, they have made an effort to provide value to their audience.
They offer a map where people with pets can find local parks to take them to play and meet other dogs and dog owners. Not only that, but you can also find places to stay that are pet-friendly when you are travelling. What pet owner wouldn't love that? It takes something that, in the past, has been time consuming and even frustrating and lays it at their audience's fingertips. Way to go, Beneful!
Not only that, but they are also running a contest for a dream dog park where you can read about last year's winner, vote for your favorite entry or meet the team that chooses the grand prize winner, and a multitude of other information about the contest.
They also provide information about their products so that if a pet owner is unsure of what to buy for their pet, they can easily look up their different options and make an informed decision without having to lift 50 pound bags of dog food to read the back or return home to do their research – it is all right there for them.
The Beneful website is just one example of what a mobile website should look like in the future. Its focus is on providing real value to its audience and making their lives easier. This helps them become a part of their audience's daily lives, which is the ultimate goal of all marketing – to have a brand so strong that people couldn't live without it.
To start taking advantage of mobile marketing today, contact us today! We can help.