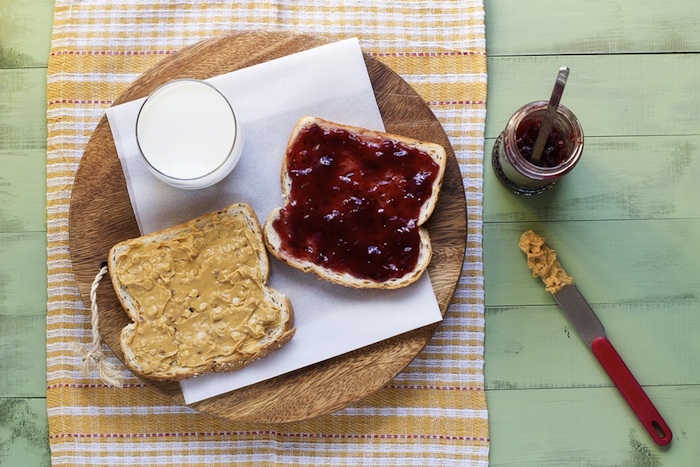 At Optimum 7 Internet Marketing we pride ourselves in educating future student Marketers on what we do day-to-day.
With that said, one of our main tasks is reaching out to teachers and university officials via e-mail or phone in order to pitch our variety of workshops.
The funny thing is that recently, the way we reach out to these educators and administrators has changed.
Instead of reaching out through traditional forms of communication such as e-mail and phone, we have shifted to communicating via LinkedIn and other Social Media outlets.
Did you see this one coming?
With LinkedIn's capacity to contact your professional networks with its effective e-mail system, this should be no surprise.
In this article, I will highlight how you can incorporate Social Media into your Public Relations Strategy by providing insights into our current processes.
Stay tuned for a PR revamp campaign you'll be glad you read.
Reaching Out
A major part of any Public Relations Strategy is reaching out to other influential individuals that can somehow make a difference in your company.
Here are some effective ways to reach out to others using Social Media:
Ditch your e-mail system for LinkedIn's inbox
There are many reasons why this is effective but mainly it's because it happens to be convenient. You also have to consider that individuals who have a LinkedIn account and check their inbox regularly, expect to get business related e-mails and are more likely to respond.
When you send a request to their e-mail inbox, they are more likely to view it as spam. Another reason why this works is because the person who you are sending a message to is able to view your profile, which in turn gives them an idea of who you are and what you do (credibility).
But how can you get introduced to an influencer on LinkedIn?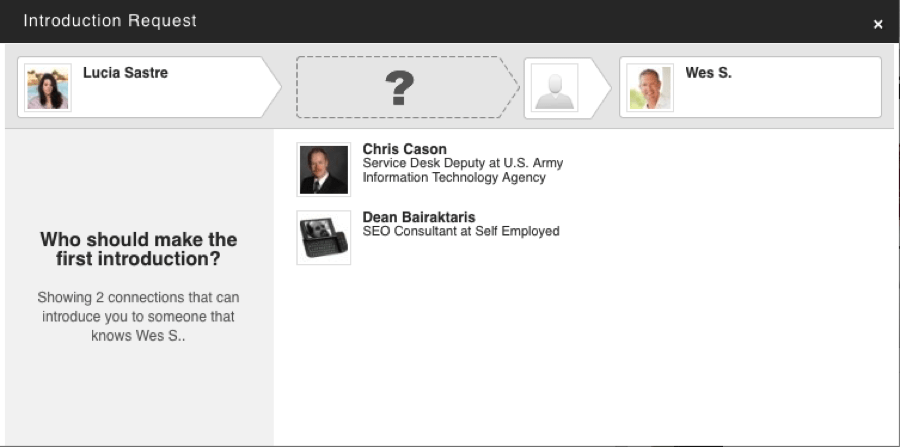 LinkedIn's introduction system is very effective and it only takes one influential person in your network to be able to provide an introduction. Keep in mind that in order for this to work, the person who introduces you must know you well.
After you've been introduced, use that authority to your advantage and maintain a flow of conversation through your LinkedIn Inbox.
Use Twitter As a Reminder and Follow Up System
It's that time of day again. Time to follow up with your newfound contacts, of course!
What do you do?
In a traditional world, you would just do this by e-mail, spending countless hours crafting lengthy messages.
But there are other, more efficient ways to follow up using Social Media.
For instance, instead of using your e-mail system, opt to use Twitter to send brief reminders. This tends to work better because not only are you engaging with their account, but you are also establishing a somewhat less formal conversation.
Whether it is to follow-up on a request or simply to guide a prospective customer in the right direction, establishing effective conversations on Twitter can go a long way in terms of exposure and reputation.
Take for instance how Buffer successfully helps out a customer with a technical problem: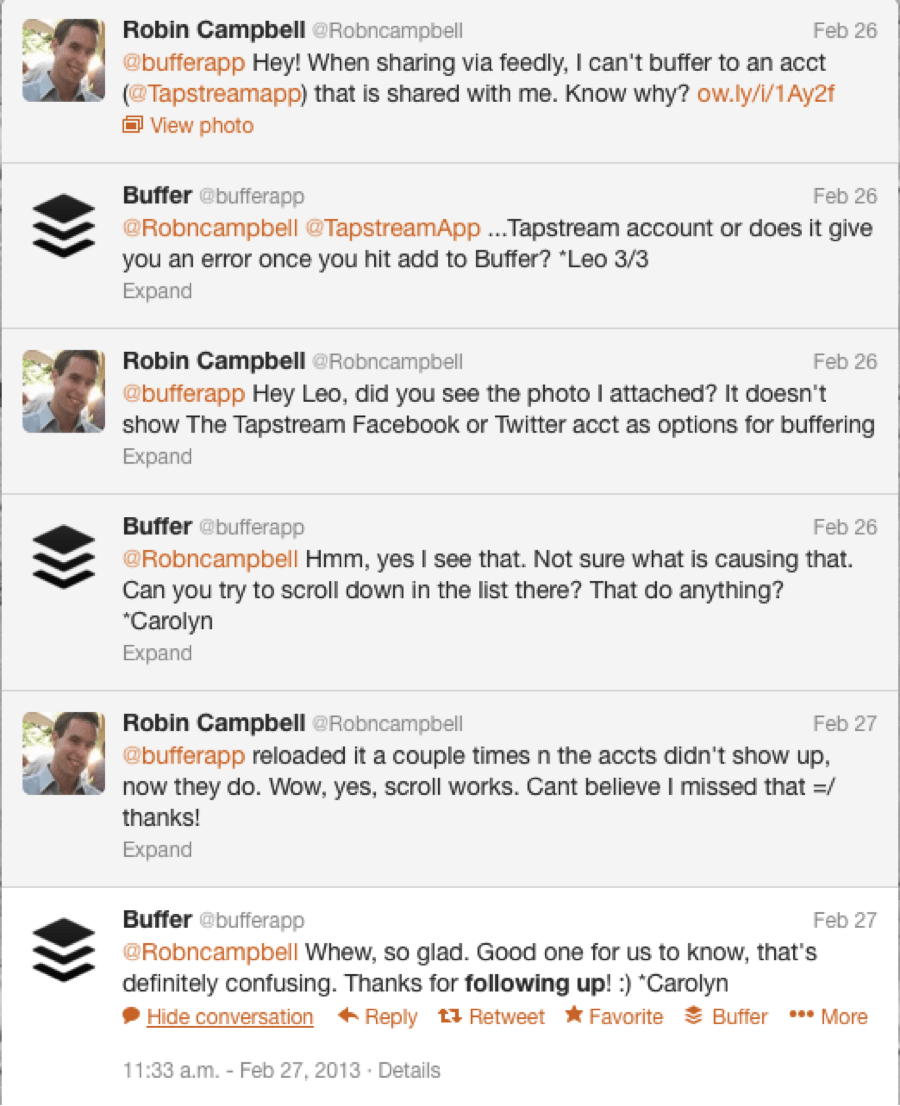 Use Google+ Communities to Find a Relevant Audience
Google+ recently came out with their Google + Communities feature which allows you to join in conversation with various niche-oriented groups.
This tool is great to find new connections. In a way, it acts as an ongoing virtual Networking event.
Here are my suggestions on how to integrate your Public Relations efforts with Google + Communities.
The first and most important step is to choose the right audience or, in this case, the right communities.  Remember that it's not so much about finding customers, but about establishing connections with similar industry influencers and becoming an authority in your field. For example, if you were offering Internet Marketing Services, it would be good strategy to join communities related to that field and engage with them accordingly.
Introduce yourself. When you introduce yourself to a Google + Community, you should answer these questions: Who are you? Why are you joining this community? What will you be sharing? What do you do?  Don't forget to thank the moderators for having you as well!
Engage. The first thing I like to do after I decide to join a community is to run down each category, find the most interesting post and leave my feedback. I usually ask open-ended questions to facilitate responses; I try to establish a professional relationship with individuals. Remember not to add users aggressively to your circles. Before you do anything, I would suggest you read the User Content and Conduct Policy.  By following these guidelines, you'll prevent your profile from being suspended or cancelled.
Follow-up. Google+ Communities is all about following-up with the conversation. You'll only achieve a desirable result after you've had productive conversations. Look at it this way, if you were networking face-to-face, you wouldn't leave in the middle of the conversation, would you? I hope not!
Expand. After you've established a relationship with your desired contacts, ask them if you can add them on LinkedIn.  This option may allow you to find more connections and eventually be introduced to them. The ultimate goal here is to take your newly found connections on Google+ Communities to LinkedIn.
Although this seems like a fairly easy task, it takes time and methodology for it to be successful.
Here are some tips that may help you through the process:
Be patient. It's not about how many connections you can get on Google+, but more about the quality of those connections.
Be Real. It's important to be honest and genuine when forming relationships. No one wants to feel used.
Be Informative. If you are provided valuable information, you should also be providing some too.  It's a two way street.
Don't be Afraid; Speak Up. These communities are meant to share information and to engage with the audience. Don't be afraid to voice your opinion.
With that said, it's evident that Public Relations is increasingly tied to Social Media with new features and applications.  The time to start exploring new networking options is now.
The next time you have Public Relations tasks in you calendar, ditch the old way of reaching out and start strong with the new ones. If you need more information on how to manage your Public Relations efforts online, feel free to leave a comment below or contact us.