Optimum7 is an Elite Certified partner with BigCommerce. With an extensive portfolio of clients, the team provides Bigcommerce development services, planning, strategy, and marketing. SEO has a high revenue potential; it will keep exponentially increasing in relevance.
If you invest in SEO correctly, building content hierarchy and structure, your business will earn millions of revenue dollars. Some clients reach millions of dollars with a minimal investment of $5,000 a month on an ongoing basis. That revenue only grows.
BigCommerce SEO (Search Engine Optimization) Strategy
What are the different BigCommerce functionalities or features that help one execute an SEO project more efficiently?
Our team understands Bigcommerce SEO. As they were building out new functionalities and out, they considered client questions about SEO and marketing.
After receiving feedback, they implemented a lot of these features onto their platform.
For example, content is essential when it comes to SEO and content marketing. All eCommerce businesses should have a standard blog.
Every single eCommerce platform out there has one, but now when it comes to driving that middle-of-the-funnel traffic, focus on optimizing these product category pages.
Traditionally, many eCommerce online stores give you one option to put a category description.
Now, that category description, by default, is going to live above your product listings. If you insert too much copy or text, it's going to push your product listings below the fold. That arrangement makes for a poor user experience.
How to Rank Bigcommerce on Search Engines
BigCommerce has built containers. Some templates have containers, and others don't. Typically the newer stencils that are coming out all have these containers.
They now allow you to place the majority of that category description content that you're going after some semantic terms, as well as reinforcing your primary down below the product listings.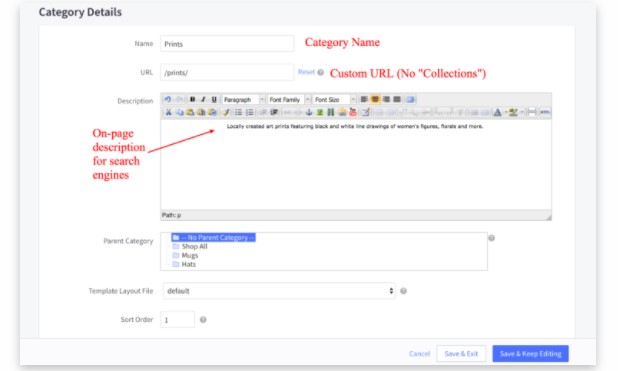 This strategy leads to significant results in terms of traffic and visibility for very competitive terms. For example, one client sells office furniture.
The title of this category page is boardroom tables. A semantic word for boardroom tables is "conference room tables."
The team must inject content onto this page to also reinforce that semantic. How did they do it? The marketers implemented the strategy on that category page by strengthening that semantic term below the fold.
For both conference room tables and boardroom tables, this client ranks on page one, within positions one through four.
That standing is robust in terms of Bigcommerce SEO and content marketing. BigCommerce thrives well from a functionality standpoint.
Changes To Google Search Engine Results
Talk about strategy.
Google has implemented many intent-oriented changes over the past few months. These changes will affect one's strategy to rank on the search engines.
Suppose you are searching for boardroom tables. You might get a lot of category pages on product pages on the first page of Google. If you're searching for more informational topics, like cataract issues with dogs, then you get more blog and information-related results.
Google prefers the informational blog posts — which have an average of one thousand words– versus the category. With that said, Google has gotten a lot better at identifying the intent of that search.
BigCommerce makes the strategy easier. Type in, "Buy cataract medicine for dogs." Cataract medicine for dogs will be on the information page.
If you add the term "buy," the page will show products and category pages. Substitute "price" for "buy," and it will send you to the category or product pages.
Many BigCommerce business owners don't understand this. They don't optimize their strategy to consider content hierarchy and intent.
What has Optimum7 done about this with clients?
The strategy takes priority. Users will conduct informative searches throughout the purchasing journey. This top-funnel traffic requires a drive with informative pieces.
The searches will not lead directly to a direct conversion per se in the short term. However, you're now funneling in that traffic, building awareness, and establishing authority within that industry.
When a customer makes that purchase decision, suppose they don't remember your brand. Despite that, when they type in a buy term, your website will showcase a product.
You're going to land them on a category page, or maybe sometimes even a product page depending on how specific their search is. Funneling is an overarching strategy when it comes to content on BigCommerce.
Recognize what the search intent is, and therefore what type of page that content needs to exist. Determine whether a blog post drives top-funnel traffic.
The strategy pushes those individuals further down the funnel, either through retargeting or calls to action. CTAS on that blog post directing them to a specific product.
Middle-of-the-funnel or bottom-of-the-funnel content will serve more of that buying intent for the user coming directly in off of search.
Tough Sells On Social Media Platforms
How about unsatisfied clients?
Some clients will say, "When doing great with SEO, we don't have to do anything else" or "I don't want to spend money on ad words." Alternatively, they may demur with "Google Shopping is a waste of money," "Facebook retargeting doesn't work. Clients don't buy on Facebook" or "We don't get conversions on Facebook or Instagram."
That sentiment is nonsense. Consumers are consuming content on different platforms. If you think that you should not be on Facebook in this day and age, you need to learn more about social media. Facebook and LinkedIn convert.
You need to be there because if your consumers are on TikTok, you need to be on TikTok. The same goes for Facebook. The average user needs 26 brand touchpoints to do business with you.
How are you going to fulfill those 26 brand touchpoints? You're not going to meet all of your SEO. It's improbable that they searched 26 times, and you're always on the first page for those results, related categories, or keywords.
Make sure that you are located on a budget. Nail down your awareness, engagement, and conversion campaigns, along with a nurturing process.
These responses typically come from B2B-oriented eCommerce stores on BigCommerce. They say, "My audience is not on Facebook."
"How about this?" The team responds. "Let Optimum7 install your Facebook pixel on your site and check-in after 90 days." After those 90 days, go into the Facebook backend.
Create an audience based on all those who visited your site. Then you can see how many people which you can retarget on Facebook do not call or shop from your site.
The data is there, and it's effortless to prove these business owners wrong with a tracking code. Implementation of one costs no money.
You don't have to run any campaigns or put down a credit card for ad spend with Facebook. The tracking code alone will show you the potential audience size and customers.
If you're a business owner and working with an expert in development, eCommerce, marketing, or consulting, listen to them. Don't pretend like you know everything.
Potential Customers And BigCommerce SEO Experience with Web Pages
What if they used to do SEO 15 years ago?
SEO is technology, which changes. Requests based on outdated knowledge become frustrating, not for the marketer's work but the prospect's well-being.
Developers get these requests from people who said they did coding twenty years ago. Coding has changed a lot. So has SEO over the past ten years.
If this is not your full-time job, find an expert. Listen to their advice and don't question it every step of the way. Ask the right questions, do your due diligence, and speak to referrals.
That said, minimize interrogation because that execution will cost you more money because you're having the experts spend more time explaining something instead of doing it.
Optimum7 experts will answer all of your questions. Reach out to learn more about eCommerce platforms and marketing strategies.
Essential BigCommerce SEO Features
Essential SEO is a collection of small changes that can make an impact on your rankings. For starters, focus on keywords – they are the terms people type into search engines to find things. In order to focus on keywords, you need to make detailed keyword research.
What Are Meta Description and Page Title?
When you type something into search engines, the text that appears on your screen and a clickable link is known as page (or meta) title.
Below is information called meta description which tells us more about what's in store for our interest when we visit this particular site or download files from it.
When it comes to the website on-page SEO, page titles and meta descriptions are just as important as the content itself.
A unique page title that is directly related to your site's topic will help you stand out from other pages on search engines like Google or Bing – this way users can actually find what they need!
When writing a description for a specific webpage, make sure to include keywords about its contents in order to attract more traffic.
The eCommerce platform BigCommerce helps online store owners create content that is SEO optimized by allowing them to enter their own pages' headings (page titles) as well as metadata (meta descriptions).
It'll even give advice on whether or not these are within an optimal character limit of about 100 words!
What Is Alt Tag and Why Is It Important for BigCommerce SEO?
Alt tags are the non-visible text you enter for an image. They can help show what a site's images actually depict, and they may also improve your page's SEO.
Alt tags are a great way of attaching keywords to images, and they're also helpful for those with visual impairments.
Specialist software identifies the tag and reads the image description so that users who can't see it have access too!
If you use BigCommerce, your product descriptions automatically double up as the image alt tags. While this saves time, it can be annoying if you want separate product descriptions and alt tags.
Why You Should Add Alt Text to Your Website's Images
There are three main reasons why you should add alt text to your website's images:
1) Screen readers use it to provide an image description for visually impaired users.
2) Search engines use this textual information along with other meta data such as page title and meta descriptions in order to categorize the context correctly, which helps improve on-page SEO performance and search engine rankings.
3) If your image fails to load, a default replacement is displayed so that there isn't any confusion or broken links on-site pages.
The alt text for an image on a Bigcommerce page should be understandable to those who are using screen readers as well as search engines.
This means that the description must contain your target keyword. You can find your primary keyword with detailed keyword research.
How to Add Alt Text to Static BigCommerce Pages
The process of adding alt text to static BigCommerce pages on web pages is not very straightforward, but it can be done.
First, you need to locate the webpage containing an image (via Storefront > Web Pages). Then follow these steps:
Right-click on the relevant picture without selecting any options that pop up afterward and then left-click in to select it.
If this worked successfully there should now appear a border around your selected item. Now press the "picture" icon in the menu bar.
What Is Mobile Optimization?
Mobile optimization is an essential part of online store design because it ensures your website fits mobile and tablet screens. If you don't optimize for mobile, people may struggle to browse or purchase products on their phones.
In 2018, Google searches on mobile devices surpassed those done with desktops. Also, accelerated mobile pages are much more effective for organic SEO.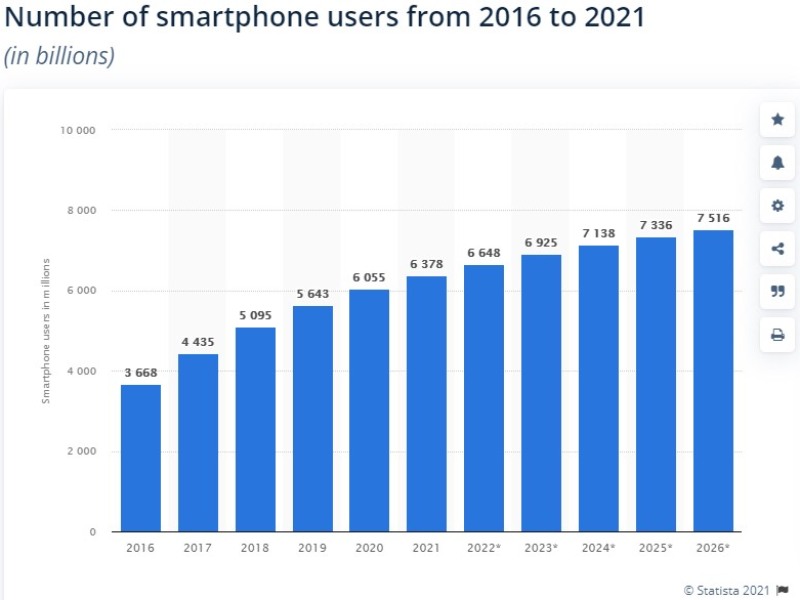 This is because smartphones have become an integral part of our life and so it's important to make sure your site looks good across all screen sizes as well.
BigCommerce is known for its selection of themes, each pre-populated with example content.
This means that you can skip the time spent building a website from scratch and focus on creating your own unique designs instead!
And thanks to BigCommerce's mobile responsive features, all their templates will work seamlessly across devices at any size or dimension—so there's no need to take extra steps in order to ensure compatibility!
What Is Product Filtering?
A good way to organize your website is by breaking up products into categories. For instance, you can separate men's and women's clothing or shoes.
These filters will also appear on the site so users only have to click a few times for what they need instead of scrolling through endless pages of content.
Allowing customers to find products with specific filters makes your site easier for both humans and search engines.
Customers are more likely to spend time on a store that has easy access links, while this is also great news for SEO and search results as it helps you rank higher in search engines and search results.
BigCommerce allows you to create unique product filters. This is great for on-page SEO but can be a bit tedious because each page needs its own URL and should not have any duplicates.
If there are duplicate product pages or other issues with your website's structure that Google notices, it may penalize the site under "unnatural links".
Advanced BigCommerce SEO Features
Advanced Search Engine Optimization is what separates the best-performing websites from those that perform below par.
Anyone serious about selling products or services online will take care to inspect essential matters related to optimization but few have gone the extra mile by taking control over more difficult issues concerning search results matter such as code swapping and off-page activity.
What Is Microdata and Why Is It Important for BigCommerce SEO?
Search engines, like Google or Bing, allow you to add extra information about your website.
This is called "microdata." For example, if search engines understand and crawl one of the pages on your site and see that there's microdata pointing towards an image saying it's from Amazon with 5 stars – then they will show this in their search results page for people who are searching for books.
By providing more information within search engines, you increase your authority and trustworthiness. This can lead to higher conversion rates for people visiting your website.
Bigcommerce themes give you the chance to incorporate microdata. This information will be automatically pulled from your input, so being as detailed as possible is beneficial for click-throughs onto your site.
What Is 301 Redirect and How Does It Work?
When moving a web page, visitors will be instantly redirected to the new URL if they type in the old one. A 301 redirect transfers people automatically from one URL to another.
When you don't have 301 redirects in place, your website visitors are met with a 404 message. The worst part is that they may never return to your BigCommerce site again.
You never have to worry about manually updating or redirecting optimized URLs again with BigCommerce.
Whether you rename a product, add new images and content, change its price—or whatever else might be on your mind —BigCommerce handles all the technical details for you automatically so that nothing gets in the way of your customers' finding what they're looking for!
What Is CDN and Why Is It Important for BigCommerce SEO?
A Content Delivery Network (CDN) aims to improve site speed by loading photos, videos, and other media sources as quickly as possible. It helps prevent people from leaving your website out of impatience if it doesn't load fast enough.
Consumers are becoming more impatient, so it's important your website doesn't have a slow loading speed.
Slow page speed that takes too long to load will not only cause consumers' patience to run thin but also turn away potential customers who may be looking for another option instead.
This factor is one of the most significant ranking factors on Google Search results pages (SERPs), if you rank high enough with other ranking factors then having fast site speed can help boost traffic!
BigCommerce has data centers in various locations around the world. All of these data centers will store your website's files, and they'll load it on a server closest to whoever is visiting based on their geographical location.
This ensures that everyone regardless of where they are can access your BigCommerce site quickly with no lag time since BigCommerce is using every resource possible for better speeds without compromising quality or security.
What Is HTTPS Security and How Does It Work?
HTTPS is a secure protocol that encrypts communication, protecting users from potential hacking.
It also helps to improve security when browsing or entering payment details by preventing information from being intercepted in transit between the browser and server.
Cyber security has always been something online merchants worry about when dealing with data protection from hackers or card duplication during transactions which could lead to fraud.
The sites supporting HTTPS protocol show users all over the world that not only are these platforms trusted but also guarantee safety regarding confidentiality because there's even a lock symbol alongside 'HTTPS
Google Search Engine does not want to send consumers to unsecure sites.
BigCommerce offers built-in HTTPS for all pricing plans so that customers can shop with confidence and search engines will recommend your store instead of others.
How Can You Measure and Monitor Your BigCommerce SEO Success?
If your BigCommerce SEO is successful, you will see a rise in traffic and revenue.
However, there are other ways of measuring the success of your search engine optimization campaign that don't involve ranking or even keywords – though they do affect them indirectly.
One way to measure how SEO changes affect your online store is through visitor counts, conversion rate, and revenue.
It's also good to be able to assess these on a page-by-page basis so you can trial changes on one web page before rolling them out across the site.
BigCommerce Analytics
When using BigCommerce, you can access their built-in analytics. These give your clear breakdown of all the key metrics to consider when tracking performance levels including sales figures alongside visitor count and how people are coming to your site (search results, direct social media, etc.).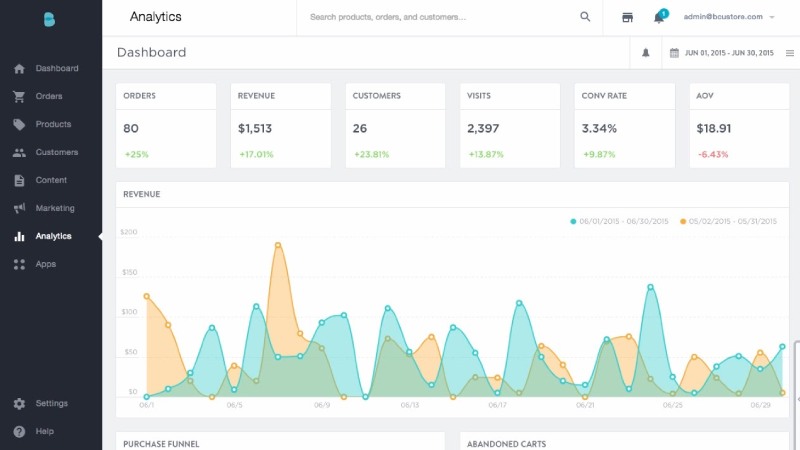 If you add a meta description to a product page for the first time, you should be able to see an impact on all your other metrics.
Meta descriptions are essential because meta description helps with BigCommerce SEO performance and allows you to track how well you are doing in different areas of your business.
Google Analytics Integration
You can get a better idea of how your website is performing by integrating BigCommerce with Google Analytics. Also, you can use Google Search Console for measuring SEO success and search visibility.
With this integration, you are able to view metrics on individual product pages and see if BigCommerce SEO changes have given you an 'uplift' (i.e more site visitors and conversions).
For example, let's say that the page where people enter their email address for promotions has had no traffic or conversions during January through March but suddenly gets 10 visits in one day.
This may indicate either good news (more people visiting) or bad news (bots instead of humans), depending upon other factors like time-of-day traffic patterns over those three months compared against days when there were zero visits at all; these could suggest that whatever was.
How Can You Integrate BigCommerce with Google Analytics?
Google Analytics and BigCommerce work together to help you maximize your online store's SEO.
One of the first steps in creating a Google Analytics account, then pasting your tracking ID – which is generated for you when sign-up – into BigCommerce analytics.
From there, access both platforms' features that will boost sales and increase revenue! If boosting your revenue is one of your key goals, you should set up a Google Search Console account too.
What Is Pro BigCommerce SEO?
BigCommerce's Pro plan offers several useful features that are not available on the Basic or Starter plans.
Customer reviews let shoppers rate your products, which gives you more content that may contain target keywords.
This is good for the Google search engine rankings because it indicates to them people approve of your goods and they're high quality.
You can transfer your existing SSL security certificate to BigCommerce. However, HTTPS is automatically built into every plan so that may not be an issue if you are transferring from another service provider.
BigCommerce SEO vs Shopify SEO
When it comes to BigCommerce SEO vs Shopify SEO, these two platforms are pretty similar in their offerings.
Both purpose-built for online stores, they both offer helpful SEO tools and features that can improve your store's visibility on search engines like Google.
In a comparison between BigCommerce and Shopify, one advantage of using Bigcommerce is its extensive guide which teaches you about primary keyword research.
This guide will be valuable to those who are trying to conduct the right type of simple or long-tail keywords for their site as it covers all types of topics that would have been helpful.
Third-Party Tools and Softwares for An Effective BigCommerce SEO
BigCommerce has a lot of tools to help with SEO. However, there are some tasks that will require using third-party software or services like Moz and SEMrush. Get ready for these tedious manual processes!
SEMrush is an effective keyword research tool that can be used with BigCommerce. The simple or long-tail keywords identified in SEMrush help you add a relevant page to your product pages and increase the visibility of your products online.
To build up domain authority and increase SEO, you'll have to get other websites to link back to your website.
The more credible websites that post links on yours, the better prepped Google search engine algorithms will be in recognizing it as an authoritative source for search results.
For SEO purposes, adding hyperlinks into your own content that connect to a relevant page is also favorable.
If you have blog posts, for example, link out to product pages when discussing them. This helps search engines identify that you're producing expert and relevant pages and blog posts.
Why Should You Choose BigCommerce for SEO?
BigCommerce does all the technical aspects of SEO but gives you options for customizing your website to make it stand out.
Bigcommerce is perfect for small businesses on a budget and enterprise-level companies who want more features than they would get with Shopify or WooCommerce.
BigCommerce helps companies look good on the internet. Their marketing tools, such as SEO and PPC help your content reach more people than ever before so you can grow your business at a rapid pace.
The best part is that they offer free 14-day trials which allow their customers to experience firsthand how powerful these digital services are for themselves without spending any money!
FAQ – BigCommerce SEO
Is Paying for BigCommerce SEO Worth the Money?
The best option for you really depends on your budget and expertise. Paid search or professional SEO support is obviously beneficial, but it usually doesn't come cheap.
Regardless of which route you go down, though, make sure that before anything else—you identify the primary keyword to target so that you know what needs doing first!
How Long Does It Take Google to Update Page Titles and Meta Descriptions?
Although page titles and meta descriptions may take up to two days for the change to reflect in search engine results page, you should make sure your page titles are no more than 60 characters long so it doesn't get cut off.
Why Is BigCommerce SEO Much Better Than WordPress SEO?
BigCommerce beats out WordPress when it comes to SEO features.
Bigcommerce has built-in search engine optimization (SEO) that is actually free, while Yoast needs a plugin and extra cost on the side for you to get access to all of its benefits.
How Long Will it take for SEO Changes to Take Effect?
SEO helps search engines and it is a year-long process, but you can track your performance using SEO tools like Google Analytics and Google Search Console.
SEO takes time to see the full benefit of changes made and it's important not to get discouraged if search result improvements don't happen overnight.