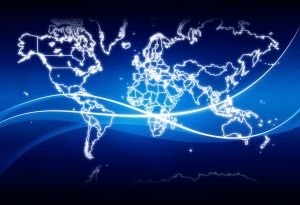 Marketing on the Internet is known by a lot of different terms. Some of the other terms used for this activity are Internet Marketing, e-Marketing, and online marketing to name a few. This type of marketing refers to using the Internet to promote and sell products and services.
The Advantages of Marketing on the Internet
There are many advantages to marketing on the Internet. Some of the more obvious are:
The cost of advertising on the Internet is much less than in traditional media such as print, radio and television. In fact, online marketing can use all the features of other media at a greatly reduced cost. Some forms of online marketing are also free.
Marketing on the Internet has the potential to reach millions. Not only that, but it reaches potential customers across the globe. This means that your market is increased without greater demands on your budget and time.
Reaches its intended audience quicker
There are few marketing methods that reach as many people as quickly as the Internet. With one upload of a marketing message or content billions can see the message within hours. What other medium offers this? None!
The message can be easily tailored
It helps reach persons who are already online searching for what you have to sell or give away. The message can be directed to visitors of specific websites who are already interested in what your company has to offer.
You have the opportunity to show your message to a targeted audience only, which means that they will see your products and services only if they're searching for it. This will ensure that your marketing dollars are wisely spent online.
Whether business is booming or not, long established or new, marketing on the Internet is the way to go. The opportunities are endless for getting your name or business out to the world. There are many ways to utilize the Internet for marketing purposes. The most popular means are:
Social media is fast becoming the advertising choice of new as well as established businesses. The main sites being utilized are Facebook, Twitter, LinkedIn and YouTube. Not only do these sites have millions of members/users, there are other options that help in marketing. Some offer what is known as targeted advertisements. This means that your ad is shown to those persons most likely to be interested in what you are selling or promoting.
Many companies now employ blogs to get their names 'out there' so to speak. They are effective for a number of reasons. Search engines love new content, and blogs with their low word counts are easy to write. The main requirement is that the content be current and use keywords properly. This means that they offer a great advantage in marketing on the Internet.
Having a website is another method of marketing on the Internet. One of the main advantages is that it can be utilized effectively by any type of business. Websites are ideal for even brick and mortar establishments. As with blogs, to be effective, website content must be optimized to make the best use of keywords.
Search Engine Optimization (SEO) is brings all of these elements together to generate higher search engine rankings, increased traffic and business.
There are many advantages to marketing on the Internet. This form of promotion is easy to undertake, and it suits just about any type of business.
Contact us to take advantage of all that Internet Marketing has to offer.