UPDATE 11/28/2021
Volusion seems to have filed for Chapter 11 Bankruptcy. Get details here and here.
For details on Volusion functionality, features, migration, and other similar platforms, read below.
For Volusion migration options, click here.
====
Does your company use Volusion as an eCommerce platform?
If so, you probably know half of what I am about to tell you already.
Even if you're not currently using Volusion, but you're weighing and comparing your options, you need to read this guide. In fact, anyone with an eCommerce platform can benefit from this information.
I have a long history and personal experience with Volusion. So I can definitely help steer you in the right direction. Let's start from the beginning.
Volusion was one of the first really reliable eCommerce platforms out there.
I had my first Volusion store in 2003. Back then, they used to license it for $10,000. It was not even SaaS.
In 2004, I had my first hosted Volusion site. So my experience with Volusion goes back 14 years.
Over that time, I have easily referred over 300 clients and friends to Volusion. Furthermore, my company Optimum7 was one of the first Volusion partners.
However, we stopped being partners with them once they started asking for money to display us as a partner, which I thought was really unprofessional.
Over the last several years, things have gone downhill for this platform. Some of you may be experiencing these pitfalls firsthand with your eCommerce online store.
That's what inspired me to write this guide.
I'm going to explain everything you need to know about Volusion and where it stands today. You can use this information to determine if Volusion is right for your brand, or if it's time to consider another option.
Here's what you need to know.
Volusion in 2018
As I said earlier, there was a time when Volusion was one of the only reliable eCommerce platforms in existence. This gave them a huge advantage.
eCommerce businesses didn't have many options to choose from, so it was an easy decision for them to make. This is no longer the case.
Lots has changed in the last decade or so. In the past five years, Volusion has lost lots of its market share to platforms like BigCommerce and Shopify.
Why is this happening? The reasons are simple.
Poor customer support
Not keeping up with the technology needs
Inadequate design templates
Inferior API
They never even invested in an app store like Shopify or BigCommerce. Volusion continues losing its market share, and they're still not paying attention to their customers.
The number one reason why customers stop using a service is that they don't believe a company cares about them.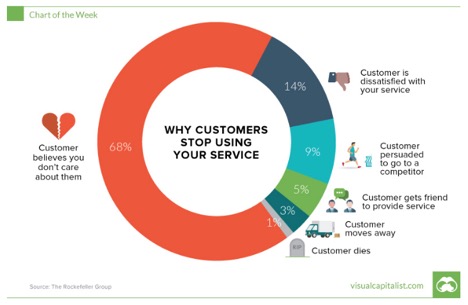 By not paying attention to their customers, Volusion is essentially implying that they don't care about them. So it's no surprise that they are losing control of the market share in this industry.
We have contacted them hundreds of times as a partner, voicing concerns for our clients.
Each time, we get the same generic corporate response. Basically, they say they value our business, blah blah blah, but nothing has changed.
There was probably a period of six years where Volusion kept making promises that were never met.
If your company is currently using Volusion and have reached out to them with concerns, you probably know exactly what I'm talking about. It's frustrating, especially since the success of your eCommerce platform heavily relies on their software.
Volusion SEO and Marketing
Like any website, SEO and marketing are the two driving growth forces of your eCommerce online store.
How are people finding your website? Where is your traffic coming from? How are you able to reach your target audience?
If you can't do this on your own, you may look to other resources for assistance.
That's why you need to be able to learn how to choose an Internet marketing and SEO company without getting ripped off.
But if you're using Volusion as your online store, this is going to be a major concern for your business. Allow me to explain why.
When we look at research from Moz and SpyFu, which are two tools to help analyze your site SEO, the results are alarming. We realized that websites on Volusion had been significantly decreasing in organic visibility for the past 12 months, especially since June 2018.
This is a major problem.
In short, it means that when a customer uses a search engine like Google to browse for products and services that your brand sells with Volusion, your site isn't a top hit.
The top five positions on the first page of a Google search result get 68% of traffic. Results on the second page of a Google search only get 6% of clicks.
What does that tell you?
If your eCommerce site doesn't appear on the first page of search results, you're not going to get organic traffic.
You need to understand Google's algorithm and how they rank websites. There are issues with Volusion that are killing how sites are ranked.
More specifically, the concern for most Volusion store owners is that the older templates of Volusion have some code deficiencies that Google does not like.
I know what some of you might be thinking. That's an easy fix, right? Just upgrade to a new version. Unfortunately, it's not that simple.
It's not easy for brands with old templates to upgrade to the new Volusion templates and versions for every online store, particularly so for those of you who have heavy customizations.
This is especially true for an eCommerce online store that might be in regulated industries, such as vaping or firearms sales.
Now, we're not saying that all Volusion sites are dropping. But the percentage of sites that are dropping is extremely alarming.
Let's look at some actual examples from real companies to show you what I mean.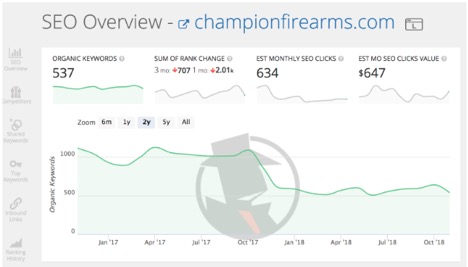 As you can see, Champion Firearms saw a significant drop in their rank from organic keywords at the end of 2017.
This is an example of a highly regulated industry, which I just mentioned.
They saw some slight ups and downs throughout 2018, but they never came close to their peak ranking from last year. Overall, they're trending in a downward direction.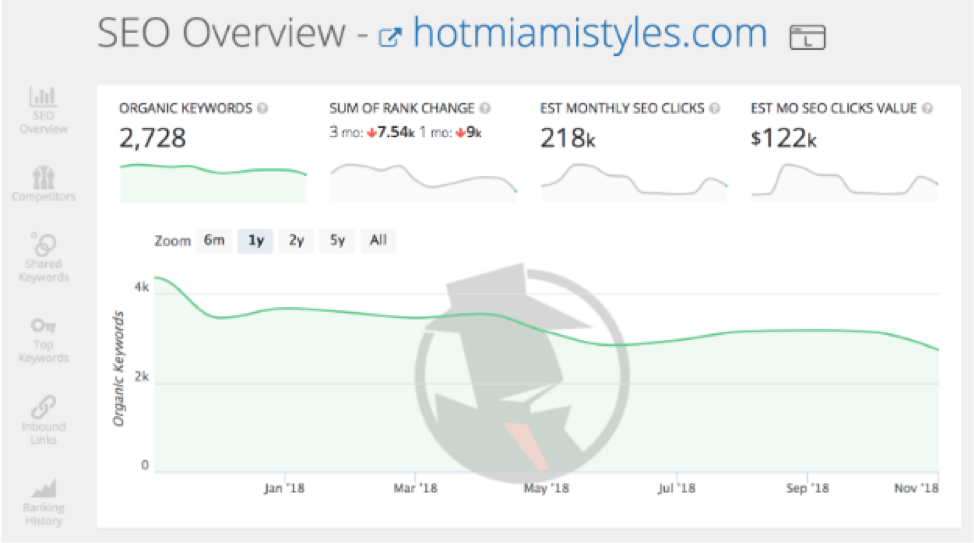 Hot Miami Styles didn't have a drop that was as abrupt as our last example.
However, they have slowly but surely been on the decline over the last year.
Let's look at some more examples of highly regulated sites in the vaping industry.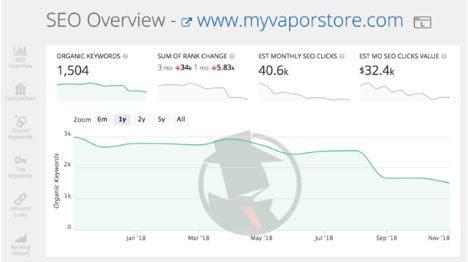 Look at the traffic coming from organic keywords to Myvaporstore.com.
The first half of the year was pretty consistent. But just after June 2018, they saw a significant drop that's continuing to trend downward.
VaporDNA is suffering from this as well. Just look at their results below.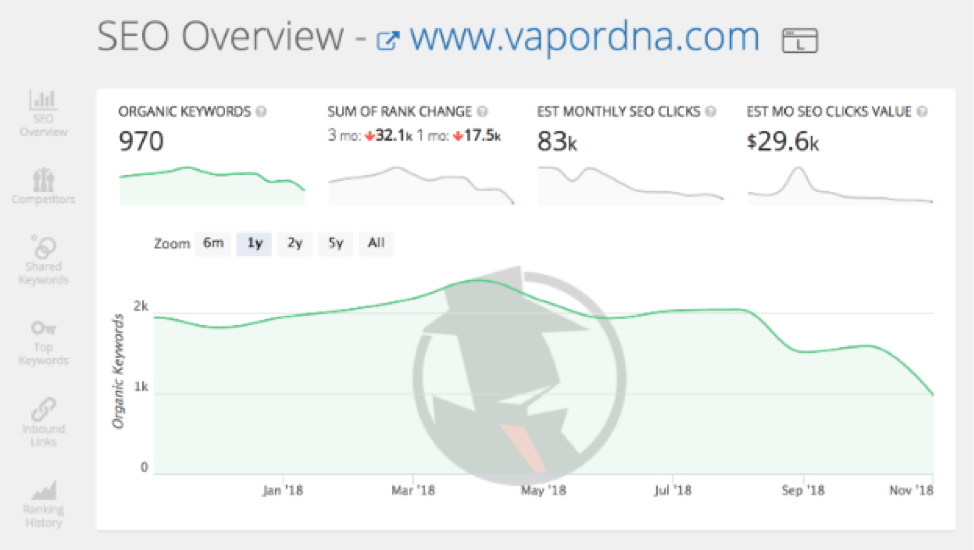 As you can see, their traffic from organic keywords as of November 2018 is half the amount compared to January 2018.
January wasn't even their best month. If you compare November of this year to their peak in 2018, the organic search traffic is roughly 60% less.
That's a major problem, especially in such a short amount of time.
Let's look at one more example, from Vapor Range.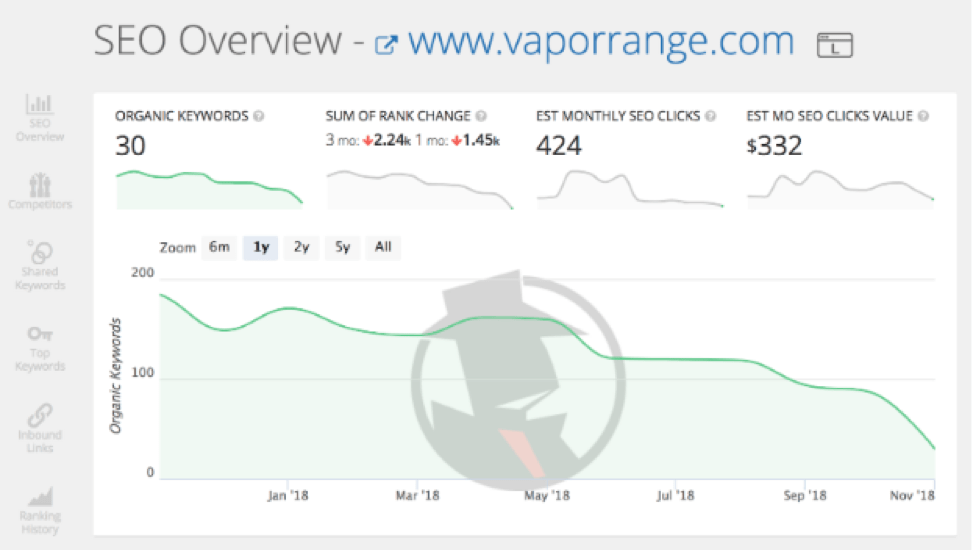 Here is a different company with the same story as the rest. Organic traffic has been dropping throughout the year, especially after the midway point.
This is not a coincidence.
Furthermore, there are over 30 clients that we moved out of Volusion in the past six months.
What happened to them? They benefited from the opposite effect.
Their traffic from organic searches has skyrocketed since the migration. These are just a few of those companies.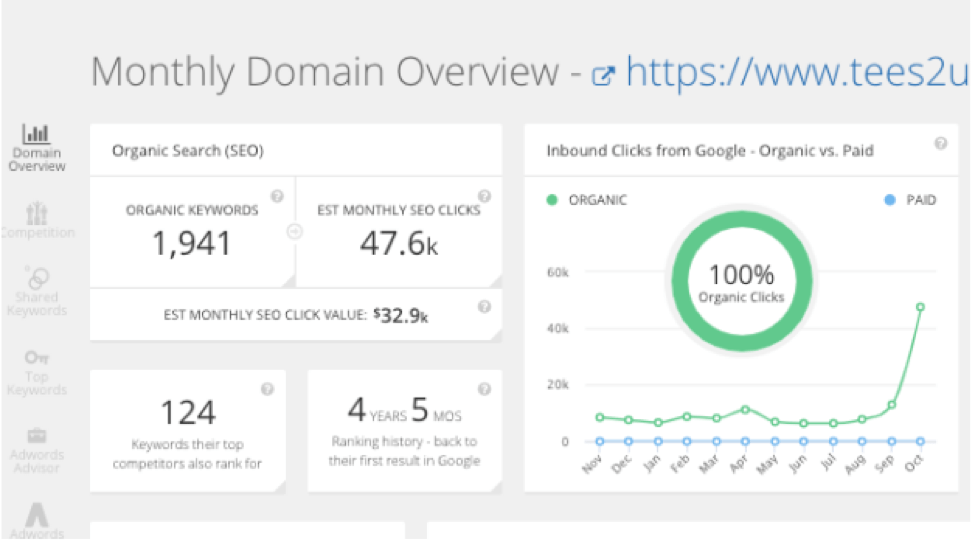 These eCommerce sites benefited from a 100%, 92%, and 87% increase in organic clicks, respectively.
Again, this is not a coincidence. There is obviously a pattern here from the eight examples that we saw above.
The eCommerce sites that are on Volusion are dropping in terms of organic search results, while the brands that migrated from Volusion website to another platform are seeing a significant boost in organic traffic.
Conversions on Volusion Platform versus Bigcommerce and Shopify
Furthermore, Volusion conversions have been dropping over the past 5 years due to the limitations they have on the cart and checkout.
Their anonymous checkout is incredibly confusing. If you start an order, add items to the cart and go to checkout, Volusion website makes you fill in all of your information to tell you that you have a merchant account and you need to sign in, to start from the beginning.
This affects conversions terribly. At Optimum7, we built various functionalities such as placing the email field as the first field at checkout (Volusion's default first field names) to avoid pissing off customers.
We did this by asking for email first and verifying if they have an account or not before they fill out all the rest of the information.
There are so many other issues at check out such as time-out issues, countless error logs, and more. We have seen increases of up to 50% when we migrated clients out of Volusion website.
So, What the Hell Happened to Volusion?
Let's get back to the initial question at hand. Exactly what exactly happened to Volusion?
It all circles back to customer service. They simply stopped paying attention to their customer reviews and addressing their needs.
Try and relate this to your own business.
Let's say all of your customers gave you negative feedback about a particular product or service, but you never fixed the problem and continued selling the product. How can you expect those customers to keep buying from you?
Apply this same analogy to what's currently happening with your Volusion experience.
You are having problems that aren't being fixed. How can you continue using software like this? I'll talk about this in greater detail as we continue.
Volusion Complaints
It would be one thing if there were problems with Volusion and nobody was voicing their concerns. If nobody complains, then Volusion can't know that they need to make changes.
This simply is not the case.
There are entire websites dedicated to Volusion complaints. You can even find Facebook groups that are filled with comments saying that Volusion sucks.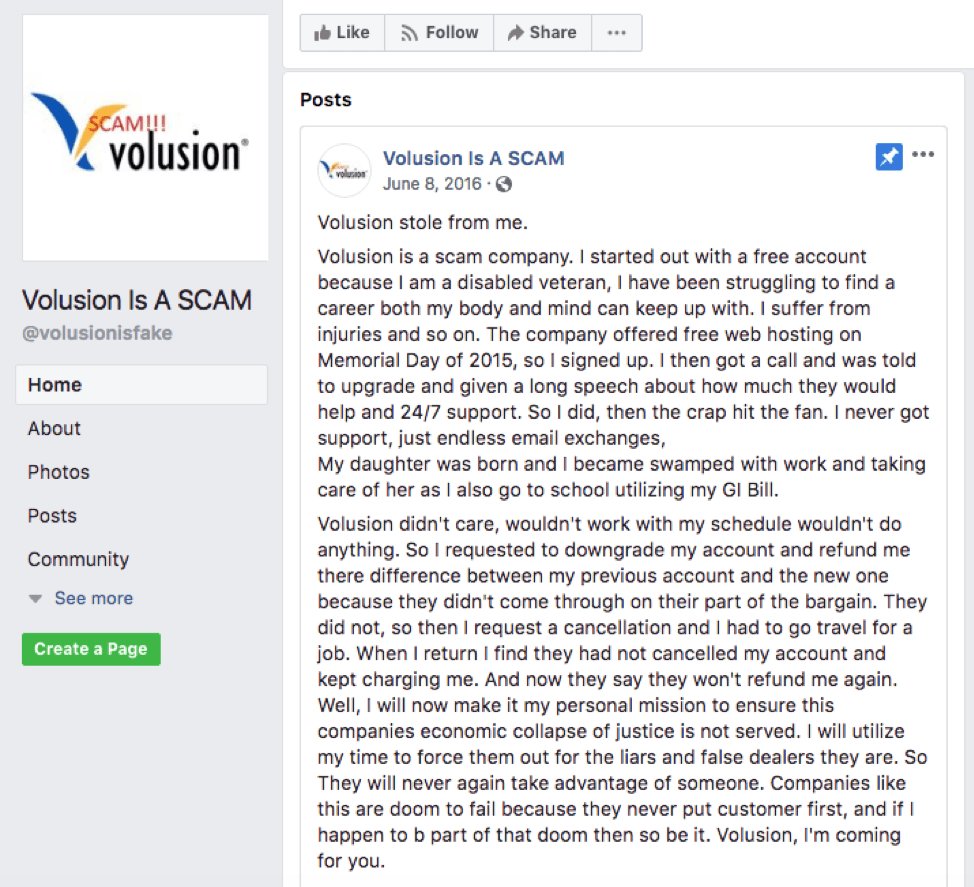 Their Better Business Bureau profile has dozens of complaints.
With so many websites, social media pages, and comments with complaints all over the web, it's impossible for these to go unnoticed by Volusion executives.
As I said earlier, we personally reached out to them to address specific concerns. All we got in return was a generic response.
This means that they are choosing to ignore customer complaints, as opposed to making the necessary adjustments.
Volusion API
API is short for application program interface. For those of you who aren't too technical, I'll just briefly explain what this means.
Basically, an API defines how different components of software should interact with each other.
It's based on a set of tools, routines, and protocols for building a software application.
The Volusion software needs an upgrade. This is no secret. In fact, this has been addressed by the company.
They've actually been promising a new API for six years now. But that new API never came. This means that the integrations that can be done with Volusion's platform are limited.
Volusion Customer Support Issues
If you have had an issue in the past and reached out to Volusion customer support, I'm willing to bet that you weren't satisfied with the experience.
Simply put, their customer support is incredibly weak.
The biggest problem is that the people who you speak with don't know anything about the system, which means they can't help you.
You never have the opportunity to speak to a person with technical knowledge, such as an actual developer or an engineer.
Without this type of interaction, your customer service inquiry will likely end without a resolution. This is how it's been for me, my clients, and everyone else who I've spoken to about their customer support. But who knows, maybe you've had better luck than us.
Volusion Negative Reviews
The Internet is filled with negative Volusion reviews.
Negative Volusion review is affecting the usage stats and the top sites are fleeing from Volusion over the past few years.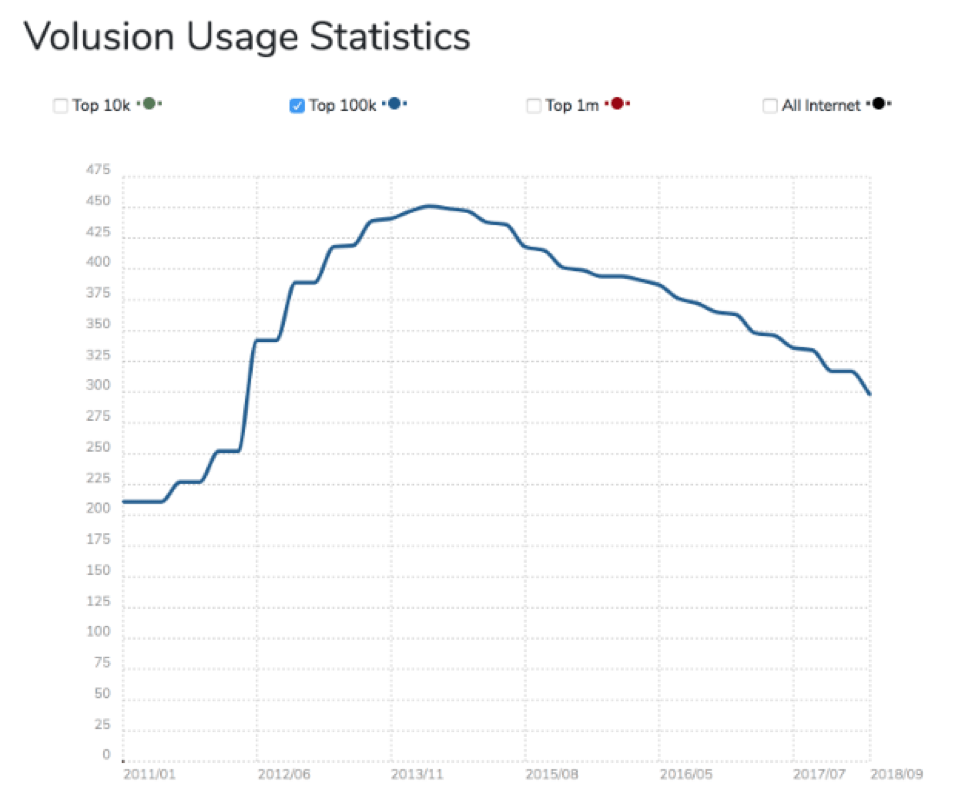 Negative Volusion review and complaints don't surprise me at all.
That's because 84% of people say Volusion site, Shopify site, and BigCommerce site owners trust an online review just as much as a recommendation from a friend or family member.
If your best friend had a problem with a company and told you to avoid their products or services such as payment processor, shipping tools, you would listen to them. That's how business owners feel when they read these negative online reviews about Volusion.
Again, if the general public can see these reviews simply by doing an Internet search, then Volusion executives and customer support can see them as well.
But with that said, the company still hasn't made an effort to make any changes to improve their software, which is disappointing, to say the least.
One hundred negative Volusion reviews can be found on the internet, most of which describe Volusion sales as a scam or ripoff.
Complainants typically report difficulty canceling service, merchant services, merchant account, and poor customer support as well; some also mention fund-holds when they're having trouble getting in touch with management about an issue at hand.
In many cases, it seems like these issues have been going unnoticed by Volusion that is known as one of the best eCommerce platforms because more than half (57%) had 1-star ratings despite only 8% being satisfied customers!
Merchants who have merchant account have consistently pointed out that the company's website rates are misleading, and there is mention of Priority support not being especially fast despite costing more money.
Upon termination, however, merchant services need to be sure they've canceled both their merchant account as well as internet hosting service; multiple complaints online list mistakes made by other customers who terminated only one while still receiving charges for another from the Volusion, one of the best-known eCommerce platforms.
Volusion's Better Business Bureau Profile
Volusion has been serving the needs of merchants since 2001.
The Better Business Bureau (BBB) rated them "A+" and they maintain this accreditation up until now, despite 33 complaints filed within 36 months.
Nine out those total 33 were related to problems with products such as payment gateways and marketing tools or merchant services while 24 had billing department and collections issues as well for which Volusions resolved 1 each time; 18 others either did not receive a final response from merchant about their dissatisfaction in resolution whatsoever.
Merchant's Volusion Review
After reviewing Volusion's BBB profile and 15 informal reviews, it is clear that the company has a lot of work to do if they want their customers' satisfaction levels up.
14 out of these are negative in tone while only 1 was positive- one merchant describes an issue with sales issues before ultimately canceling his purchase after waiting too long for support response times.
What Customers Say About Volusion Merchant Services
Volusion is a predatory company that uses predatory marketing practices to obtain credit card information.
They say they offer you the opportunity for one month free, but continue charging your credit card monthly without providing any notification or reminder emails about this agreement once your trial period ends – which can lead unsuspecting customers into believing there was some sort of mistake on their end since no other online retailers do this!
A salesperson will mention how easy it would be "to pay over the phone" as well when signing up because he knows most people aren't comfortable with entering sensitive personal details via computer screen unless prompted directly during the checkout process (like during an order confirmation email).
Volusion has been the target of many consumer complaints.
Many customers were given misleading quotes for their services, which they should be aware can cause large fines on both ends if you don't cancel in time – and even then there may still be online sales fees!
A merchant who pays a monthly fee that has had similar issues could seek legal counsel before canceling due to those additional monthly fee and costs involved with doing so without paying a fee as well.
Nondisclosure of Rates and Fees
Volusion charges a 2% transaction fee for processing a credit card, but the company does not publish this information on its website.
Merchants can only find out through complaints or by reading Volusion's terms of service agreement which is hidden away in small print at an obtuse angle where you have no reason to look
The problem with some companies' advertising materials are that they don't mention all fees associated with doing business as well those rates and their qualifications- such was seen when reviewing Volusions adverts online before making my purchase last month.
Volusion Online Store Bandwidth Charges
For years, Volusion has been charging its customers for additional bandwidth.
If you run a quick Google search on this topic, you'll see that the response from customers was not favorable.
Basically, customers are pissed and fed up with these additional charges.
With the most recent fees Volusion charges changes, they addressed this.
However, the prices were adjusted elsewhere to make up for the difference.
Volusion jacked up their prices by nearly 600% for their high-tier clients. An increase so large is just so hard to fathom.
This might be the reason why they have been losing so many small business owners and clients for the past few months.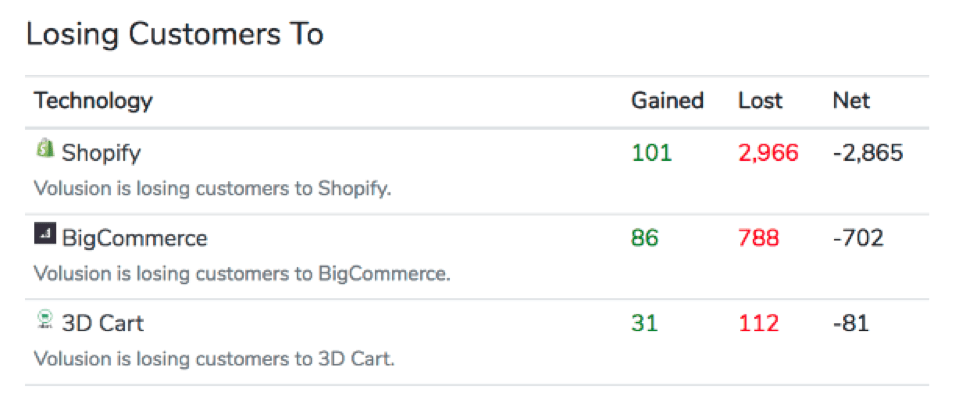 As you can see from this data, the majority of their customers are jumping ship to either Shopify or BigCommerce.
We'll talk about both of those platforms in greater detail shortly as we compare them to Volusion.
Volusion V2 Pricing, Transaction Fees, Payment Processing
I'll say it again. The new Volusion pricing policy is outright crazy.
They claim to have improved so many things to justify the fees Volusion charges. But they are essentially offering the same system for more money.
We have some clients who used to pay $700, which is reasonable, but still high compared to alternative options. However, now they are being asked to pay a $5,000 monthly fee.
A jump so significant is outrageous and can't be justified, especially when there are still so many problems with the software and Volusion site.
With four customizable plans, Volusion gives you the freedom to choose your own price point. In addition to hosting, Volusion also offers its payment processing as a supplemental month-to-month service.
Whether a new or growing business needs an annual fee for 12 months before it is bumped up in tiers depending on total revenue per year incurred by them; there's always 10% off when building multiple stores through The Stores Program!
The costs to use Volusion as your online store can be broken down into two categories: credit card processing fees and web hosting.
Volusion Early Termination Fee
When you check the Volusion pricing policy, the standard agreement appears to have an early termination fee at $99, monthly minimums of 25$, 17.99 for gateway services & 3cents per month on PCI compliance with a three-year contract coming from Global Payments company.
Accepting credit cards online can be a costly affair with Volusion Payments, as the average monthly cost is $61.77 at a minimum and may increase depending on whether or not you accrue over 25 transaction fees in any given month.
Volusion's payment solution, Volusion Payments is not actually its own processor.
Instead, it links you to a third-party option through their Volusion Merchant Services which has been found in many cases not as reliable or successful for online businesses that need more control over how users pay them upfront.
Volusion Bank Account Issues
In addition, some Volusion small business and merchant accounts owners complain about unauthorized withdrawing money from their bank account.
We heard that most small business and merchant accounts owners on Volusion eCommerce platform had to go to the bank to block their merchant account and bank account.
Volusion Versus BigCommerce
Since so many former Volusion customers are switching to BigCommerce, it makes sense to compare the two platforms.
Pricing aside, Big Commerce helps you focus on eCommerce conversions. That's ultimately how your business is going to make money.
Merchants using BigCommerce grow at an average rate of 28% per year, which is double the industry average.
You won't be charged any additional fees (fees Volusion charges) for bandwidth or gateway.
Furthermore, the BigCommerce customer support team is unmatched if you compare them side by side with Volusion. No matter which plans you have, you'll be able to reach them 24/7 by phone, live chat, or email.
The average hold time is just two minutes. Since their customer support team is so knowledgeable, 90% of issues are resolved in just one call.
BigCommerce Enterprise is a plan designed for eCommerce shops with higher order volumes. If your business does more than $1 million in sales per year, you'll definitely want to consider this option.
For those of you who are currently using Volusion but want to switch to BigCommerce, we can help you with a Volusion to BigCommerce migration here at Optimum7.
Volusion Versus Shopify
Shopify is another industry leader for eCommerce platforms.
If you compare this software side by side with Volusion, Shopify will have the edge in every category.
Shopify is very good, but they're not perfect. As the company has grown over the years, they have become a bit more corporate.
Don't get me wrong. Their system is much better than Volusion.
But their customer service support is generic, and it's hard to access engineers to help you with your eCommerce site issues. However, it's still better than Volusion support.
Personally, I'd give BigCommerce the edge over Shopify. But the decision is completely up to you, based on what's better for your online store.
Optimum7 can help you migrate from Volusion to Shopify.
What Should You Do If You Are on Volusion?
If your online store is still on Volusion, you've probably been nodding your head in agreement while reading this guide.
Before you make any drastic changes, I recommend reviewing your stats on Moz.com and SpyFu.com to make sure you're not significantly dropping in organic traffic and sales.
If you're noticing a huge drop this year, it's probably related to Volusion and the code that's not friendly for SEO (Search engine optimization) purposes.
For those of you who are happy with Volusion, stick with what's working for your company.
But if you have complaints, you're not the only one. You should definitely do your own research and look into alternative options.
If you have been thinking about the shortcomings of Volusion, it might be time for you to get out before you experience problems like the examples we saw earlier in this guide.
Contact us, and we would be happy to help you with your transition.
FAQ – Volusion Complaints
What is Volusion store?
Volusion is one of the cloud-based, hosted eCommerce platforms that lets you build your fully functional online stores with all the features one needs.
It has an easy-to-use website builder and its drag & drop interface makes designing for business or personal use simple!
Is Volusion going out of business?
In late July 2020, Volusion filed for Chapter 11 bankruptcy. According to a blog post on Volution's website the company is still open and operating as usual offering eCommerce platform solutions for online stores.
Is Volusion safe?
You can trust Volusion platform. They are a quality company that has implemented industry-standard security measures to keep your information safe from hackers and other malicious actors who want access.
Who uses Volusion?
Volusion is a great eCommerce platform if you want an easygoing interface and quick setup. Many companies use Volusion, including Intel, 3M, and Slickwraps who power more than 40k online retailers!
How to cancel my Volusion account?
Are you looking to cancel your merchant account order? Volusion has a live chat and phone number for canceling merchant account orders.
The best way is through the Admin Area, where there's an option of messaging them as well!
You can also schedule appointments or talk directly at 1-800-646-3517 – just make sure it's within 30 days from the purchase date in case they need more time on their end before being transferred off the list.
Does Volusion charge per transaction?
Payments are processed by the payment gateways, which charges an additional fee.
If you want to keep things simple and not deal with any transaction fees at all go ahead with Volusion Payments.
Volusion payments and payment processing don't charge a credit card payment processing fee but instead pass a small business owner onto your customers through higher prices- that means they will pay more for what should really cost less!
What is Volusion V2?
The new V2 operating system from Volusion has been a much-needed update.
In addition to the clear inventory and easier managing of stock, it also provides tons of data on where your site stands as well what features are most popular or if there is anything wrong with how things work – all in one place!