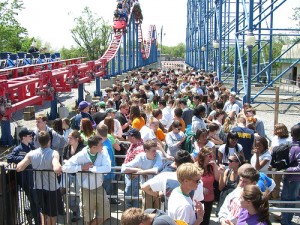 You've finally got that three day weekend. Where do you want to go? An amusement park? A casino? A theme park, water park, golf course, museum, zoo, aquarium? Maybe you love the nightlife and want to go clubbing. There are so many different kinds of attractions to choose from and the possibilities are endless. But no matter where you choose to go, you have certain expectations for the experience you will have there. But what happens when your trip doesn't meet those expectations? Do you shrug it off? Complain the whole way home? Many people go online and write a negative review.
For the people who own attractions of all kinds, there are some conditions simply outside their sphere of influence that people will still write negative reviews about. We've all seen them – it rained the whole time, it was too hot, the lines were long, it was too crowded or the crowd was full of overwhelmingly horrible people. While many in this industry feel that there might not be much to do about these circumstances or that it is not worth trying to rectify, the truth is that it does matter and there are steps you can take to turn their experience into a positive one.
Recognize that small things can make a big difference. Of course you can't control the weather, and to you, the crowds mean a hefty profit. But these are the kinds of things that will affect a person's overall experience at your attraction. And while it may seem that negative reviews with those kinds of complaints may be largely ignored, the truth is that they still affect whether other people decide to spend the day or go somewhere else. You do not have to make the sun shine, or make it shine less hot. You definitely don't have to start turning people away on busy days. Just be aware that a certain day's conditions may not have been ideal, communicate your understanding to your guests and offer some kind of remuneration as a token of your understanding.
Be Proactive
Monitor your reviews on sites like Yelp, Trip Advisor and Google Local to get a feel for what people are saying and what is causing their dissatisfaction. (If it is not complaints about long lines, the weather and the crowd, you may be in deeper water than you realized, in which case beginning a reputation management campaign is of the utmost importance and will involve a more in-depth approach than this article suggests. Try this one instead!)
Look to Industry Giants for Pointers
When Universal Studios and Islands of Adventure first opened, they did not have Speed Passes – you know, those handy little things that let you get on the express lane for rides, bypassing those long lines for a moderate increase in cost. These were implemented as a reaction to negative reviews similar to the ones you may be facing. While long lines may mean a lot of business, it also means that there is some level of inconvenience or annoyance for your guest. Taking this into account and finding a way to show them that you care, even in a very small way, will improve your overall reviews.
Make Their Strategies Work for You
If you don't have a way of offering the equivalent of a Speed Pass, or it doesn't apply to your industry, tailor the strategy to work for you. After all, Universal is an industry giant and can afford to revamp their park to accommodate two lines for each ride. Not all of us have the room or the finances. If there are some rides at your amusement park with really long lines, give each person getting off the ride a coupon for a free ride the next time they come. This doesn't just work for amusement parks, either. If you are a casino, give your unhappy patrons a voucher for a few dollars toward a slot machine.
Here's Why…
If you did not offer the coupon, your review may look something like this:
"What a horrible trip!!!!! Went to Bubba's Carnival and had to wait TWO HOURS to get on the Gravitron. I am never going back!" A review like this may cause other people to take their chances elsewhere.
However, if their review sounded more like this:
"Went to Bubba's Carnival and had to wait two hours to get on the Gravitron, but it was SO worth it! I even got a coupon for a free ride the next time I go!" the two hour wait is negated by the fact that you tried to do something about it. By offering this coupon, you are not only alleviating this person's frustration and giving them incentive to come back, but if they do leave a review, it will also show others who are deciding whether or not they should visit that you want them to have fun and that you care when they don't.
Solutions don't have to be complex or expensive. The simpler you make it for your guest, the simpler and more effective it will be for you.
Promote Positive Reviews
This strategy can be as simple as having people at the attraction's exit asking everyone how their experience was and how it could be improved next time. The important thing here is to take notes and follow through. If it rained all day, they may suggest having overhangs to stand under throughout the park (if you don't already). Make it happen (within reason, of course). Go beyond their suggestion and put canopies over where they stand on line for rides.
If they don't have any suggestions and their experience was a positive one, have a sheet with instructions for posting a positive review on a third party site (such as Yelp, Trip Advisor or Google Local) with an incentive such as twenty dollars off their next visit, a twenty-five percent off coupon, a free ride on a featured roller coaster or something like that.
If their review is negative, listen to it, sympathize and give them a different sheet with the phone number of someone they can call to discuss it with. In most cases, people are understanding of these kinds of conditions and just want to know that there is someone they can vent their frustration to within the company if they feel it's necessary. They usually don't, once they are handed the phone number. Giving them an outlet to vent ensures that when they do have something to say, it is funneled through your company rather than a third party site. Possibly most importantly, you maximize your chances of resolving these issues offline vs. online and that can make all of the difference in the world.
Conducting business in this manner is beneficial to both the guest and to you. This way you get the necessary feedback and can handle the issue immediately. It is especially important to offer them some kind of compensation like the coupons mentioned previously – twenty dollars off their next visit and so on. People just want to know that your business cares about a bad experience. In most cases, this small token of understanding will be enough to prevent them posting a negative review and can even positively impact their perception and reviews of your company.
Address the Inconvenience
Ignoring complaints from your guests because you have no way to control what is causing them will ultimately hurt the amount of foot traffic you get from people who research reviews before venturing out. Finding a small way to show that you care can seriously affect what people think of your attraction when they leave it. This will ultimately decrease the amount of negative reviews you receive and give you a chance to let your superior customer service shine through. While there are numerous ways to address the issue of negative reviews, these few things are the quickest and simplest ways to keep your online reputation as spotless as possible– so long as they are implemented correctly.
For help with reputation management for an attraction, as well as any other marketing strategy, contact Optimum7 today! We can help create a custom strategy for your business to promote positive reviews and publicity.