There has been lots of buzz lately about Proposition 65.
That's because the old Safe Water and Toxic Enforcement Act of 1986 has recently been updated. The new changes to Proposition 65 now impact the eCommerce industry.
If you want to be successful, It's obviously important for your company to focus on things like your eCommerce content marketing strategy. But those marketing efforts shouldn't place your legal obligations on the backburner.
So for those of you who are unfamiliar with Prop 65 and how it can impact your business, you've come to the right place.
Even if you've heard about Proposition 65 and think that your eCommerce company is compliant, you'll still benefit from reading this guide.
I'll explain exactly what Prop 65 is and who it affects. You'll be able to recognize if you're selling products that fall under the new Prop 65 regulations and how to make sure your brand is compliant.
We'll even discuss the potential repercussions if you fail to comply with the new update. Let's dive right in.
What is Prop 65?
As I said before, Proposition 65 was initially known as the Safe Drinking Water and Toxic Enforcement Act of 1986.
The purpose of this law was to protect sources of drinking water that could potentially cause birth defects and cancer. California passed this law by a 63% to 37% vote to reduce and eliminate the exposure to dangerous chemicals in consumer products.
In recent years, changes have been made to the initial proposition. Back in 2016, new regulations required certain places in California to post warning signs about these chemicals, but we'll discuss that in greater detail later.
The most recent change of Prop 65 went into place on August 30, 2018.
Back in 2016 alone, there was $30 million paid out in settlements related to Prop 65 in the state of California. This was before the most recent update.
With the popularity of eCommerce on the rise, brands need to be even more conscious of complying now.
In order to comply, your company needs to have specific warning label language on any products sold or shipped to California if those products expose consumers to chemicals listed on Prop 65.
Prop 65 is administered by the California Office of Environmental Health Hazard Assessment (OEHHA).
Violators of Prop 65 can have lawsuits filed against them by the California Attorney General, district attorneys, some city attorneys, and private parties who are acting the in the public interest.
But wait, what if your eCommerce company isn't located in California? You must be immune to Prop 65, right?
Wrong.
Again, any business shipping products to California needs to comply with Prop 65 regulations to avoid penalties, which I'll talk about more specifically as we continue.
Your brand has been taking advantage of tools to enhance your eCommerce business in 2018. Don't let the new Prop 65 update hurt your progress. Make sure you are in compliance with these regulations.
How does it affect eCommerce businesses and B2B shipping to California?
As an eCommerce brand or B2B company, you need to recognize how Prop 65 will change how you sell your products.
Just because your products are manufactured with certain chemicals or expose your consumers to potentially dangerous chemicals, it doesn't necessarily mean that you need to discontinue those products.
All you need to do is change the way you package those items with warning labels.
Companies cannot knowingly expose consumers to potentially dangerous chemicals without warning them.
This affects any eCommerce company from global giants like Walmart and Amazon to smaller startup brands with just one or two employees. If you ship to California, you need to learn how to be compliant.
If you sell your products on Amazon, you could potentially be blocked by Amazon if you're not compliant and get reported by users.
It's very easy for someone to report you to Amazon if they think you're violating Prop 65. All they need to do is send a message to prop-65-claim-notices@amazon.com.
Getting blocked or suspended by Amazon will crush your sales. Don't let all of your hard work go to waste after you spent so much time increasing your Amazon product rankings with listing optimization.
eCommerce products impacted by Prop 65
The first thing you need to do is figure out if your existing products expose consumers to chemicals that are in violation of Proposition 65.
To do this, just visit the Proposition 65 website and navigate to the "listed chemicals" menu.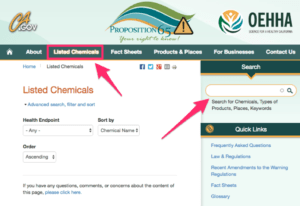 From here, you can simply use the search bar function on the right side of the screen to find chemicals, products, places, or keywords related to what you're selling.
You can filter those results with the advanced search feature by narrowing down the "health endpoint" with the following options:
Cancer
Developmental toxicity
Female reproductive toxicity
Male reproductive toxicity
The advanced search also gives you the option to filter and sort the results by the name of the chemical or the date of the listing.
In addition to the 900+ chemicals on the list, Here's a look at some of the types of products that were also impacted by the new Prop 65 update of 2018.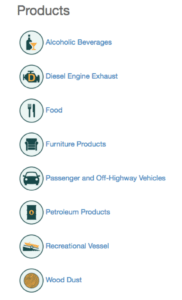 So if your eCommerce or B2B company sells any of those products, you'll need to include a warning label.
More specifically, Amazon has a list of warnings required by California for:
Tools
Electric cords
Ceramic tableware
Motor vehicles
Fruits, vegetables, and nuts
Foods and beverages that are canned and bottled
Beauty products
Alcoholic beverages
Lead crystal glasses
Coffee, baked goods, roasted nuts, and snacks
Again, if you use Amazon to sell any of the products listed above, you need to make sure that you are including the proper warning label. Refer to this Amazon resource for the specific wording of these notices that are required by the state of California.
What industries are affected by Prop 65?
Any business that sells products in the state of California is affected by Proposition 65.
But eCommerce companies and B2B brands that ship and sell to California will also be impacted by these new changes.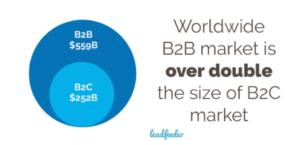 So if you have an eCommerce company, I highly doubt that you're not shipping products to California. It's not really in your best interest to exclude certain states from purchasing what you're selling.
You need to be aware of these new regulations to Prop 65 even if you're not selling products directly to the consumer. As a B2B brand, you need to pay special attention to how you're going to proceed with these warning labels.
For example, let's say that you're manufacturing a product that contains a chemical on the Prop 65 list.
You'll need to talk to your vendors to see if they'll allow you to put warning labels on the products.
Make sure that you get this approval in writing from your B2B clients. Now you can just include these labels on all of your products, whether they're getting shipped to California or not.
However, if your clients don't give you permission to put warning labels on all of your products, you'll need to manufacture special batches of these products with a warning label specifically for distribution in California.
This instance could be expensive and confusing for your logistics.
What happens if your B2B customers prevent you from complying with Proposition 65 regulations? Here are some options for you to consider:
Stop sourcing the product to that vendor
Continue sourcing the product, but be prepared to assume all of the risks associated with non-compliance
Put warning labels on the products against the wishes of your client
Find a way to manufacture the product without the chemicals
Look for a different vendor to sell the product to
All of these options have their pros and cons. This is something that you'll have to figure out for yourself if one of your clients is giving you a hard time.
Hopefully, you won't have to go through this. You would think that most people would understand that you're trying to follow the law, but it's not completely out of the question for one of your clients to be difficult. That's just the nature of being in business.
On the flip side, if your eCommerce company buys products in bulk from a B2B vendor, you need to make sure that your supplier is aware of the chemicals being used in production.
Some of you may be in violation of Prop 65 without even knowing it if your vendor isn't testing their products before selling them to you. You may want to hire a third-party inspector to audit your vendor's manufacturing process.
The update to Proposition 65 doesn't just affect eCommerce companies and B2B brands that manufacture products.
Even before the 2018 update, just look at how Prop 65 has impacted the food industry.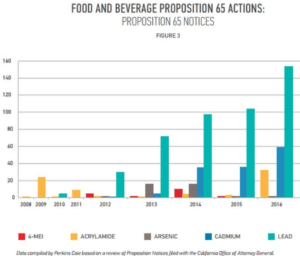 So if your eCommerce brand is shipping food to California, you need to take this into consideration as well..
Here's something else that you need to keep in mind.
There is new language in Prop 65 stating, "exposure that results from a person's acquisition, purchase, storage, consumption, or any reasonably foreseeable use of a consumer product" that exposes a consumer to a chemical on the list needs to be Prop 65 compliant.
What does this new language mean?
The new warning labels don't necessarily state that the products actually contain a specific chemical. To clarify, the warnings say that the products can expose consumers to harmful chemicals.
For example. Let's say your company sells frozen meals to customers through your eCommerce platform. You're shipping to consumers in California.
While the food may not contain any of the chemicals in its current condition, if storing the food or microwaving the food causes a chemical release, then you need to include a warning label to be compliant.
In addition to eCommerce and B2B industries, it's also worth mentioning other types of businesses that are impacted by Prop 65.
These are places that need to be compliant as a result of the 2016 update to the regulations, which we previously discussed.
Amusement parks
Hotels
Service stations
Dental offices
Enclosed parking facilities
Designated smoking areas
Vehicle repair facilities
Here's an example of what this warning sign would look like at one of these locations.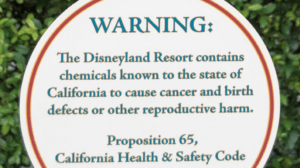 While this may not directly affect you as an eCommerce brand or B2B company, it's always important to stay fully informed about rules and regulations that you need to follow.
Technical considerations for eCommerce brands
In addition to how your products are shipped and packaged with a new label, website warnings should exist as well.
To do this, you just need to set up a conditional functionality code on a per product basis.
If a product has specific elements that are blocked by Prop 65, the eCommerce system needs a warning to pop up automatically if that product is added to a user's shopping cart.
During the eCommerce checkout process, if the "ship to" address is located in California, then you need to have a popup message with the warning label. So you need to have a database of part numbers and the chemicals that are contained in those products.
The warning message will pop up based on the products in the cart that match the part number.
While this may sound complex, it's actually quite simple. Here's an example of what that code would look like.
ProductCode 1840-6500, Prop65 Y, Chemical = Antimony Oxide
Code IF Product Code = Prop65 Y, Then Show Warning Label
As a result, the following warning would pop up on the screen during the checkout process:
WARNING: This product can expose you to Antimony Oxide, which is known to the State of California to cause Cancer. For more information go to www.P65warnings.ca.gov
There are more specific labels based on the type of industry that you have.
For example, take a look at this warning popup template for eCommerce brands that are in the furniture industry.

As you can see, the link provided in this warning label will direct the consumer to a specific landing page on the Proposition 65 website that's related to furniture.
That resource shows more information about the types of chemicals that could potentially be exposed to the consumer when purchasing furniture.
They even include a furniture facts sheet that explains how different types of exposure can take place.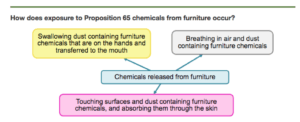 This is just one example of a specific landing page and facts sheet.
Some websites might need further customization based on the types of products that they are selling and the different compliance issues.
Setting up these popup warnings needs to be just another part of your product listing routine, just like how you write eCommerce product descriptions that customers love.
Failure to comply with Prop 65
I know that this may seem like a lot of information to digest.
Some of you might be thinking, "Do I really need to do this?"
Your eCommerce company ships products all over the world. California is just a small piece of your market share and retail sales.
I know that this seems like lots of work to worry about the regulations in just one state if you're a global brand.
While the updates to Prop 65 may be frustrating, this is the wrong mentality for you to have. You need to make sure that you're compliant with these new regulations.
There are risks associated with companies who fail to comply.
As I said before, if you're selling on a platform like Amazon, they can block you from selling products on their website. Anyone can report you for a violation by just sending a simple email.
These people can also take you to court to get a reward.
The California Attorney General can fine violators up to $2,500 per day for each violation. Any lawyer can also sue you. It's never fun getting sued, especially due to Prop 65 regulations. So, you might be asking yourself; why am I being sued due to Prop 65?
Look at the breakdown of Prop 65 settlements from last year.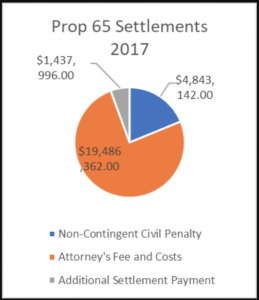 I expect to see an increase in these figures moving forward now that Prop 65 has penetrated the eCommerce and B2B industries.
So don't think that legal action won't be taken against your company if you don't comply.
In addition to the potential legal recourse, violations could damage your brand's image and reputation. You don't want it to look like you were knowingly withholding information about harmful chemical exposure from your customers.
Conclusion
Proposition 65 has been around for over three decades. But the recent changes to the law are going to make a big impact on eCommerce brands and B2B companies.
As of August 30, 2018, new changes have taken effect.
Any business that sells or ships products to consumers in California needs to warn consumers about the exposure to potentially harmful chemicals related to their products.
You need to recognize which chemicals are on the list and make sure you're fully aware of how your products were manufactured. Even if the product itself doesn't contain chemicals on the list, it's still possible that use or consumption of the product can expose certain chemicals.
Make sure that you properly package and display warning labels on the products in question.
On your eCommerce site, you should also set up a popup warning any time one of these products is added to a shopping cart that will be shipped to California.
If you fail to comply with these new regulations, it could be detrimental to your eCommerce company or B2B brand.
You may receive fines, suspensions, lawsuits, and damage to your brand's credibility.
So it's definitely in your best interest to comply with Prop 65. Use this guide as a reference to help you follow the new rules.
If you need help getting compliant with Prop 65 regulations on both your packaging, operations and website or bringing your eCommerce business to the next level, contact us directly, and we'll be happy to help you out.
Is your eCommerce business in compliance with the new Proposition 65 update?