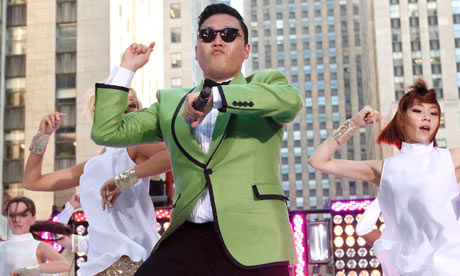 Going viral seems to be the new trend now.  You can wake up one day, decide to record your morning happy dance and upload it to your Facebook page and the next thing you know, thousands of people are viewing it. Embarrassing? Not so much. Genius? I think so. With that said, it is often due to being at the right place at the right time.
But, there is another way to go viral and I don't mean with the flu.
There are tools out there that are designed to track trends and predict new ones. These tools keep your business updated on trending concepts that could spike your popularity in an instant. Get ready to discover the map to your viral campaign.
Tracking Trends in Video Marketing
A great tool to explore trending video content is Viral Video Chart powered by Unruly.  This website ranks by recording the statistics related to shares on platforms like Facebook and Twitter.  It's an exceptional resource for those of us that don't have the time to be monitoring online video content for viral opportunities.  This will save you from having to shuffle through videos on YouTube in the hopes of finding the top rated ones.
Let's take a quick look at the actual interface:
As you can see, this tool allows you to sift videos by selecting a time as well as a platform.  For instance, if you want to find a popular video on Facebook 30 day ago, you'll just have to adjust the settings at the top of the page.  This is beneficial when searching past trends that are now trending again.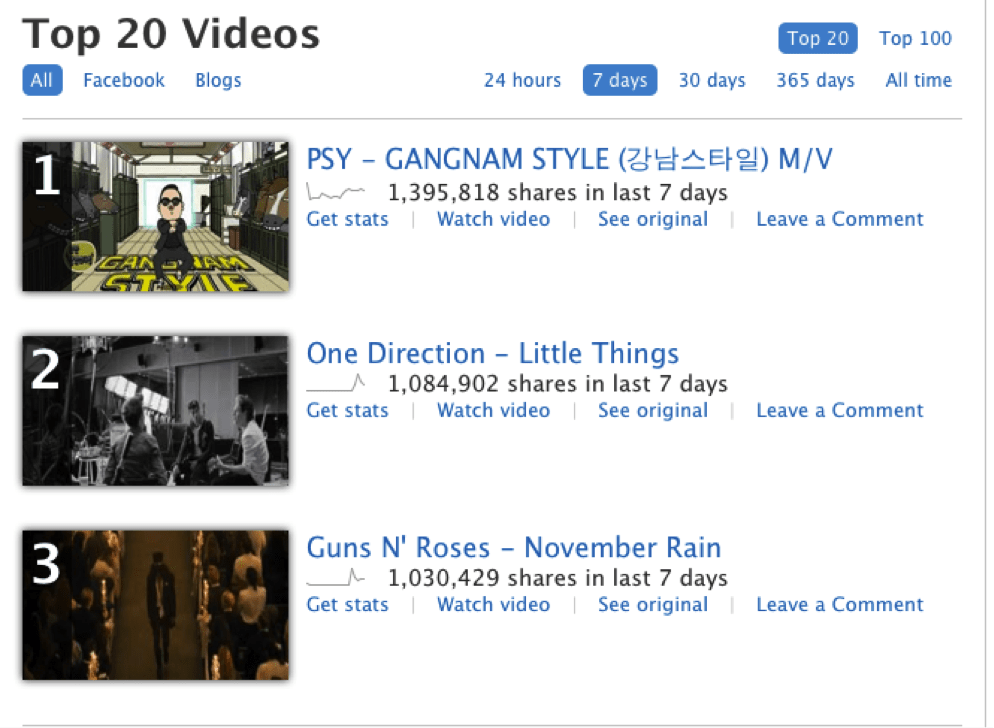 You can also search ads by country…

Not to mention by industry source…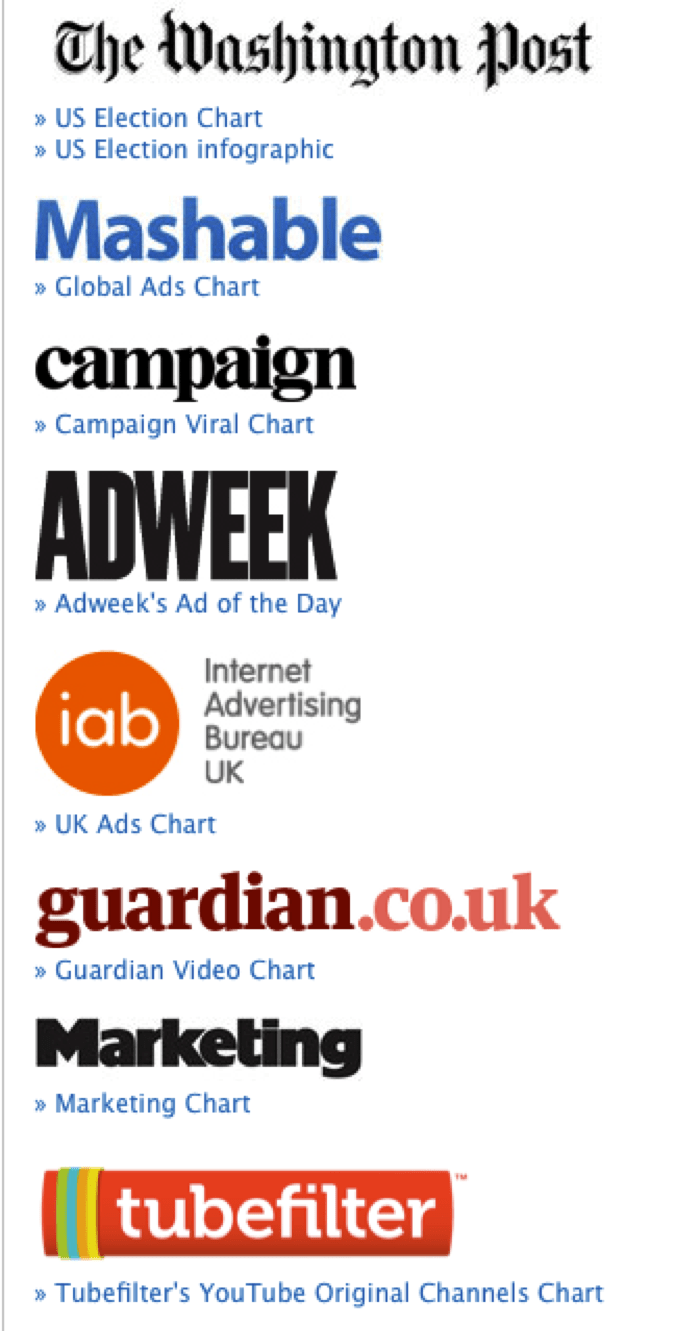 Tracking Real-Time Trends
Now, let's step it up a little bit. If you don't have a Twitter account, I'm sure that after this article you will probably reconsider.
Say hello to WhatTheTrend powered by Hootsuite. This tool is designed to find out how and why topics are trending on our beloved Twitter.  This site is amazingly unique in so many ways, but most importantly, it is known as "the front page of the real-time web". Now, that's powerful.
The way it operates is through teamwork by encouraging users around the web to provide trending topics along with an explanation as to why they are trending.
Sound complicated? It's really not. Let's take a peek:
This is the first thing you will see when you visit www.whatthetrend.com.
You'll notice the actual trending hash tag and the explanation below. You have a chance to re-tweet the content or just demand an explanation for it.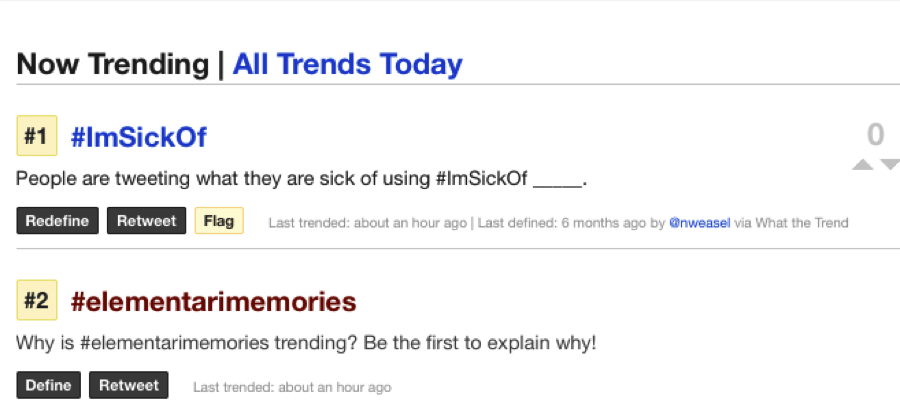 To the side of the page, you'll find this column that allows you to view trending topics by country. Pretty neat, right?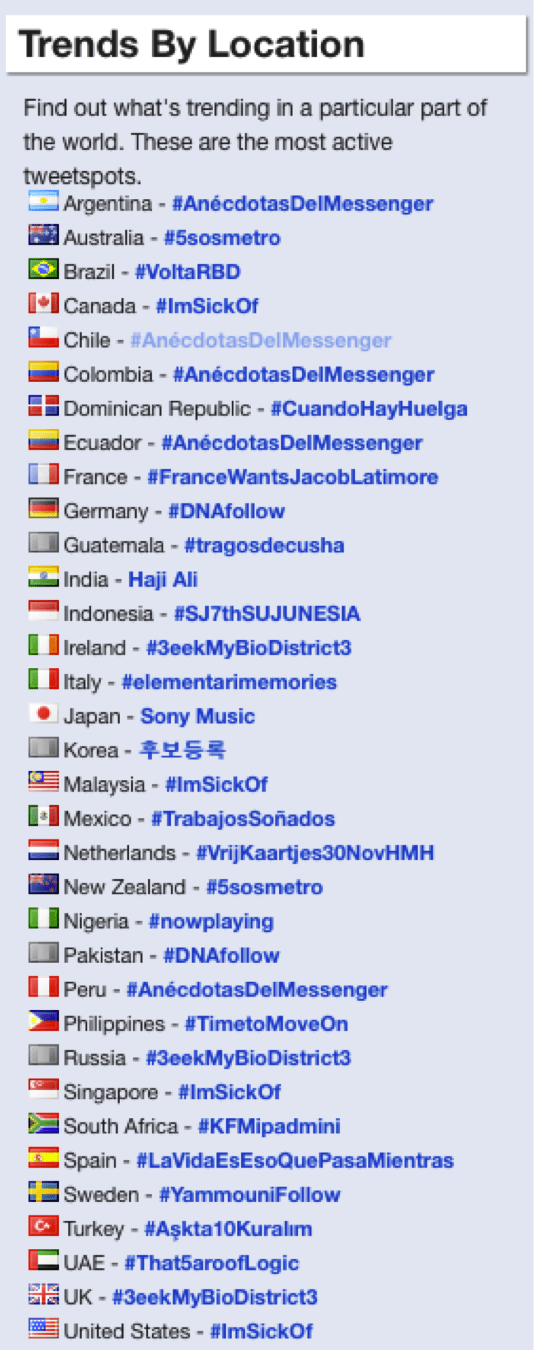 The great thing about this is that you can choose your time span.
As well as the total time it was trending…. As long as it goes over 1 minute, you'll be fine…

And, oh, there's no need to worry about spammy trends…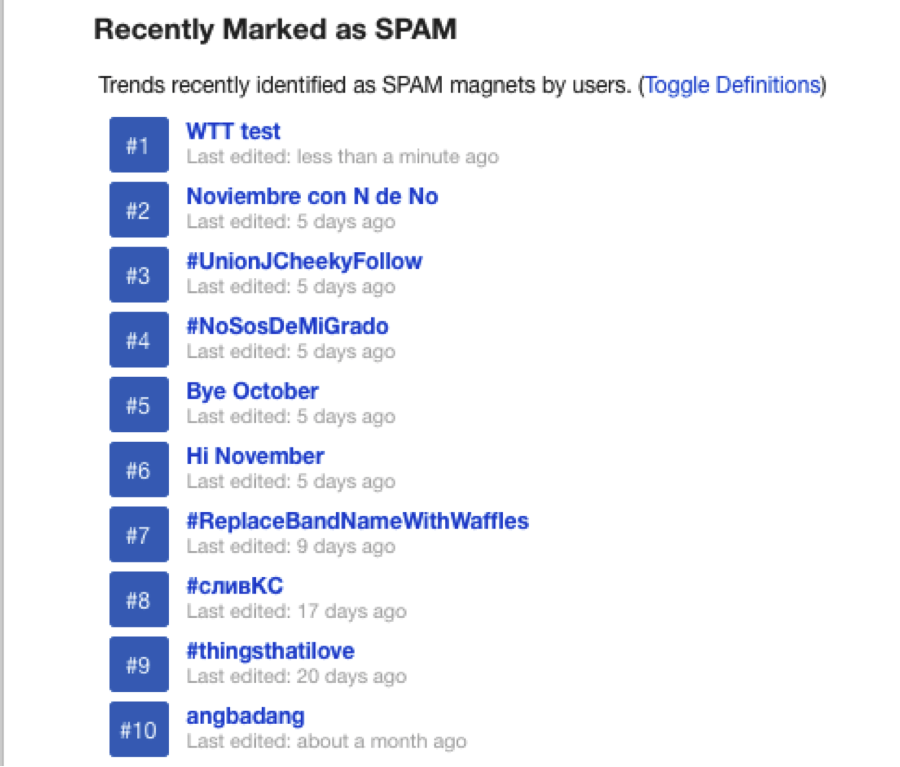 Last but not least, for those who want to get creative, here's your chance…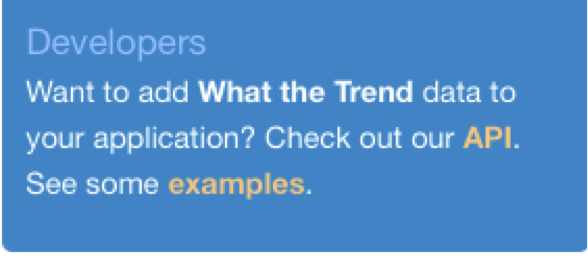 Since we are talking about real-time, what could be more time sensitive than Twitter itself? Although some of you may think Twitter is just for writing personal updates, it does much more than that. For starters, Twitter has its own method of telling you what is actually trending and you don't even have to follow anyone.
If you log into your Twitter account and look at the left side, you will see a section called "trends".
It looks like this…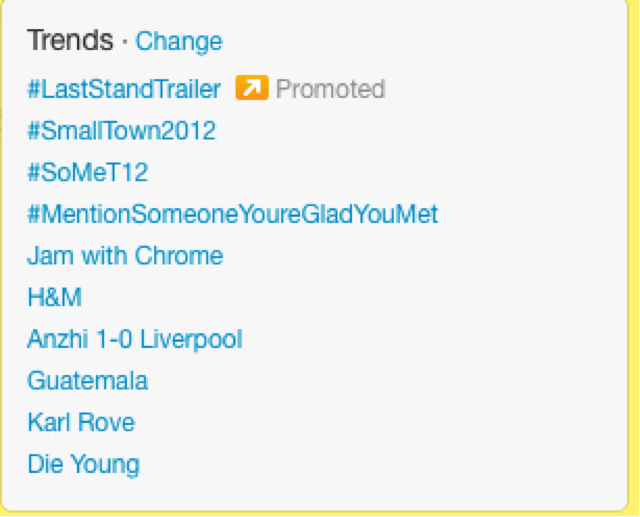 These trends are often tailored to your newsfeed. That way, you are able to apply it to your posts.
You can always customize this trend with this…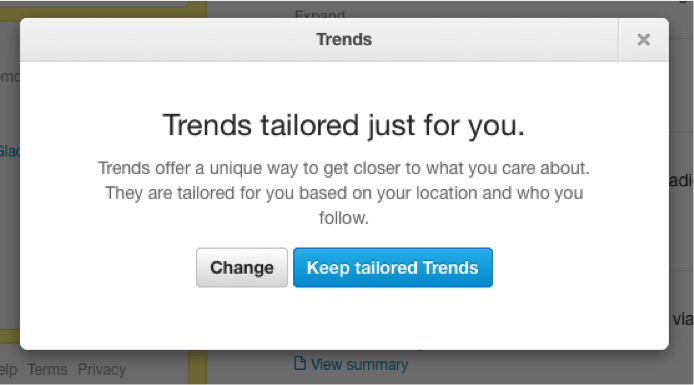 Voila! You don't even have to leave Twitter to go viral.
Tracking Trends By Votes
Another tool you should be using if your ultimate goal is to be heard or seen by the whole world is to join Reddit.
Many things that go viral get published on Reddit first. This is due to its effective voting system. The way it works is that users up-vote content in different categories, which eventually is pushed up to the front page.  It's not true for all content though. Remember those sarcastic memes that are all over Facebook? Well, a lot of those were on Reddit first.
Let's take a look…
You can choose to view your information through these options…

You get the chance to start your own community…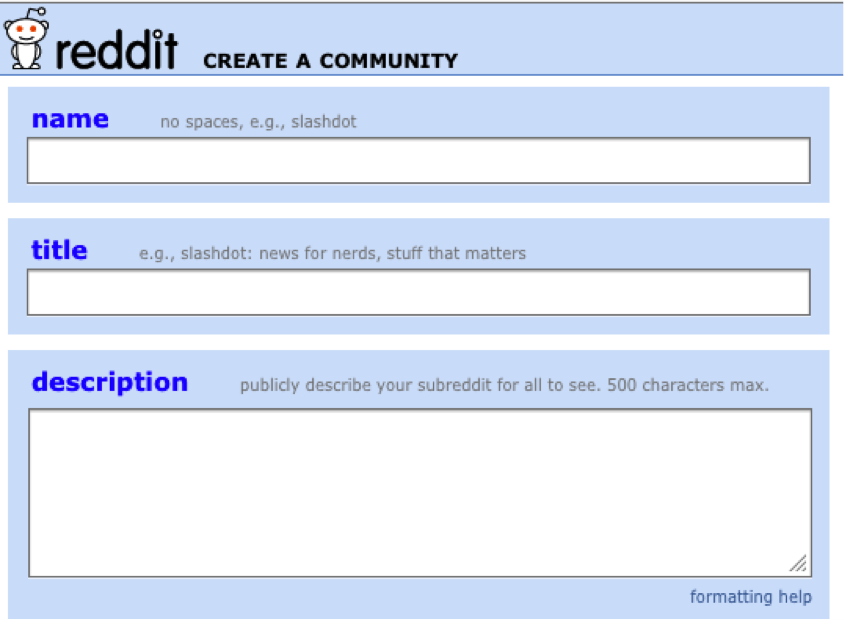 And here's your voting system…piece of cake

It's important to remember that Reddit is a very strict community, and anything that appears spammy, will get you marked with a big S for life.
Tracking Trending Blogs and Posts
What if you want to search trending topics to write about? No problem. Technorati is here to help.  This tool provides a variety of blogs and even particular blog post ideas in your industry.
As you can see, you have the choice to search either by blog or blog post in different categories. Now that's a real search!

You also have the chance to search by "Top 100" for any interest which is based on the "Technorati Authority Ranking System". You will also have the opportunity to browse through their "Blog Directory" which offers blog topics from technology to design.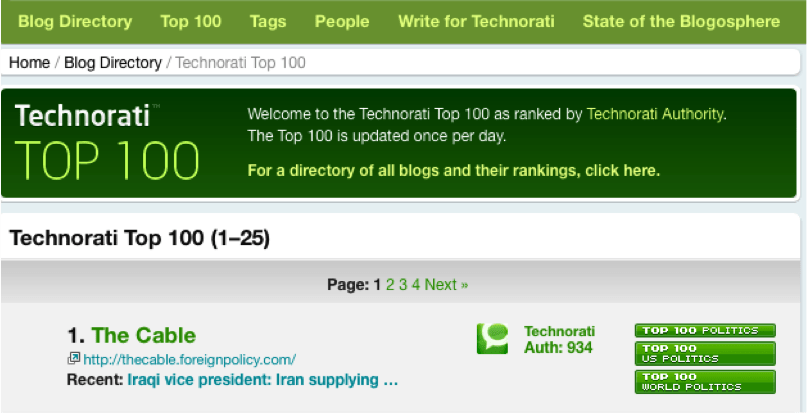 Topsy is a real-time search engine that allows you to see the tweet counts of online content. So let's say that you're a Microsoft reseller, and you want to know what's most popular on The Windows Blog. Just pop their domain into the Topsy search box to begin.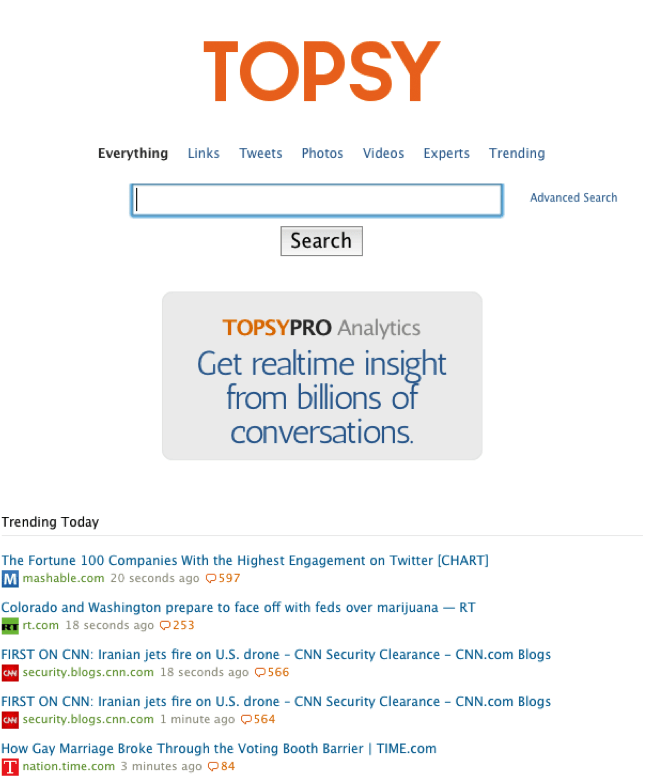 This will allow you to see the latest posts from this domain along with the tweet counts. Unfortunately, you can't sort the results by number of tweets, but just by browsing the first page or two, you will see some popular vs. quiet topics based on tweet count.
Viral Marketing can seem to be an elusive concept to many.  Some see it as a lottery ticket, hoping to just get "a little bit o' luck."  However, using these 5 tools, you can get the feel for what is working, what isn't and hopefully why?  It isn't just luck, although that can play into it.  It's about understanding the online community, your target market and what they have a great chance at responding to in a big way.  Hopefully, these tools will help you on your way to a legendary viral tweet or post somewhere that brings you all of the attention you are seeking.
Stuck? Frustrated?  Contact us today.  Our marketing professionals are here to help!