In BigCommerce, custom fields must be managed individually through the admin panel. If you have a lot of custom fields, maintaining them can become time-consuming and monotonous very quickly. 
Having several custom fields (such as ISBN, specifications, or other industry-specific data) is common for eCommerce product pages. Unfortunately, BigCommerce does not include a method to import or export custom fields on their bulk import spreadsheet by default.
Products can be imported in bulk by a CSV spreadsheet, but editing them en masse is not possible. Furthermore, individually editing each field is a tedious task that nobody wants to do.
Bulk Custom Field Management in BigCommerce
eCommerce professionals from companies of diverse sizes and industries needed better control over their bulk custom field management. Because of this, they demanded a BigCommerce app that would simplify their data maintenance when working with a large number of inputs. 
BigCommerce is a powerful and flexible platform, but as with any other eCommerce platform, it has limits. This is particularly true when it comes to creating or updating custom fields in bulk.
That's why every eCommerce store owner turns to a mass custom field maintenance solution to mitigate these limitations and be their lifesaver. With the Bulk Custom Field Management App by Optimum7, you can reduce tedium, boost efficiency, and maximize productivity when managing your BigCommerce store.
Importing and Editing Custom Fields in Bulk on BigCommerce
Custom fields allow you to provide more product information on the product page, such as a book's ISBN or a movie's release date. Depending on your theme, these fields may be located in different areas of the product page.
If you define custom fields for the product, they appear automatically in the product's details. However, BigCommerce does not offer a bulk edit option for these custom fields without a CSV import.
Many store owners opt to use the built-in filter functionality, but find that they have trouble entering individual fields — one at a time —  because the process is complex and time intensive. With this BigCommerce app from Optimum7, you can mass organize all of your data without any stress!
What is the Bulk Custom Field Management App by Optimum7?
This solution from Optimum7 empowers you to create new custom fields for multiple products at once with ease, speed, and efficiency! This allows you to set aside more time for other aspects of your store that require your attention.
No longer must you waste hours of your days and nights on adjusting individual fields across several hundred products. You can also leave behind the days of deciding between paying others to deal with it, or just resigning yourself to accept the mess.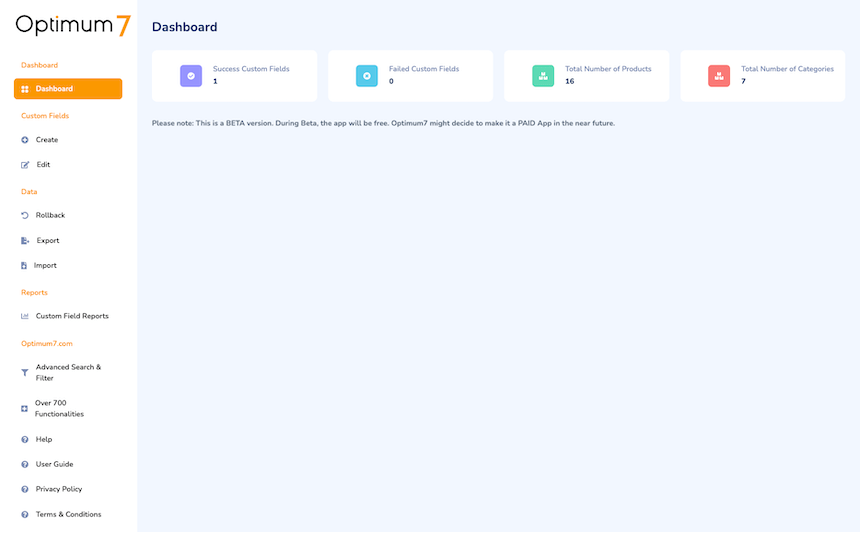 With this mass custom field management solution, you can rest assured that your product pages are informative, inviting, and best of all, uniform. The benefits this app provides through its features relieve you of a seemingly unending burden.
Benefits of an Optimum7 Solution for BigCommerce
There are 4 unique features of the Optimum7 app that amplify the productivity of your eCommerce operations. These include:
    ➭Bulk Create Custom Field
    ➭Edit
    ➭Rollback
    ➭Export / Import
Tapping into these features provides eCommerce businesses with a 360-degree coverage of their custom fields. You can create new ones, edit the old ones, revert your changes, or share your data with other interested parties.
Managing an eCommerce storefront can be exhausting and resource-intensive. Don't let your business suffer because it demands more than a platform can provide — turn to a custom solution instead! 
Bulk Create Custom Field
With the Bulk Custom Field Management app, you can easily create new custom fields for every product you choose. Creating custom fields for multiple products at once can be a lifesaver when you have to add a variant or a custom field after adding the product to your store.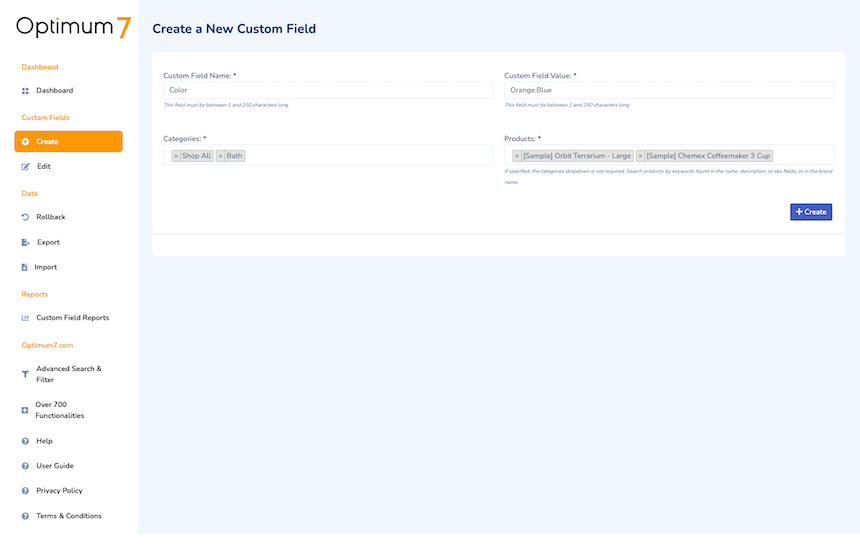 The app gives you control over creating these fields en masse. This reduces the time that you spend on repetitive tasks, such as individually inputting and managing each new custom field.
Edit
Notice an error on multiple pages? It's super simple to mass edit existing custom fields with this solution. 
This is particularly useful because minor errors can have unintended consequences on store traffic and conversion. Depending on the nature of the field, it can affect user experience (UX) by providing inaccurate information, reducing aesthetic value through lack of uniformity, or otherwise complicating the buyer's journey in your online store.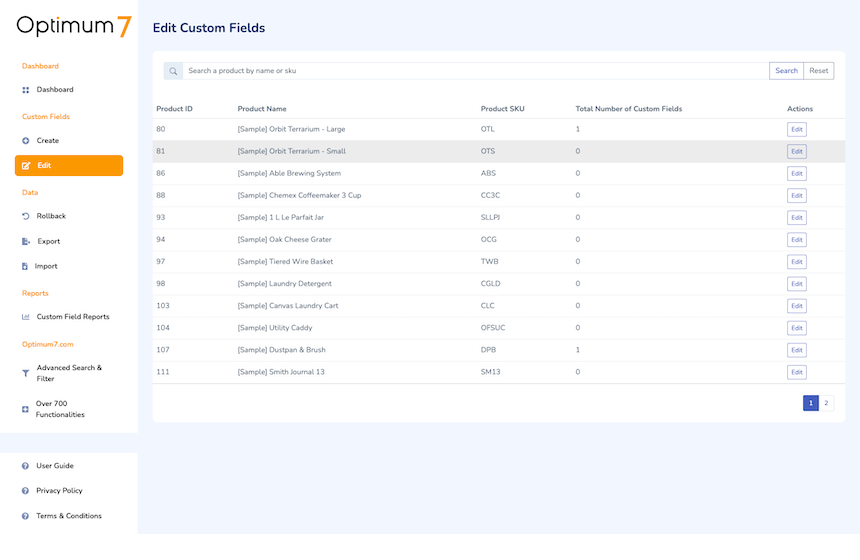 Fortunately, with our app, you no longer have to choose between editing individual cells and hoping the errors don't impact conversions. Now, we've made it even easier for you to manage all of the custom fields for your products at once.
Rollback
Don't like how it turned out? Or, perhaps a single kind of custom field is not working as you intended? 
No worries, simply roll back your uploaded custom fields with just one click! With our app, it's as easy as that!
Export / Import
Need a list of all of your custom fields to share with other departments, partners, or tools? You're in luck.
With the Bulk Custom Field Management solution from Optimum7, you can export CSV lists of the custom fields you've added. In fact, if you need to upload a new dataset, you can also import new CSV lists as well.
Maximize Efficiency with BigCommerce Apps from Optimum7
At Optimum7, we're an award-winning, full-service eCommerce agency with decades of experience helping brands to expand. In fact, our experience with developing custom features for BigCommerce alone spans over 15 years!
We help brands navigate and dominate the fields of SEO, CRO, custom programming, migrations, business development, and much more. Because of our expertise, collaborative spirit, and personalized service solutions, we're proud to be recognized as a BigCommerce Elite Partner.
What can we do to empower you to provide the best experience for your eCommerce customers? To find the best solutions for your business, or to learn more about the Bulk Custom Field Management app from Optimum7, reach out to our team today.