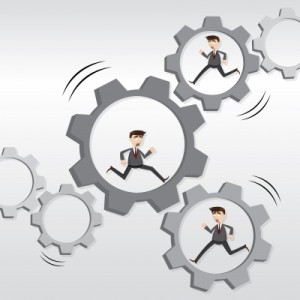 If you are a part of an organization that continuously evolves, tests new processes, pushes the limits of efficiency always wanting to grow, regardless of which industry you are in, you will need a very good project management system.
It's very important to have the right kinds of people working in your organization. Creativity, initiative, responsibility and efficiency are terms used often at Optimum7 by our staff. However, having the right employees isn't enough; you need more to truly become organized and get things done on time, every time. You need to be able to support the team with tools, systems and processes to help guide your staff towards their individual and team objectives..
That's where the need for a great project management system comes in. This system should be able to manage your day-to-day operations, tasks, projects, workflows, services, sales funnels, employees and clients. Customization of this system is a key attribute, since every organization will have unique issues and needs.
Podio for Project Management
There are many reasons that we love Podio, but these key functionality are what make Podio unique:
Fields Are NOT Hard Coded

You might be a consultation or service company (attorney, marketing, PR, doctor, plastic surgeon) or a B2B company selling and servicing machinery. The great thing about Podio is that it can easily be customized to your service, product and team. The fields in Podio are not hard-coded so you can create your own fields and processes that fit your organizational needs.
For example, if you are an attorney, you could create an App to manage all of your billing hours (for several attorneys and paralegals with different hourly rates), tie those to specific client information and have your employees enter notes for every hour of consultation, including details. This allows you, as an owner or manager, to oversee the whole operation, get daily alerts on what has been completed and create workflows that meet your consultation needs.
Easy User Management and Sharing

You can add an unlimited number of employees and share projects / tasks with users outside of your organization without revealing the inner workings of your company. So, you can share a specific task with a client and, because of the way Podio is structured, the client can only see that specific task and nothing else.
You can review all of your users at any time, give them custom levels of access privileges (Admin, Member, and View Only etc.) and edit/remove access as necessary.
Project Collaboration and Social Features

It's essential for your staff and clients to feel comfortable with the project management or CRM system you implement. If users do not buy into it, the system alone cannot fix anything.
Podio's sharing, commenting, collaborating and social features make it a very user-friendly system. Each type of task, project or workflow can have its own entry fields and users may choose to be notified on different levels and categories of tasks. Users can comment on tasks, projects, meetings, discussions and wikis, and also vote on the individual entries. This creates a social feel for the project management system with an activity window similar to Facebook, where users can track development ONLY in the categories or areas that they wish to see.
Notifications

Podio gives each user the ability to handle their notifications. If you are a programmer and you do not want to see anything from the collections department, you can just unsubscribe from any tasks or messages that have to do with collections. If you are a project manager and want to get notifications ONLY for the clients that are assigned to you, you can. This makes communication focused, efficient and prevents users from wasting time with unnecessary notifications.
Podio for Sales Management and Prospecting
Podio can also be used as a sales management tool. The individual entry structure allows you to enter your contacts, track activity, add phone or email follow up options, notifications, reminders and more.
You can further customize Podio as a sales management tool by providing access to salespeople and tracking their activity.
How to Customize Podio via API Integration
Podio has a great API that allows you to customize to your organizational needs. It could easily handle thousands of employees, multiple departments and categories. Here are some of the customizations that Optimum7 has completed with Podio:
Bulk importing, editing and updating fields/entries and tasks.
Customized alerts for project managers for approvals and workflows
Ability to send email and SMS alerts to users and project managers for late tasks.
Create groups for notifications (programmers, designers, sales people, etc.)
Customize email templates for notifications.
Integration with Google Apps, Salesforce, or any 3rd party solutions.
Workflows across employees, tasks and timelines
There are many types of custom integrations and functionalities that you can add to Podio. It's essential that you give your employees and project managers the tools they require to be efficient in handling tasks and projects. This directly affects your bottom line. Contact us if you need custom Podio development and API functionality; we can help!