Do you want more people buying products from your BigCommerce store? Then don't make shipping products to your customers a hassle. Do everything you can to make shipping your products as easy, inexpensive, and fast as possible. Optimum7 offers 8 shipping functionalities for BigCommerce businesses to help boost conversions.
You can ease the minds of impatient customers with small details like giving them an expected delivery date or letting them watch exactly when their order moves closer to them with a tracker. You can also offer free shipping, a popular perk for eCommerce professionals. See details about these functionalities and more below.
Let Customers Know When They're Orders Are Coming
Estimated Delivery Dates Functionality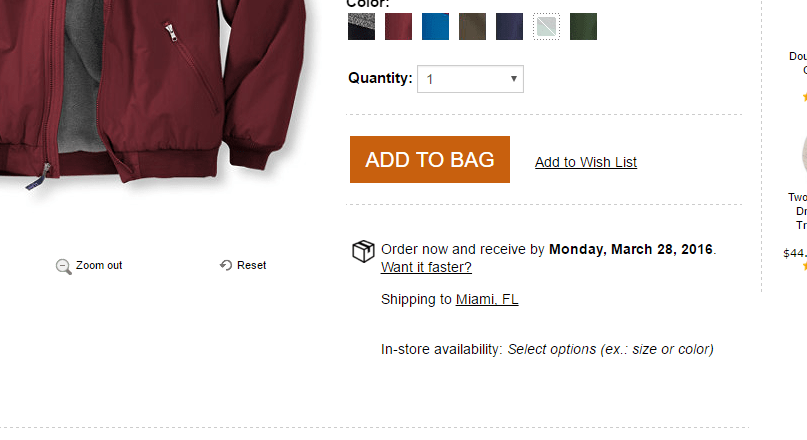 There is no reason your eCommerce store's customers need to be waiting around their front doors with eyes out for their packages. With Optimum7's Estimated Delivery Dates functionality, you can let your customers know the dates they can expect to receive packages from your business. This functionality uses the dates orders are placed to calculate when the orders will be delivered. It takes into account factors that impact the arrival date too, like: shipping method, item location, and public holidays.
Track Packages On User Account Pages Functionality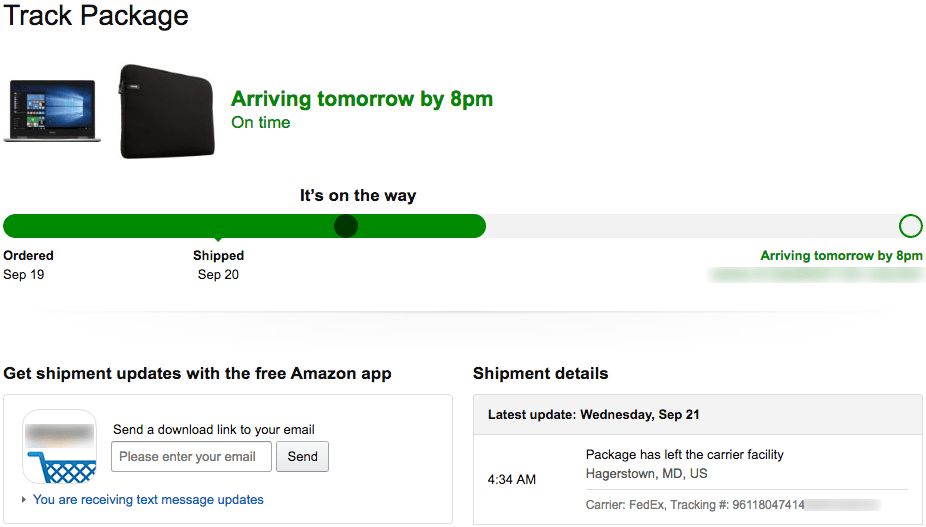 It can be exciting to place online orders, right? It's more exciting to receive packages at your door and open them up to see the items inside. The anticipation is a major part of the fun, but you can let your customers know exactly what's going on with their online orders with Optimum7's Track Packages On User Account Pages functionality. This functionality displays the current shipping statuses and locations of packages for customers directly on their account pages. Instead of being directed to a shipping carrier's website or other third party site, your customers can learn the status of their orders without leaving your website.
Encourage Your Customers To Order
Delivery Date Order Timer Functionality

Shipping services are disrupted by holidays and weekends. That's just how it is. It's easy enough to provide your customers with a disclaimer that explains how shipping services are impacted by the operating hours of shipping services, but a disclaimer can't be counted on to be seen or comprehended by all users. That's why Optimum7 offers the Delivery Date Order Timer functionality. This timer will display across your website to let users know that they should order before a certain time on specific days if they want to receive their orders when desired. Let's say you want to buy your mother a gift online and you want her to receive the gift before her birthday. The Delivery Date Order Timer will tell you how many hours and minutes you have left to order to ensure that she will receive the gift when you want her to.
Free Shipping Notification Functionality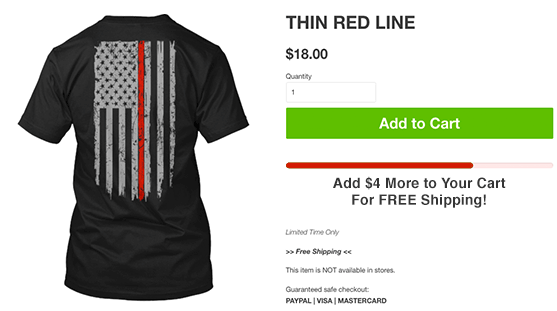 A lot of stores offer free shipping. Offering customers free shipping is an easy and effective way to convince customers to buy more if that's all it takes to receive the free shipping deal. If your eCommerce store offers free shipping to customers who spend a certain amount of money, then Optimum7's Free Shipping Notification functionality can definitely be useful for your online store. This functionality displays a progress bar or alert on your store's website that indicates how much money customers need to spend to receive the free shipping deal.
New Ways To Meet Shipping Demands Of Customers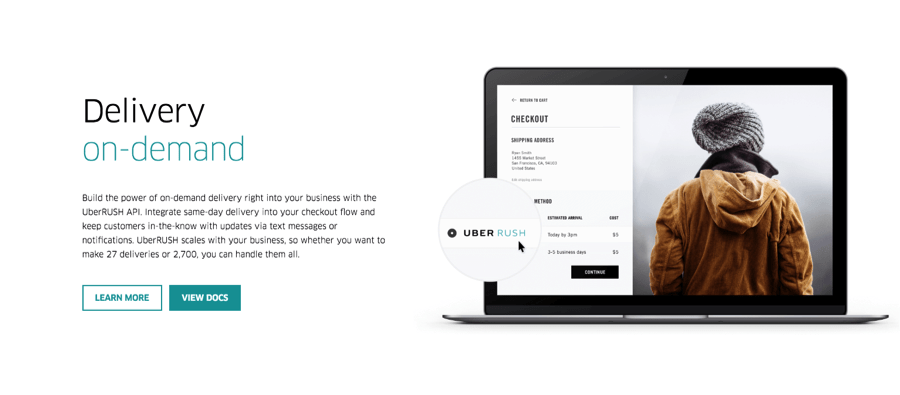 Does your eCommerce business fulfill orders all over the country or world? What happens when a local order comes in? Uber Rush is a delivery service that operates as an alternate service for local deliveries. Optimum7 can integrate Uber Rush with your eCommerce store and the integration will allow your company to ship, receive, and track orders and shipments in real time. Every time a user requires local delivery, Uber Rush will automatically receive and schedule the order. Uber Rush makes it easy for online businesses to ship to local customers and it offers businesses low shipping costs and the ability to track deliveries in real time.
Auto-Ship Automatic Recurring Orders Functionality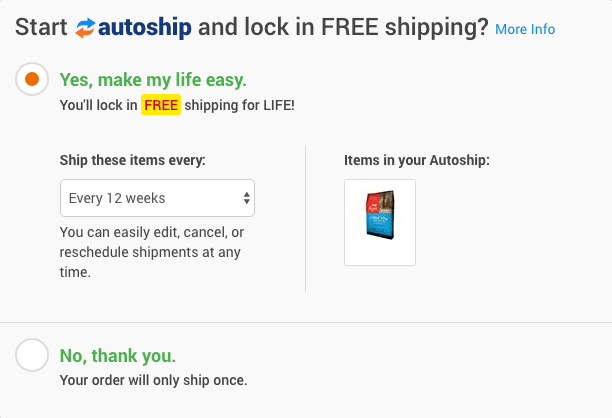 Did you even know auto-shipping orders was a thing? If your online business has customers who frequently reorder the same items again and again, then Optimum7's Auto-Ship Automatic Recurring Orders functionality might be helpful for you. First, this functionality allows your company's customers to enable automatic recurring orders at custom or preset intervals on the checkout page. Next, this functionality will automatically create and process orders for chosen items based on selected time intervals chosen by the users. Your customers don't have to lift a finger with this functionality in place on your site!
In some places, leaving unattended packages on doorsteps is ok to do. In other places, it's not advised. Let's say you sell furniture online. You have a customer who is only available from 3 PM to 5 PM on Wednesdays and he or she must be there to receive the delivery. How on Earth can you make sure that this customer's order will get to them between 3 and 5 PM on a Wednesday? You can use Optimum7's Custom Shipping Dates functionality! This functionality allows customers to set the dates and time intervals they are available to receive packages. It can integrate with Google Calendar or another internal calendar so your business never overbooks deliveries too.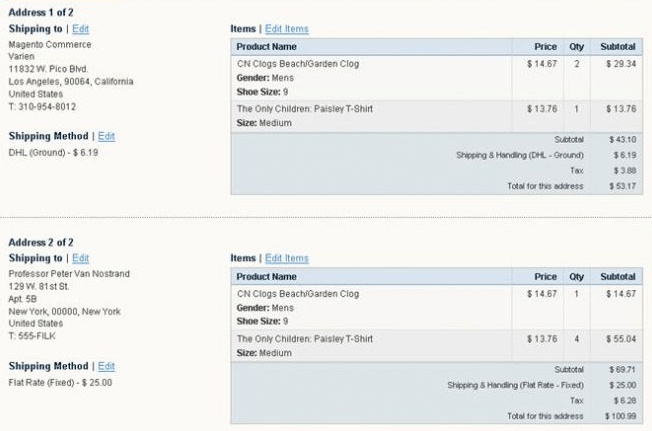 How many times have you ordered something online and you want some items to go to one address and other items to another address? Maybe you've never had to do this, but it happens every once in awhile. Instead of submitting two separate orders, Optimum7's Ship To Multiple Addresses functionality allows customers to split up the items in their shopping carts into multiple packages that can ship to different addresses. The orders can even have different shipping methods if desired.
Boost Conversion Rates By Catering To Your Customers
Some of these are beneficial no matter what you sell online, like the order tracking services. After all, every customer wants to know when they will get what they paid for. However, you should tune into the feedback and desires of your customers to see if any of the other options, like sending products to multiple addresses, are right for you.
Make shipping easy on your BigCommerce website and more people will buy more products from you. It's as simple as that. Learn more about the above Any of these 8 functionalities can be yours today. Get in touch with Optimum7's knowledgeable team to learn more about these functionalities. Call us at 866-848-6072 or contact us.