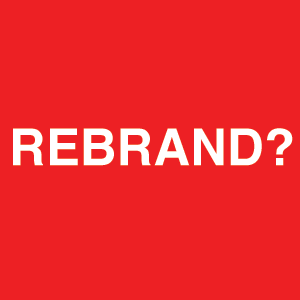 For many companies, there comes a time when the branding that has been utilized for decades no longer fits the bill. This is usually due to a large change, or several large changes, like a change in the marketplace, a merger, an out of date perception, or brand limitations. Whatever the reason, your current branding is no longer serving your company the way it should be, the next step is clear: it's time for a rebrand. If you are wondering whether or not your company is ready for a rebrand, please check out my recent post here.
In this article, I will discuss the steps to rebranding a company, and keeping it within your client's budget.
Enter the Client
Several months ago, one of our clients (a real estate agency) came to us expressing interest in a rebrand. The main issue with their current brand was that the name was tied to a specific location, which was confusing to clients and prospective clients since the company served a wider area than their name suggested. The second problem was that the look and feel lacked the personality that the brand needed and the company wanted to evoke.
Excited to begin, Optimum7 took the opportunity to take part in a full-scale rebrand project.
Research
As always, the first phase of any project involves thorough research. At Optimum7, we ask our clients to fill out questionnaires that help us better understand their company, needs, and limitations. The process is no different with a rebrand; you must begin with the client. You have to ask questions, determine where the problems lie, and how best to solve them. It is absolutely vital that you continue to keep the lines of communication open throughout the entire process.
Creating a Schedule
Once you've done the research, you can determine exactly what your client will need. Every rebrand is not the same – solutions and necessities will vary by industry and by individual. For example, when rebranding for a real estate agent, it will be necessary to create yard signs. Collateral like this would not be necessary for a plastic surgeon. During your research, you may also find that your client needs a new name for their company, or perhaps they simply need their current name in a new way. Think Federal Express to FedEx. All of these necessities should be determined in the research stage, before you even start thinking about any design work.
Give Yourself Plenty of Time
Your client should understand that a rebrand is not something that happens overnight. It takes a lot of time, and even more effort. It can take 3-10 months or even more to release a proper rebrand. Even after the launch, it will take time to reinforce the new branding with your client's current and potential customers.
Covering the Basics
Typically, a rebrand will involve a change in the company's name, tone, personality, logo, website, social media outlets, e-newsletters, packaging, and signage. For larger companies, the rebrand can even extend to employee uniforms or customer service policies. As I mentioned earlier, all of the necessities will be determined in the research phase.
What's in a name?
Using our rebrand client as an example, we determined that it was time to rename the company. As I mentioned, their current name was not winning them any new business, and confusing to many. This is a common problem with a location-based name. For example, if Optimum7 had been named "Miami Online Marketing" it may have alienated potential clients in areas other than Miami.
And so we began to brainstorm. We needed a name that would convey the friendly, client-oriented approach while remaining professional enough to compete with larger real estate groups. We came up with several lists of names and, with our client's help, finally narrowed it down to a single name.
Tone and Personality
I mentioned earlier that Optimum7 asks our clients to fill out questionnaires before beginning a project. On our rebranding questionnaire, we ask the following question:
"If your company were a person who would it be? How would this character behave? (Be specific here- give your character a name, and describe what he/she like to do on the weekends, what his/her favorite food is, what type of movies he/she likes, what stores does he/she shop at when visiting the mall, etc.)"
This is my single favorite question to ask a client of their company. The reason is this: a brand is a very personal entity. Although many clients don't realize it, they often see their brand as an extension of themselves. A rebrand is a very emotional time for a client. As designers, we must be very careful to guide them through the process of leaving their old brand that has served them well for many years behind, and opting for a new brand.
Another reason that this is my favorite question to ask clients is because of the responses we get. This question asks our clients to create a persona for their brand, which is often a bit out of their comfort zone. While creativity is second nature to some of us, it isn't the same case for others. The question allows the client to express exactly how he or she'd like the company to be perceived, without using any technical terms.
This persona will help you to determine all decisions you make throughout the rebranding process. As an example, our recent rebranding client named their brand "Henry." Throughout the entire process, we'd continue asking ourselves "What would Henry do?" or "Which color scheme would Henry go with?" Having this personality to keep going back to helped us immensely throughout the process.
Logo Design
Typically, once the name is chosen, the next step is to design a fitting logo for the rebrand. When designing logos, I start with the research and sketching phase. During this phase I make sure to sketch, word map, and brainstorm as much as possible. I like to get every idea out there, even the ones that are absolutely terrible, so I don't get stuck on any one topic. After that, I try to take a brief break and reconvene. From there I choose the top ten concepts to refine on paper. After that I choose the best three, and move to the computer.
On the computer, I begin in black and white. It is essential that I get the shape right before throwing color into the mix. My general rule of thumb is that if it doesn't work in black and white, it isn't strong enough to work in color.
Once the shape and color schemes have been decided, I write up a brief justification for each concept. In this justification, I discuss the purpose of all stylistic, typographic, symbolic and color choices.
When presenting these concepts to the client, I demonstrate the original concept, as well as a horizontal/vertical variation and a black and white variation. This demonstrates the versatility of the logo – showing that it will work well in any different medium.
Web Design
Once the logo is finalized, I move to web design. A website is essential the online frontlines of any brand. It needs to be consistent with the brand personality and tone. In addition, a rebrand is an opportunity to take data gathered from analytics and current users and improve the site. For example, if your current brand does not have a responsive site, perhaps it is time to integrate one into the redesign.
Social Media
Like the website, your social media needs to be consistent with your new brand personality. However, your social media plan is often less restricting than your website. Again using our Henry example, think of it like this: a website is for workweek Henry, while most social media platforms are for weekend Henry. Your website is mostly business: Henry would use it to attract new users, write informative articles, and perhaps sell a product. But social media allows Henry to connect with his users on a more personal level. Social media would be a great place to discuss hobbies, tell jokes, and maybe even congratulate the Heat on yesterday's big win. ☺
The point is, most social media users aren't necessarily looking to purchase something, but they are looking to find new friends; why not let your company become one of them? Social media is a place where you add photos that represent your brand, but don't necessarily have your brand's name. For example, if your brand is a lover of the outdoors, perhaps a pair of hiking boots as a cover photo and the logo in the profile picture will just do the trick!
The Takeaway
Because the remaining collateral will vary client to client, I won't go into much detail here. The important thing to remember is that, in order for a rebrand to work, you must be consistent on all fronts. If your new brand is energetic and youthful, every aspect of your company needs to reflect that. If your brand is more luxurious and elegant, be sure you position yourself that way.
Another important thing to remember in rebranding is transparency. Don't pretend to be something you are not. If that is the case, your only result will be one of distrust and suspicion from your users. Be who you are, and your audience will typically be more than happy to accept you.
Thinking about a rebrand for your company? Contact Optimum7 today for a free consultation.