Transforming your current business to a Multi-Store eCommerce business, or creating a new multi-store business model, will have great benefits when it comes to getting more leads.
Are you unfamiliar with the term "multi-store eCommerce platform"?
Don't worry, in this post, we'll cover all you need to know about managing multiple eCommerce stores within a single platform.

What is a Multi-Store eCommerce Platform?
A multi-store eCommerce platform enables you to create numerous websites, brands, or stores, and manage all of them from a single Multi-Store eCommerce Platform such as BigCommerce. To improve the entire purchasing experience for their customers, more and more business owners are choosing to create multi-stores for their businesses.
Putting all of your eggs in one basket is how most online businesses establish their eCommerce sites. While this approach is normally convenient for a seller (because they just have to operate one site), it does not work well for the many, diverse audiences who visit their site.
The vendor would lose out on potential sales if eCommerce brands do not respond to the needs of various audience segments. However, eCommerce companies who spend on building many stores, each suited to a different audience group, will have a higher chance of growing their reach and eventually making more money.
3 Reasons to Implement a Multi-Store eCommerce Solution
Having a multi-store eCommerce strategy can help merchants improve their interactions with current and potential clients, while also providing them with access to previously untapped markets.
1. Enables You to Expand into International Markets
There are many tools that a corporation needs to develop in the worldwide market, including unlimited URLs and an eternally expandable product catalog.
Storefronts can be customized to display content in customers' native languages, as well as price information in their local currencies.
This offers a welcoming shopping atmosphere for international customers, increasing the likelihood of conversions on a worldwide scale.
2. Empowers You to Reach Different Customer Types
The best way for a vendor to manage two separate client bases is by developing different online stores.
The pricing, availability, and payment terms may be very different between these clients.
Therefore, it's important that each store handles those differences appropriately in order to maximize the profitability of your business.
3. Going Direct-to-Consumer (D2C)
Utilizing one of the multi-store eCommerce platforms is necessary for a manufacturer who is moving away from interacting with merchants, and moving toward interacting directly with customers.
To meet local demand, satisfy data requirements, organize sales, and perform everything else necessary to successfully go directly to the consumer, the manufacturer will need a digital presence in each of its markets.
What are the Benefits of a Multi-Store eCommerce Strategy?
Multiple online stores can help merchants improve their interactions with current clients, while also allowing them to break into previously untapped markets.
1. Reach Out to Different Customers
If a business serves both B2B and B2C clients, the business owner must manage different online stores for each type of client. Each store would have to cope with the differences in pricing, availability, and payment terms, which might be complex.
2. Relevant Products
Shopping in super-large eCommerce Stores is hard. So having different stores in different categories or niches is easier for you and the customer.
When customers visit an online store that is focused on a smaller range of products, they will know exactly what they want and how to get it.
It would be advantageous, in terms of sales, if you could get them to their desired product as quickly as possible and with as few clicks as possible.
3. Scalability
When you start your eCommerce business, you may not be aware of what is required to keep the growth going.
You'll need enough resources to support this as your company expands.
Each of your stores will benefit from the multi-store platform's capacity to handle a huge number of simultaneous users, and an infinite number of shops.
4. Cost-Effectiveness
Multi-store eCommerce systems use the same code and database for all of their stores.
It lowers development costs because your developers don't have to write code for each individual shop.
You'll also be able to launch new shops, or make changes to existing ones, without having to hire a developer.
5. New Markets
Using a multi-store platform, you can create numerous establishments for various locations.
It allows you to display goods that are tailored to that region, localized material for other languages, and alter the price to the local currency.
You may also build unique delivery choices for particular regions and provide specialized advertising for certain areas.
6. Consolidate Multiple Brands Under One Roof
You may also deploy multi-store eCommerce to house and manage many all of your different enterprises from a single location.
You'll be able to automate all of your processes from a single location.
Okay, that sounds like heaven, but what are the challenges or downsides to it?
4 Common Challenges of Multi-Store eCommerce
With all of the advantages, there are a few drawbacks to maintaining a multi-store eCommerce platform. Multiple online store creation, development, and management can be a tough set of processes. When it comes to developing online eCommerce sites, vendors must deal with a variety of brands, consumers, inventory, and even languages.
1. Integrations
The processes involved in maintaining an online store must include integrating numerous systems to guarantee that they work together properly, from inventory to payment processing.
When a vendor has various locations, the problems of connecting these systems might become even more difficult.
2. Brand Message and Marketing for Multiple Stores
If you have many stores, you must ensure that they are all designed to be region-specific, and that there are no inconsistencies between them.
When developing a store marketing strategy, be sure that all of the materials have the same tone of voice and content.
If you sell the same product on multiple websites, you'll need to establish unique SEO titles and descriptions to avoid content duplication.
3. Data Management
The duties involved in keeping the data for multiple online stores up-to-date and consistent can be a substantial burden when you have multiple inventories, customer databases, and ordering systems to handle.
4. Lack of Resources
As sellers try to extend their resources to handle several stores, the solution to the challenges described above can become a problem in and of itself.
The time, money, and manpower required to maintain each store can quickly add up.
How Do You Manage Multiple eCommerce Stores?
Vendors should treat the development of each online business as if it were their first. At the same time, vendors must consider each online store as part of their larger business — nothing more and nothing less.
Use a Headless Content Management System
Headless eCommerce is the architecture behind an eCommerce solution. It's when the front-end interface is separated from your back-end technical architecture.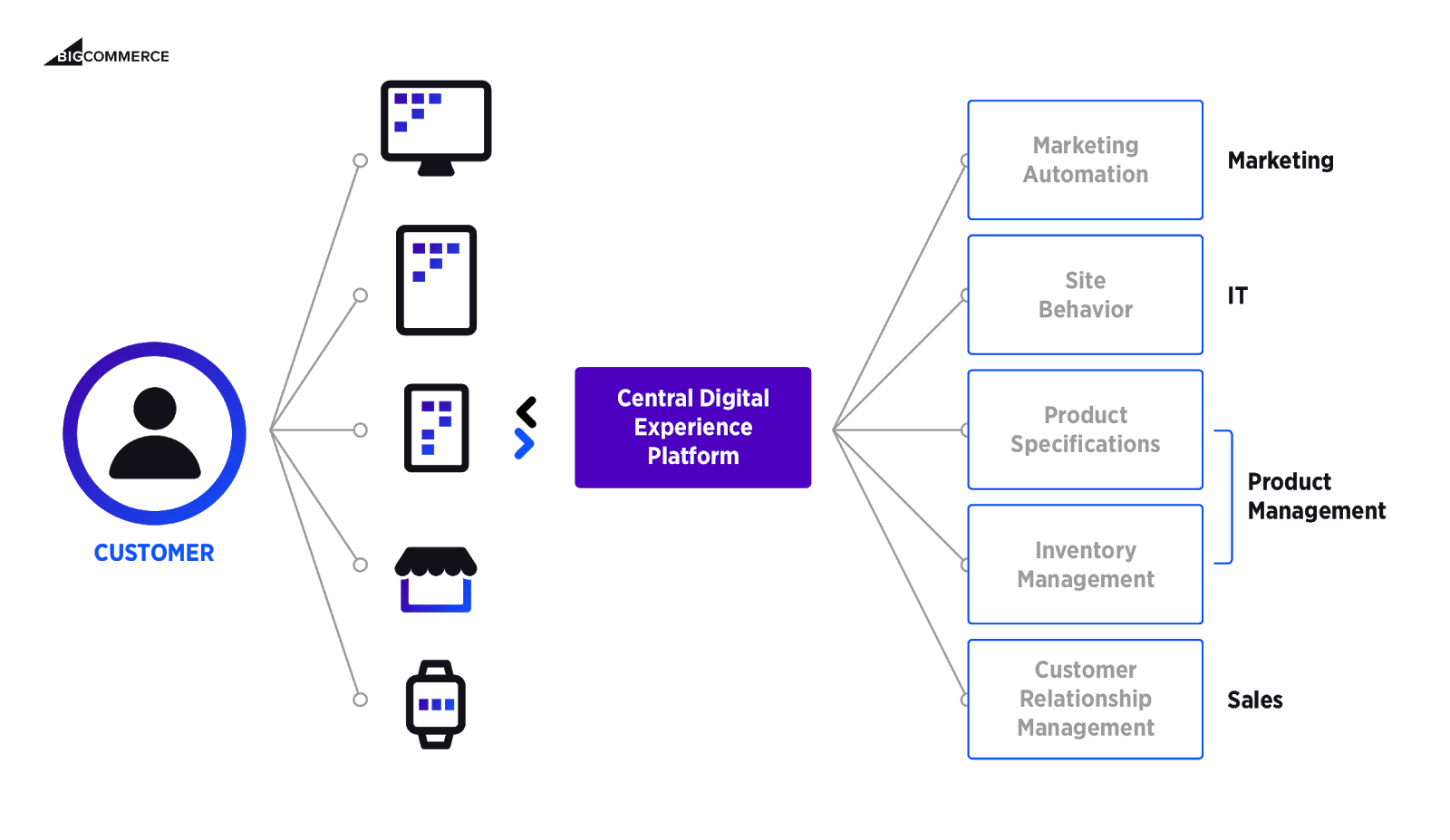 When you go headless on BigCommerce for example, you get all of BigCommerce's great backend eCommerce functions. However, you'll utilize these benefits by using new single or multiple frontends, or "heads," to manage the consumer-facing side of your website.
The most significant benefits are improved site performance and user experience. And, now that headless commerce is gaining some popularity, it's critical for organizations to invest in a headless CMS platform and integrate eCommerce features into it.
Centralize Your Inventory Database
Maintaining inventory databases is an enormous difficulty in the development of online stores. Stock mismatches are almost inevitable when dealing with various inventories.
If you have two sites offering the same product, you'll have to manually reconcile each inventory. Moreover, if you don't do it on a regular basis, you risk displaying the wrong stock levels.
A single master copy of the inventory data can save time and effort, as well as avoid difficulties with consumers expecting an item that is no longer available.
Determine Each Store's Specialty and Regional Market
Vendors that cater to unique markets typically see a boost in brand loyalty, which translates to improved client retention rates. Niche marketing is the practice of targeting a certain market that resides in a certain location, has a specific income, or has various preferences.
Create an SEO and Content Strategy
Managing several online stores' search engine optimization (SEO) is a major challenge.
For each online store, you must consider how to optimize title tags, header tags, meta descriptions, and so on.
When you only have a few stores, it's much more workable, but when you have hundreds, if not thousands, of sites to optimize, it's highly time-consuming.
Centralize Your Order Management
Similar to how you centralize your inventory databases, it is also recommended to centralize your order management system as opposed to pushing orders individually from different websites.
This means you will have to keep your fulfillment, customer care, and shipping process consistent across all your brands and stores.
Conclusion
Entering the international market demands a multi-store eCommerce platform, whether you're serving multiple areas or managing multiple brands.
Having a Multi-Store eCommerce solution is a powerful tool for brands who want to reach and engage with customers on every level of their business.
The system allows you to manage multiple stores from one dashboard, seamlessly switching between them as needed, and without missing any important data or settings that are different across each store.
FAQ
What is a Multi-Store Front?
The Multi-Store solution allows business owners to run multiple stores on the front end with a single admin account.
Can I Have Multiple Stores on BigCommerce?
Yes, you can.
You may set up as many online shops as you want with the multi-store solution, and you'll be able to manage every single store from a single dashboard on BigCommerce.
BigCommerce is the best choice if you wish to set up multiple stores with a single dashboard. Contact us for further guidance!
Can I Have Multiple Stores on Shopify?
No. You can't have numerous Shopify stores under one account.
You'll need to create accounts for each new store and manage inventory through their respective Shopify accounts.
And eventually, their dashboard and inventory will be separate.